If you're running a Shopify store, there are a number of situations where you would need to bulk edit prices such as running a flash sale, updating your product prices due to changes in supplier costs, or organizing a promotion for holidays.
In this blog post, we'll cover:
How to change prices on shopify in bulk through your shopify admin?
Why do you need a bulk price editor in your shopify store?
Konigle wants to find a way to have more flexibility on bulk price editing as pricing is such a very important player when it comes to profitability. To help online sellers save time, they've introduced this bulk editor.
The Bulk Price Editor can help you save time by:
Easily filtering of products that you intend to make changes to (Title keywords, collections, suppliers, prices, etc)
Reduce, increase, and set your Selling Price or Compare at Price in bulk
Easily incorporate Charm Pricing.
Scheduling discounts and seasonal promotions and automatically revert to original prices after your specified duration.
Notify your customers via email or SMS for any of your store campaigns.
Step 1: Select products to bulk edit. 
Add the Bulk Price Editor by Konigle in your apps in Shopify.
From your Konigle dashboard, access the Bulk Price Editor.
Filter the products that you would like intend to make changes to. More filters are available to narrow down your search. Once done, click on Apply filters.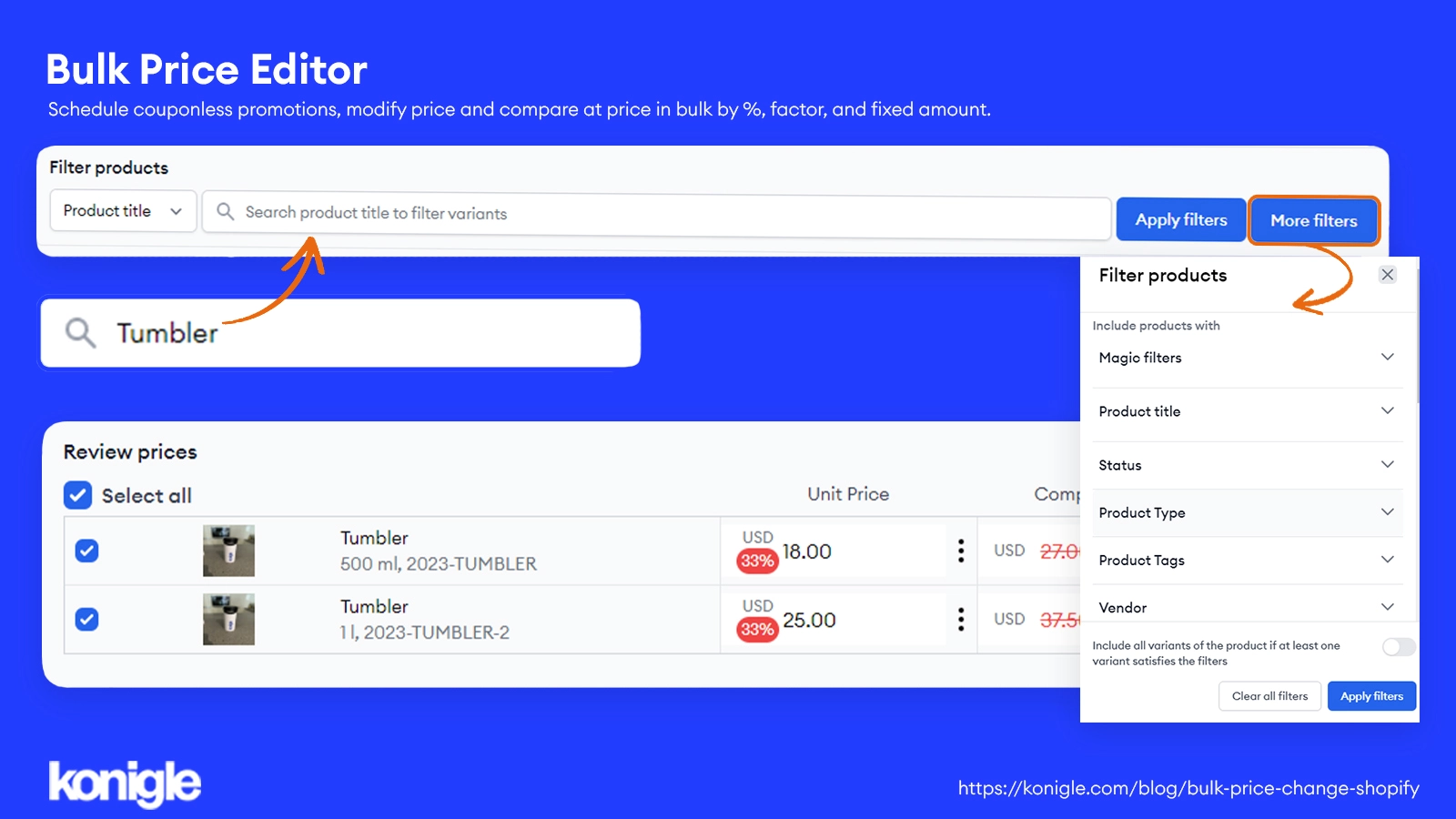 4. Configure your pricing request. You can increase, reduce and set either your selling price and compare at price in bulk.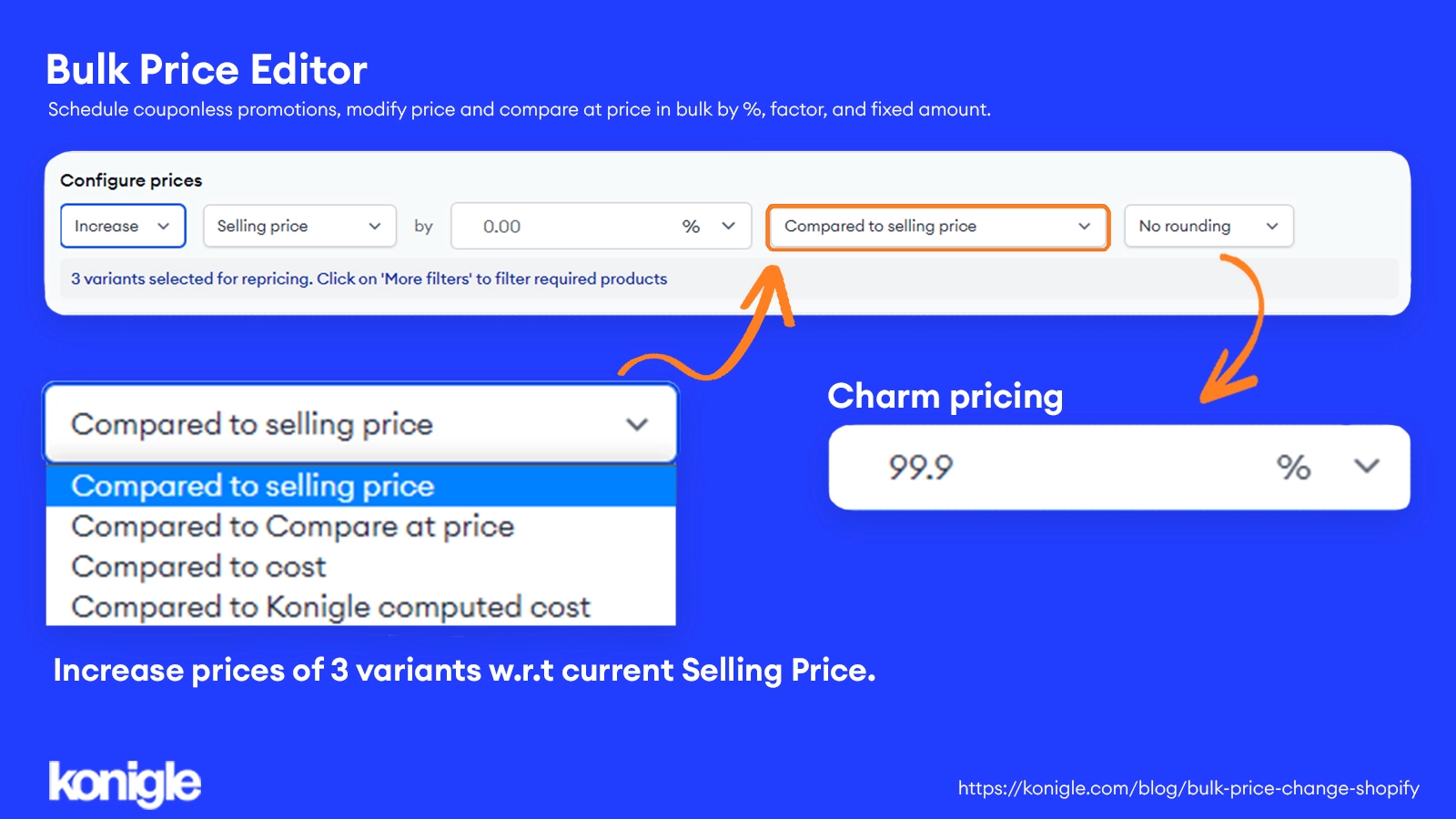 *You can choose to incorporate Charm Pricing on this step such as if you would like the prices to end in .99 or .95, etc.
*The tool also gives warnings if there are items that will be set below the supplier cost if changes are applied.
Step 2: Set pricing request description and validity
Set your pricing request description and validity. You can even choose which time zone the request should follow, either your Shop's or your local time. Then, click Submit.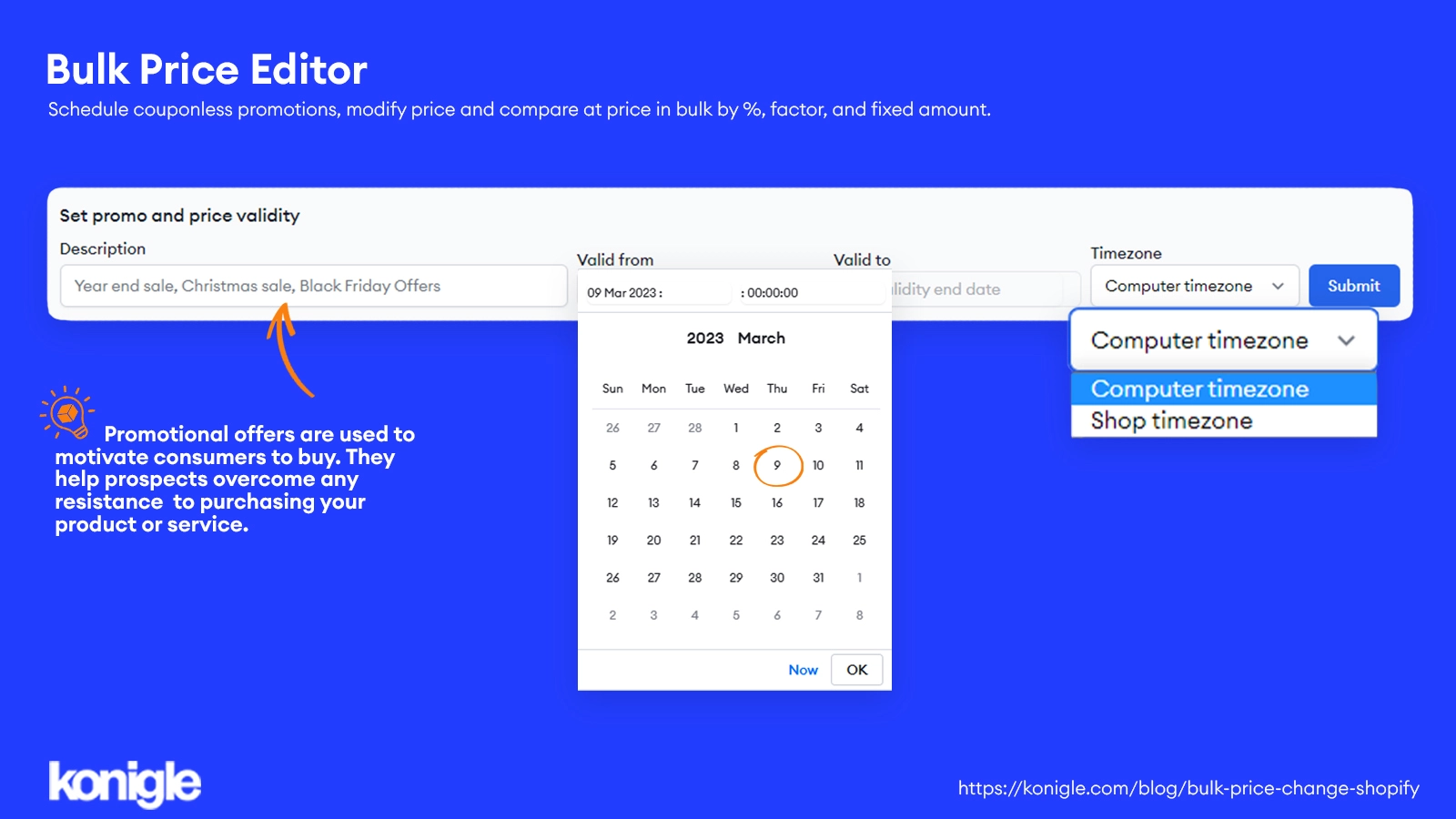 *Making the Valid to Date empty will apply the changes permanently.
Step 3: Finalized price change request.
Confirm the price change request. If you're running promotions, you can choose to Notify customers on this page. Click, Submit once finalized.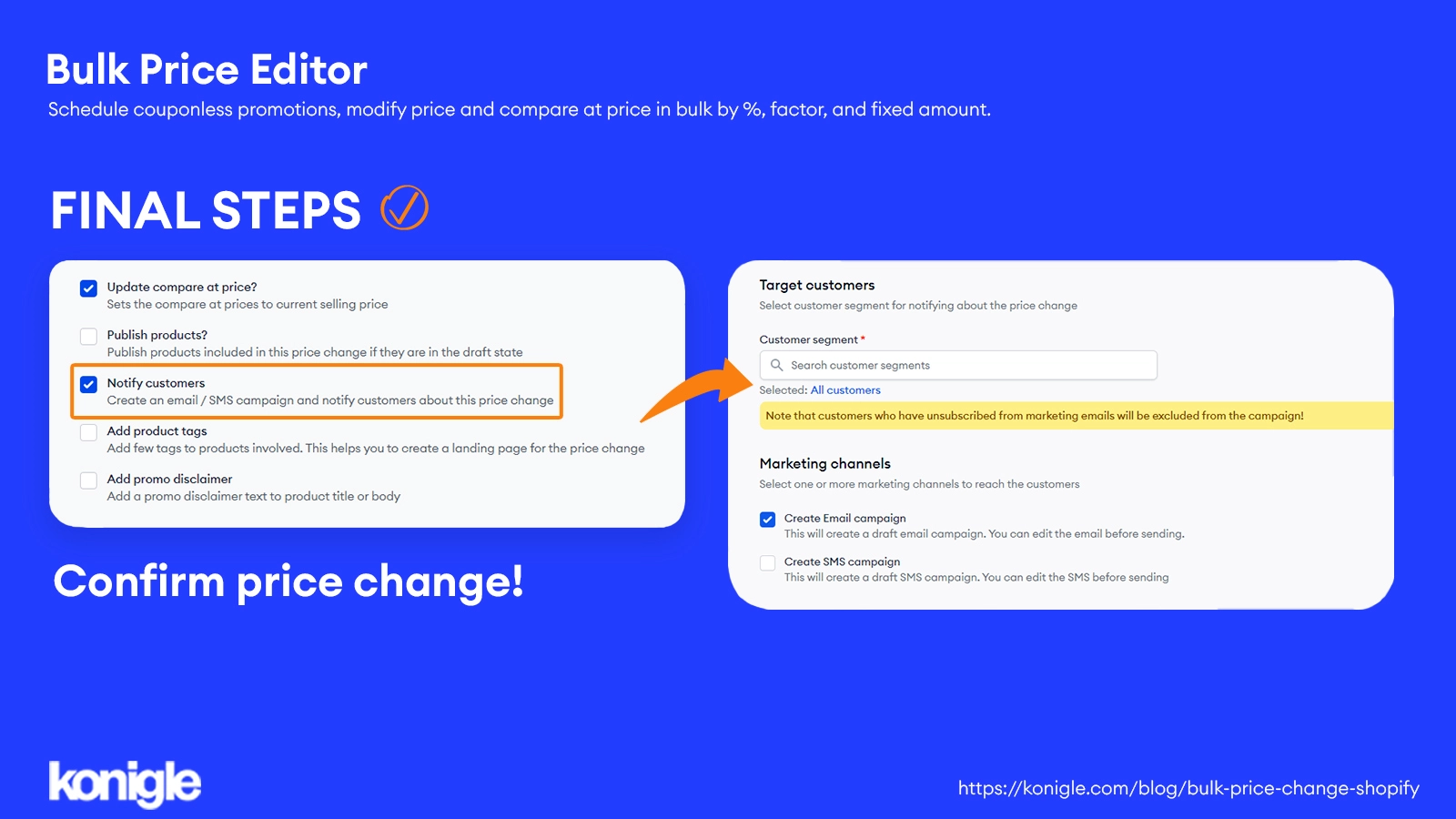 *If you choose to notify your customers, you can configure your marketing campaign such as the customer segment that you'd like to be notified and set up your email template.
You may also watch this video to see this process in action:
You would be able to do bulk actions through your Shopify admin in tabs such as Orders, Products, and Customers. Let's take a look at editing your prices in bulk.
As per Shopify's help center, 
On the Products Page, filter the products through various options available.
Select the items either one by one or select them all using the master checkbox here: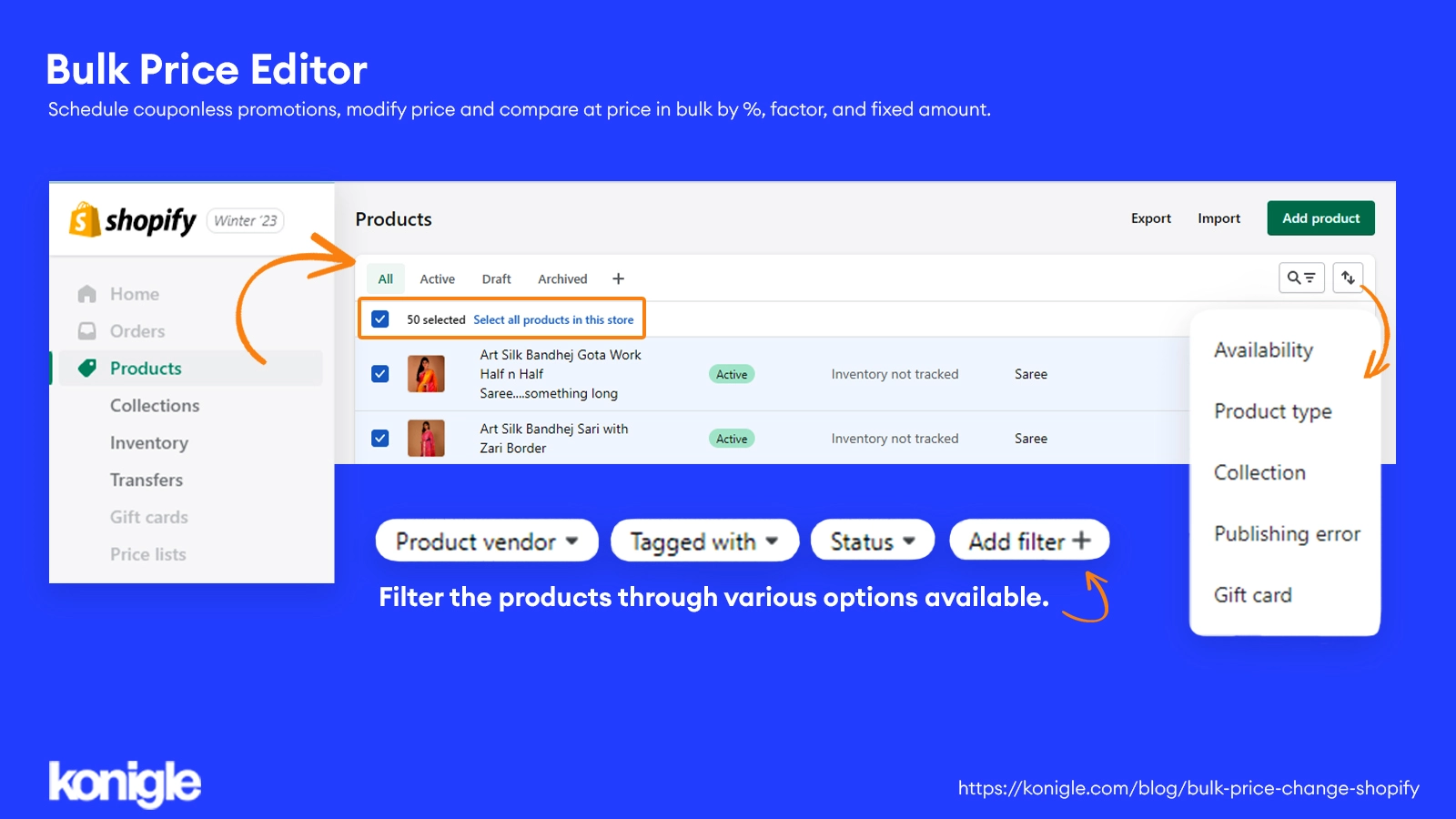 3. From here you can do bulk actions to these products. To edit the prices, click on Edit products: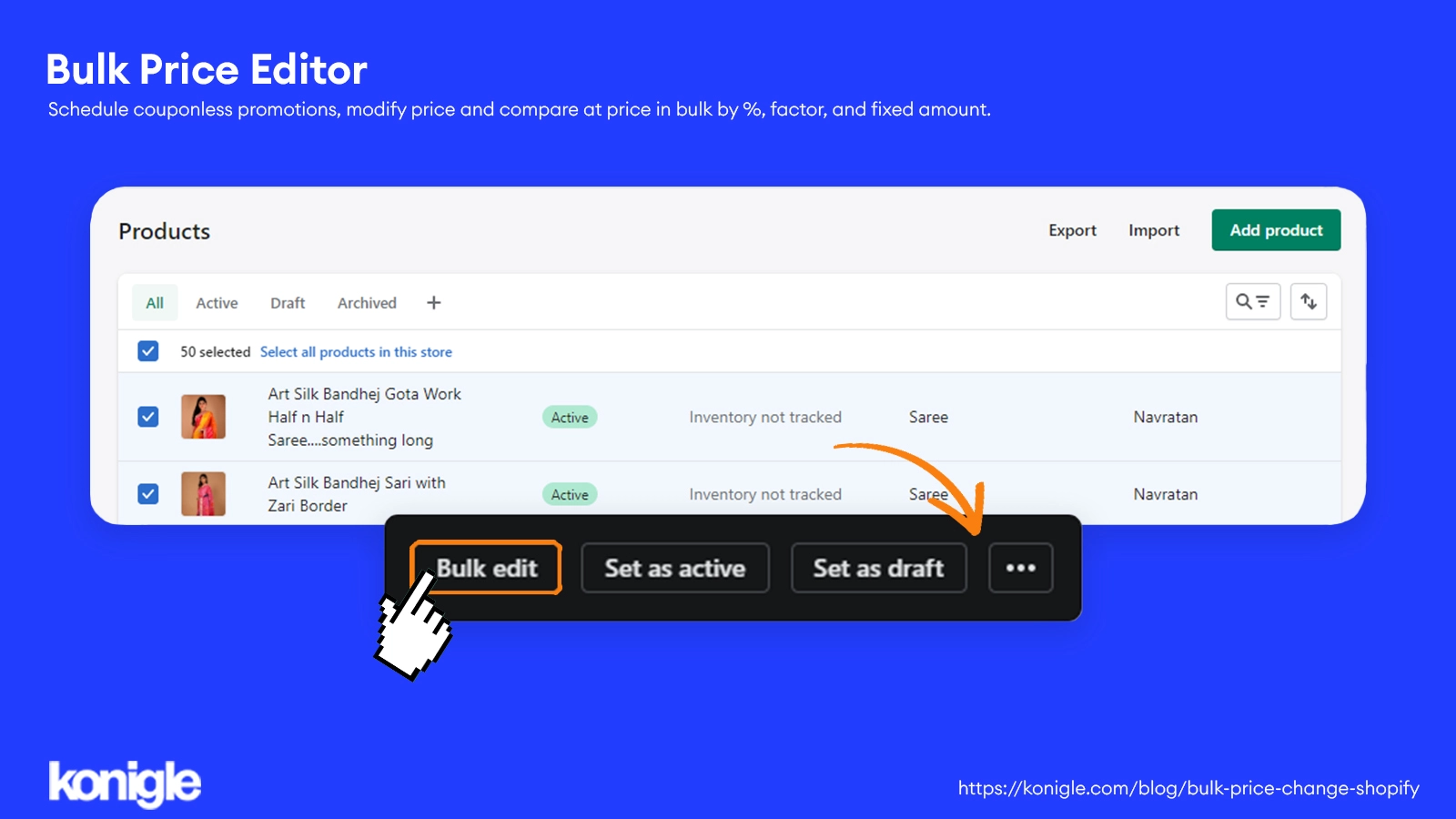 4. On this page, you'll be able to edit your products' information such as Price, Compare at Price to name a few. You can click on Columns to manage your column information.
If you're intending to put in one price for all of the items, you can indicate the price on one cell and continue to drag it down to apply it to the other products and click Save.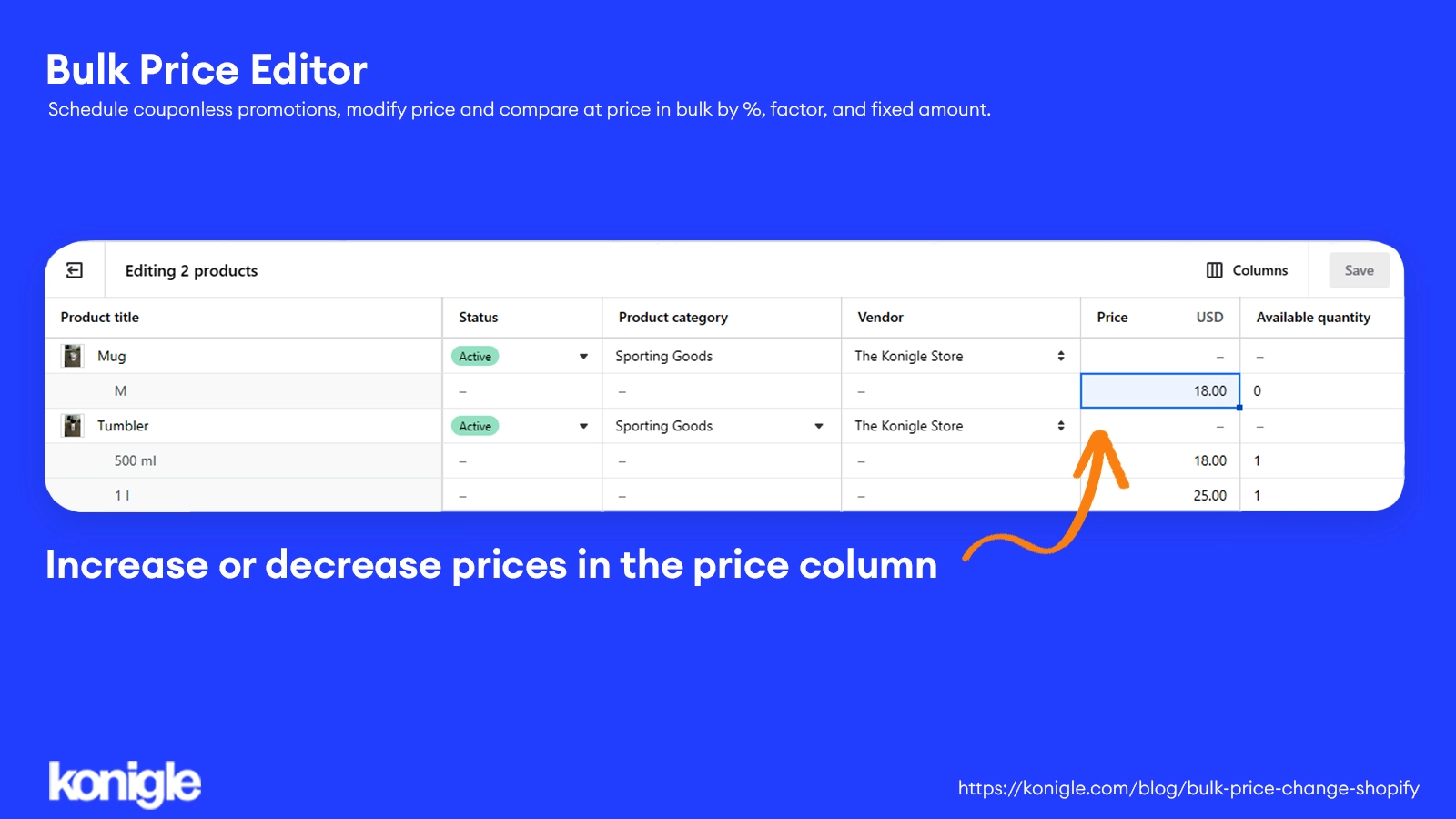 The multiple filtering options available in Shopify really gives you a lot of ways to manipulate or organize your products but the use of it for bulk editing prices is limited.
Increasing or decreasing prices on bulk based on amount or percentage is currently not available through Shopify's bulk editor.
Editing prices via the Shopify admin is cumbersome and very manual. Here's a better way.
Let's just take a look at offering promotional prices in your online store during the holiday season in an instance. Traditionally, this is the time of the year when retailers, both online and offline, generate the most revenue.
In a report from Mastercard Spending Pulse released in December 2021, 20.9% of retail sales in the U.S. during the holiday season were from e-commerce. As a business, you wouldn't want to miss a chunk of this pie and take this opportunity to attract more customers and drive sales into your stores.  
But imagine going through thousands of products in your Shopify store and choosing which one to put on sale and updating their prices one by one? This process is even susceptible to price glitches that even big brands had to endure.
Marks and Spencer had to honor incorrect pricing of TVs that have been advertised to be on sale at £199 instead of £1,099. Wal-Mart encountered a technical error in their website resulting in a 90% off on their product prices which later on forced them to cancel orders and contact all customers involved.
Konigle wants to save you from this hassle by giving you the ability to change your prices in one go.
Maintaining product prices in your store shouldn't be stressful and time-consuming, so make sure to check out your options of tools to help you streamline your processes and automate repetitive tasks. This can give you more time to focus on growing your business; save and spend your time wisely!
Konigle helps you save time, reduce your costs and increase your sales. Subscribe to our newsletter to receive more valuable tips for your Shopify store.