A prestige pricing strategy convinces buyers your product or service is worth extra money. Raising prices alone does not work. Prestige pricing requires businesses to emphasize the value of their products in a way that resonates with customers and exceeds their expectations.
So, this pricing strategy can provide a psychological marketing advantage by convincing customers that they are getting added value for their money.
Prestige pricing charges a premium for products of superior quality with no substitutes available, targeting customers with high financial or social status.
Yes, customers may pay more for a brand and not question the price. In Nike's case, the brand communicates value, not the specific nature of the product. Prestige pricing can give a psychological advantage by convincing customers of added value. It relies on the assumption that higher cost indicates higher quality than competitors.
Many companies and brands use prestige pricing to sell their products. Luxury car companies raise prices on high-end vehicles, despite cheaper models being just as practical. Customers who value fancy automobiles likely wouldn't tolerate driving an entry-level sedan as their main mode of transportation.
A Timex watch costs around $28 and has twice as many features as a Rolex watch that can cost well over $10,000 depending on how much bling is embedded. The Rolex watch serves as a status symbol that displays financial success, rather than simply telling the time. It shows prestige. Companies set high prices to reinforce the perceived value of their brand to their customers.
Improved brand image: Marketing a product at a higher price point can be part of a larger campaign that emphasizes your brand's position as a maker of high-end products. If you can create a brand image that justifies the price tag, consumers may be more willing to pay for it. For tips on designing a brand identity, check out luxury fashion designer Diane von Furstenberg's advice on brand identity design.
Higher profit through pricing: Merchants can make more profit by choosing higher prices, even if they don't increase their market share.
More customers: Wealthy consumers prefer luxury brands that match their self-image. By increasing your brand value, you can target new customers seeking high-quality products.
1. Adidas Yeezy Boost vs. D Rose 5 Boost
According to research from Solo review, the Adidas Yeezy Boost 750 costs $76 to make, while the D-Rose 5 Boost costs $43. Despite the $33 difference, the Yeezy sells for at least $985 more than the D-Rose.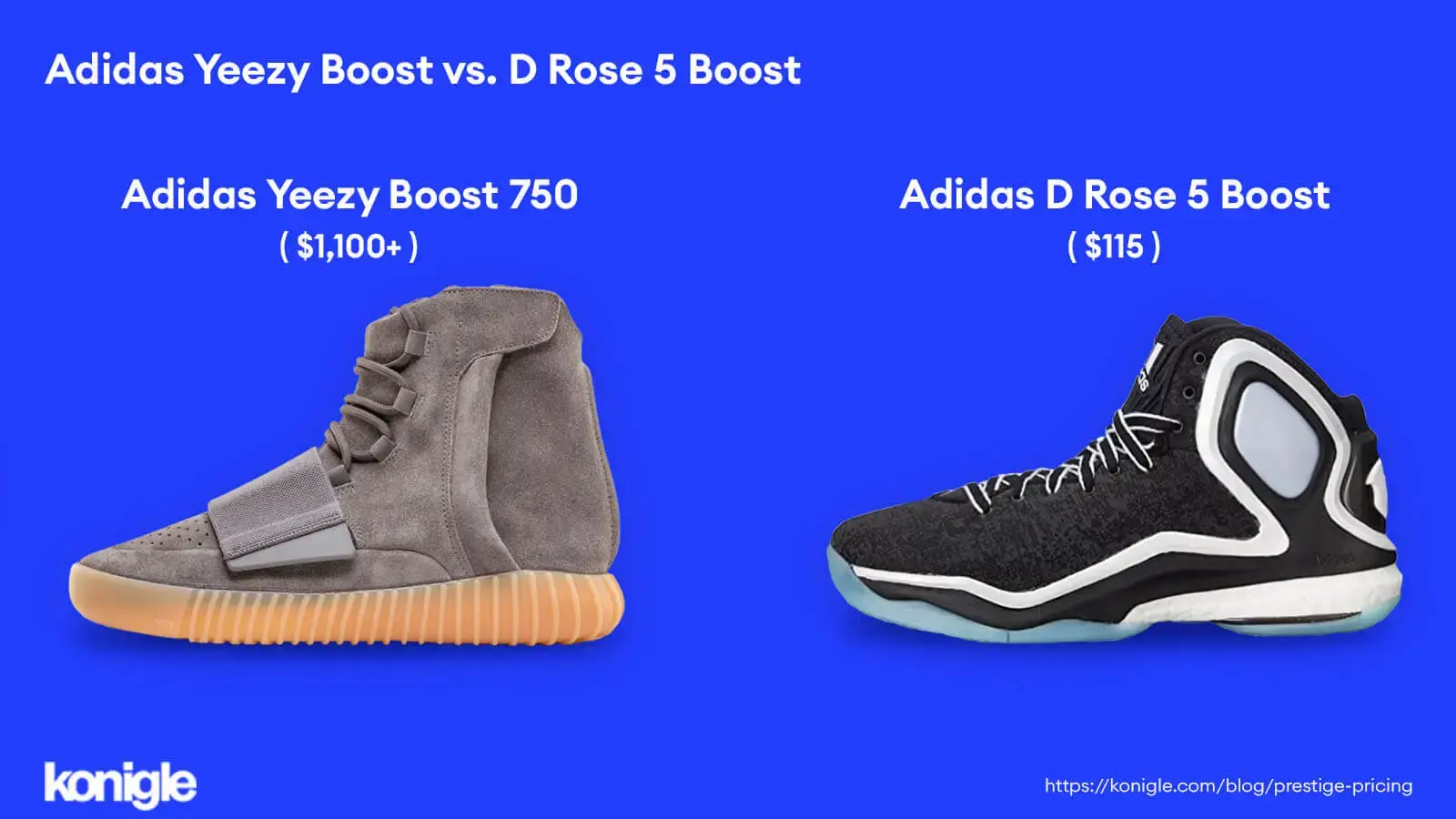 The Yeezy Boost 750s were released in limited supply while the D Rose 5s were mass-produced. Yeezy Boost 750s were rolled out via "drops" with fixed numbers of pairs available. The first batch sold out in less than one minute.
The Yeezy 750 Boosts have a higher perceived value due to their exclusivity, allowing resellers to charge higher prices despite production costs being only slightly different.
2. AirPods vs. AirPods Pro
In this example, Apple is using prestige pricing to create the impression of superior product quality among its products. According to an interview with Fortune, the Apple AirPods with a wired charging case, which cost $159, have a manufacturing cost of $59 to $69 per unit, estimated by Wedbush analyst Dan Ives.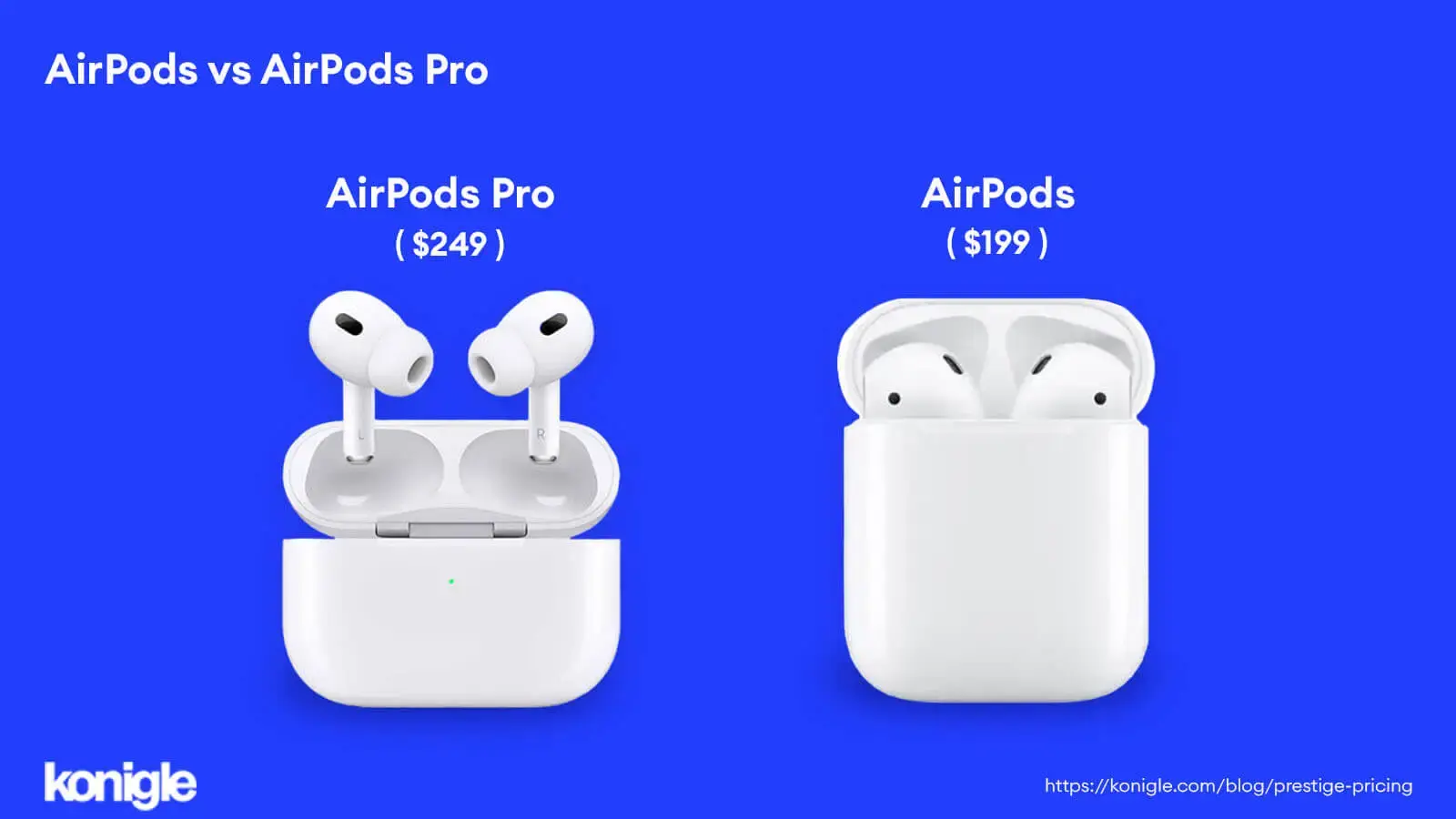 Although the AirPods Pro has extra features, it's unlikely that these justify the $100 difference in production costs and price compared to the regular model.
Apple charges a high price for its products, creating a perception of value and prestige in the eyes of consumers.
Prestige pricing works for all types of businesses, not just those selling expensive shoes. It's a way to appeal to customers' sense of value and increase profits. High prices can guide sales and communicate value effectively. Here are a few tricks to using this strategy.
1. Access the tool from your Konigle dashboard by clicking "pricing power" strategy.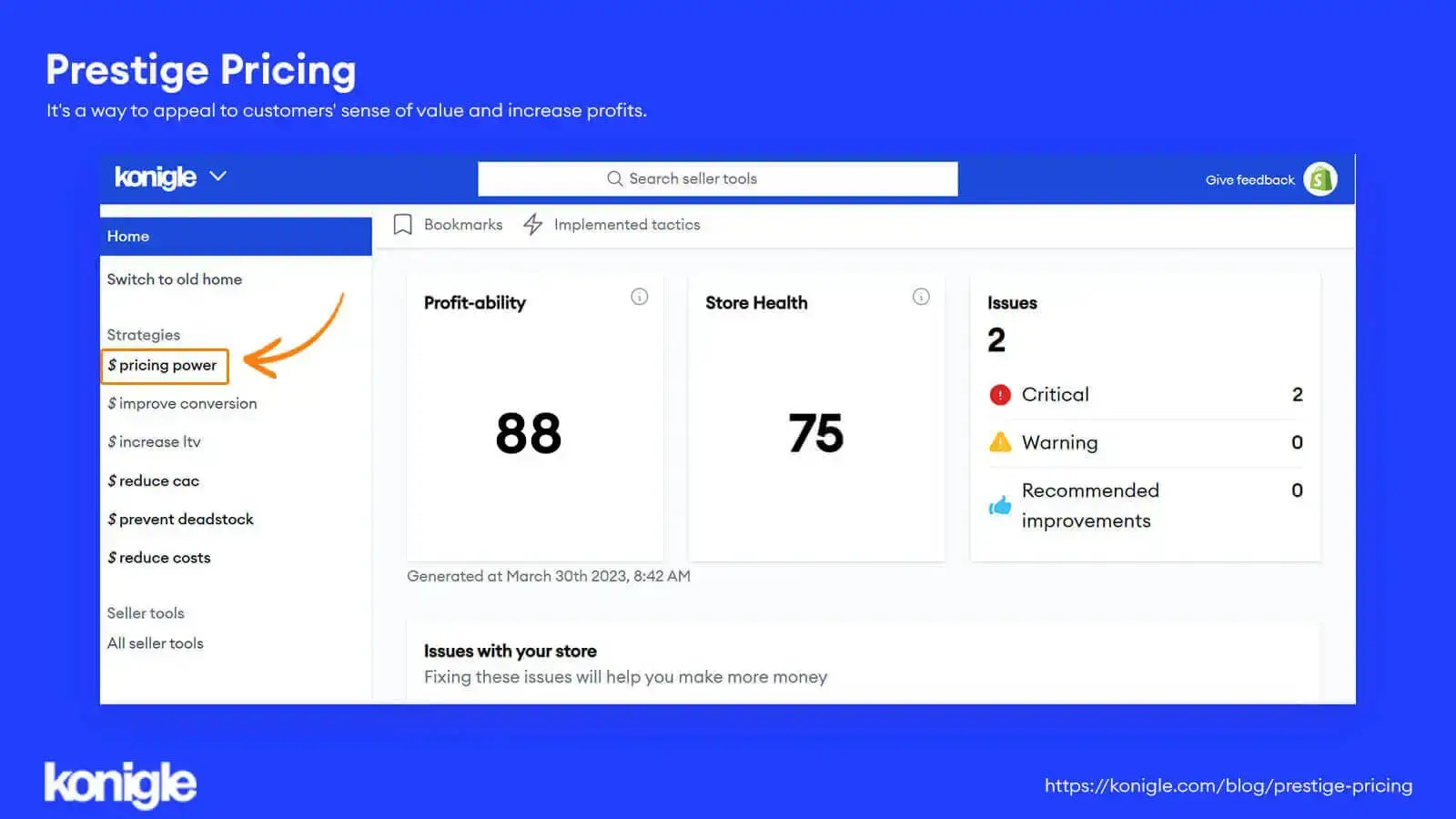 2. To bulk edit product prices according to price tactic, select and apply the "use this tactic", then click "implement tactic".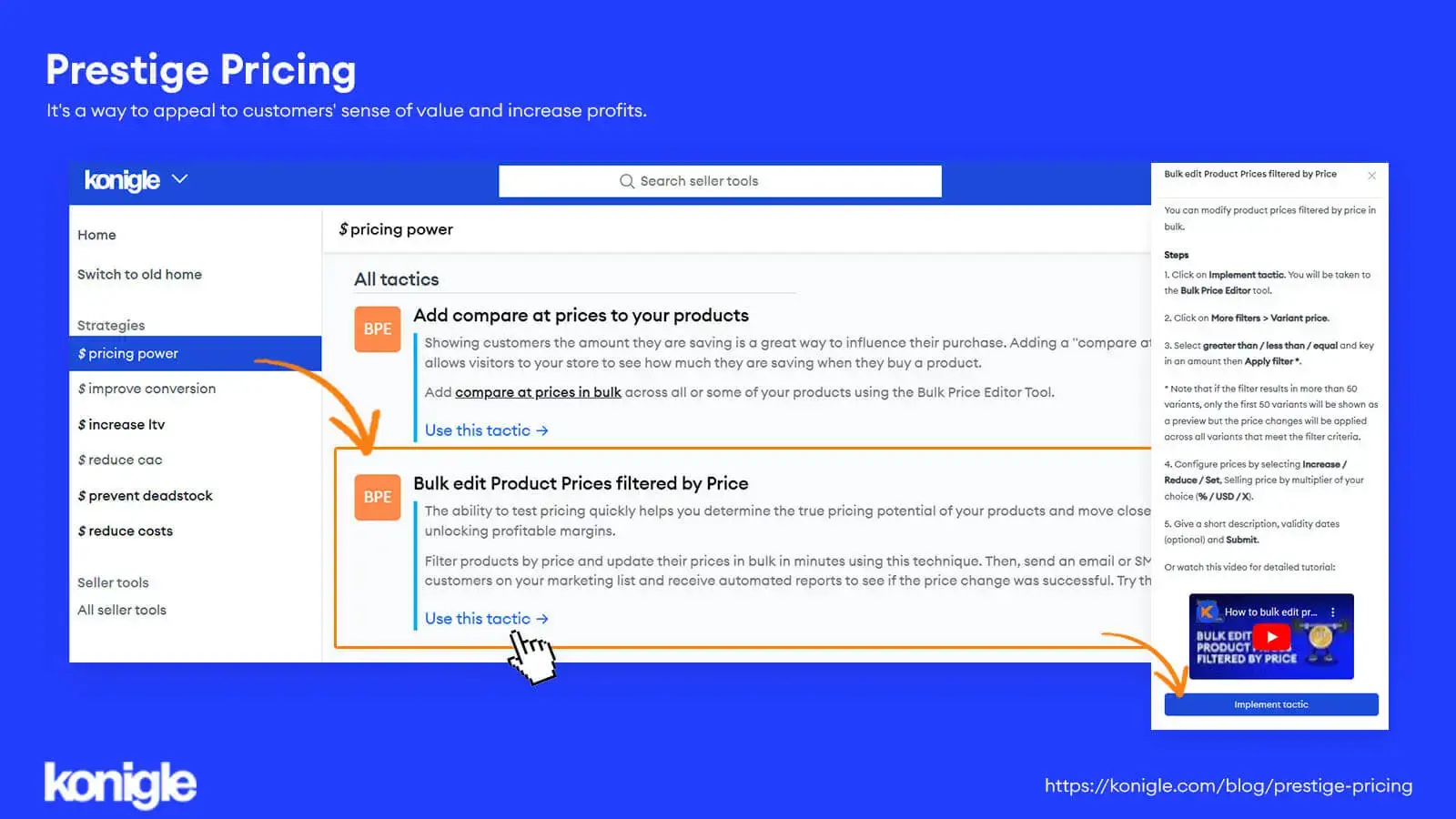 3. Choose products and set pricing by selecting them or using filters such as "Draft" and "Active". Click "Apply Filters" to apply changes to all selected products.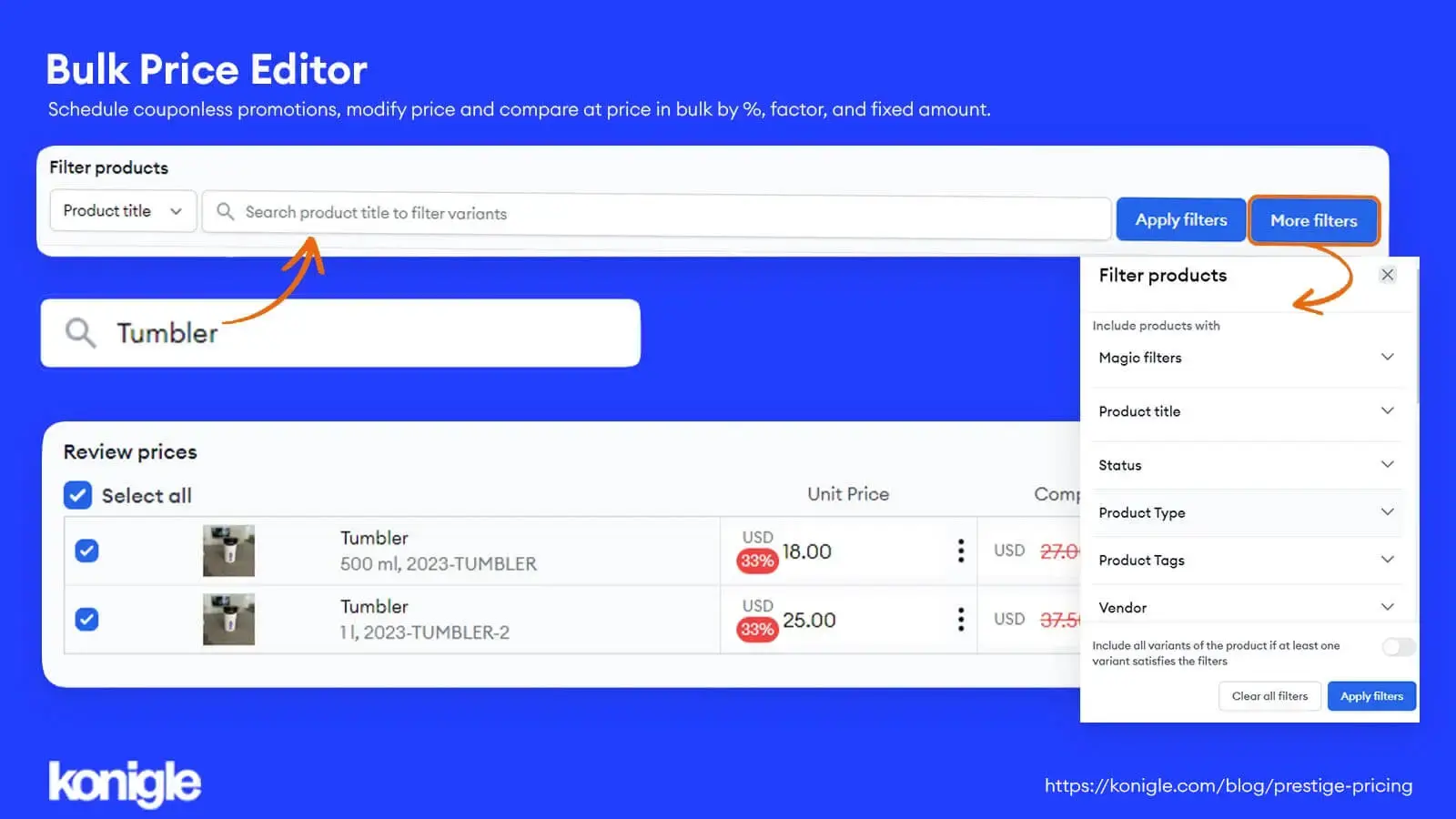 4. Configure your prices by choosing 'Increase' and setting your preferred selling price amount.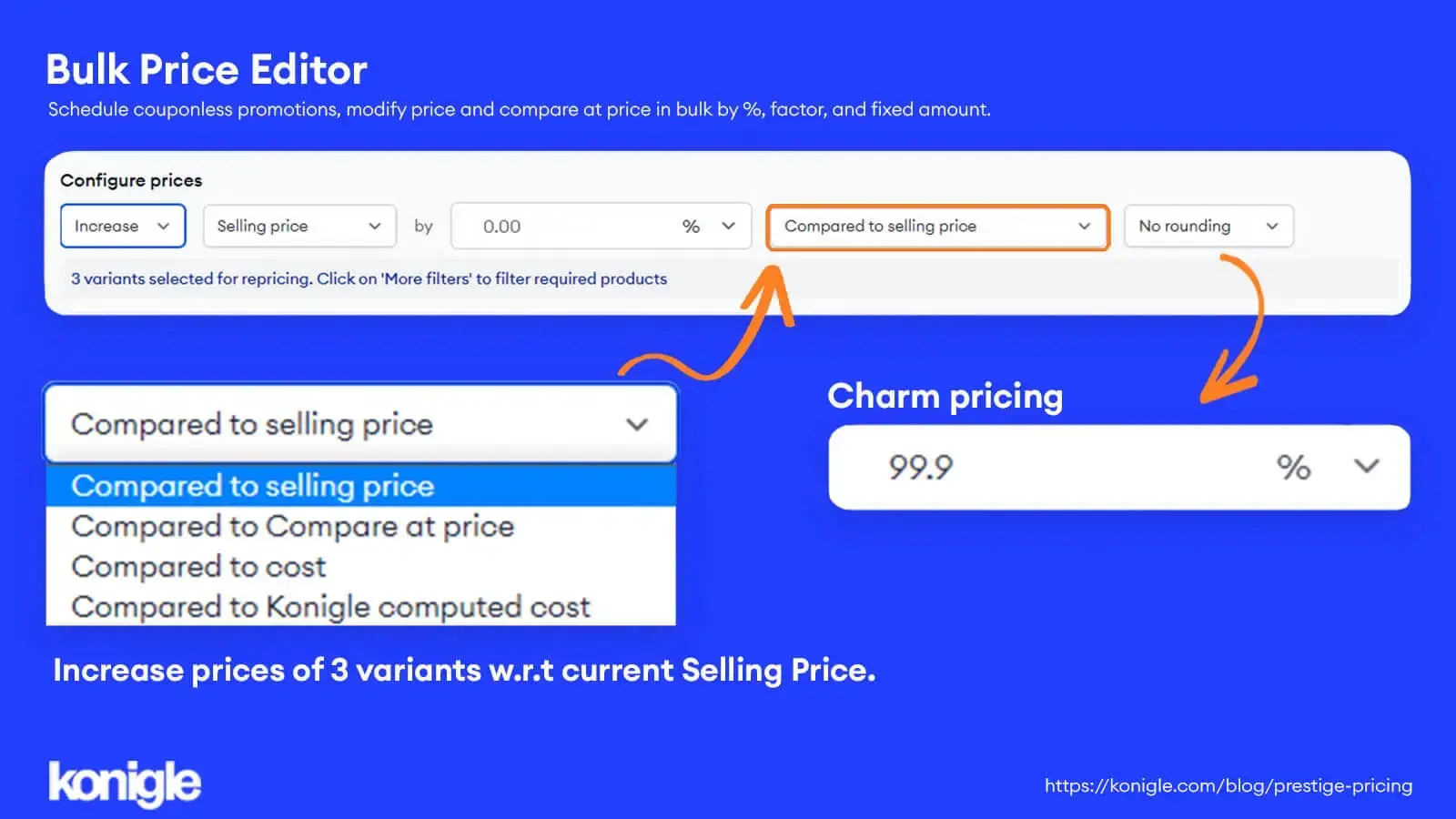 5. Set the Description and Validity for these changes. You can leave the Valid to field blank, this is a permanent change. So let's modify this. Set the time zone and hit "Submit".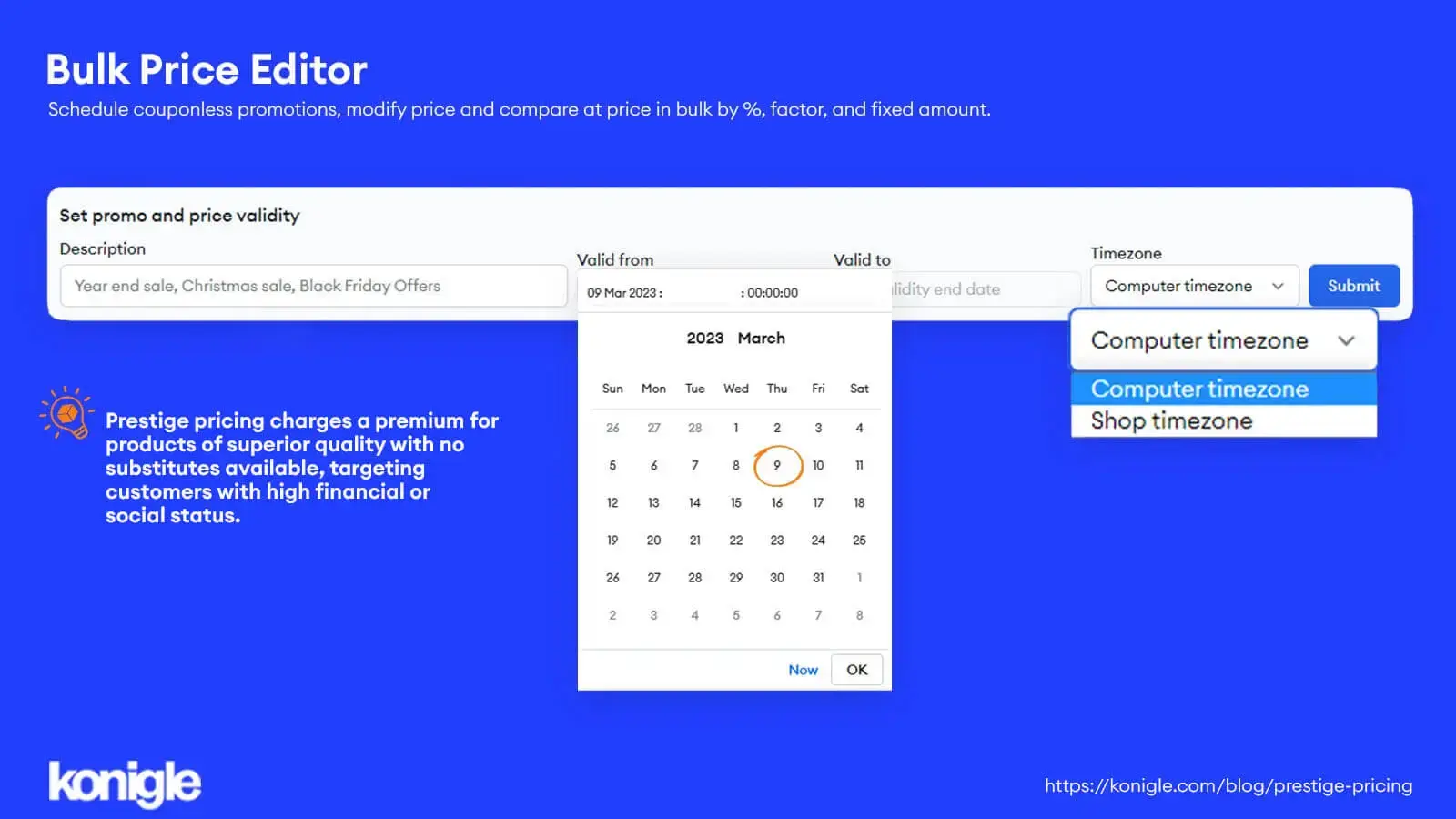 6. Review the request and click "Submit".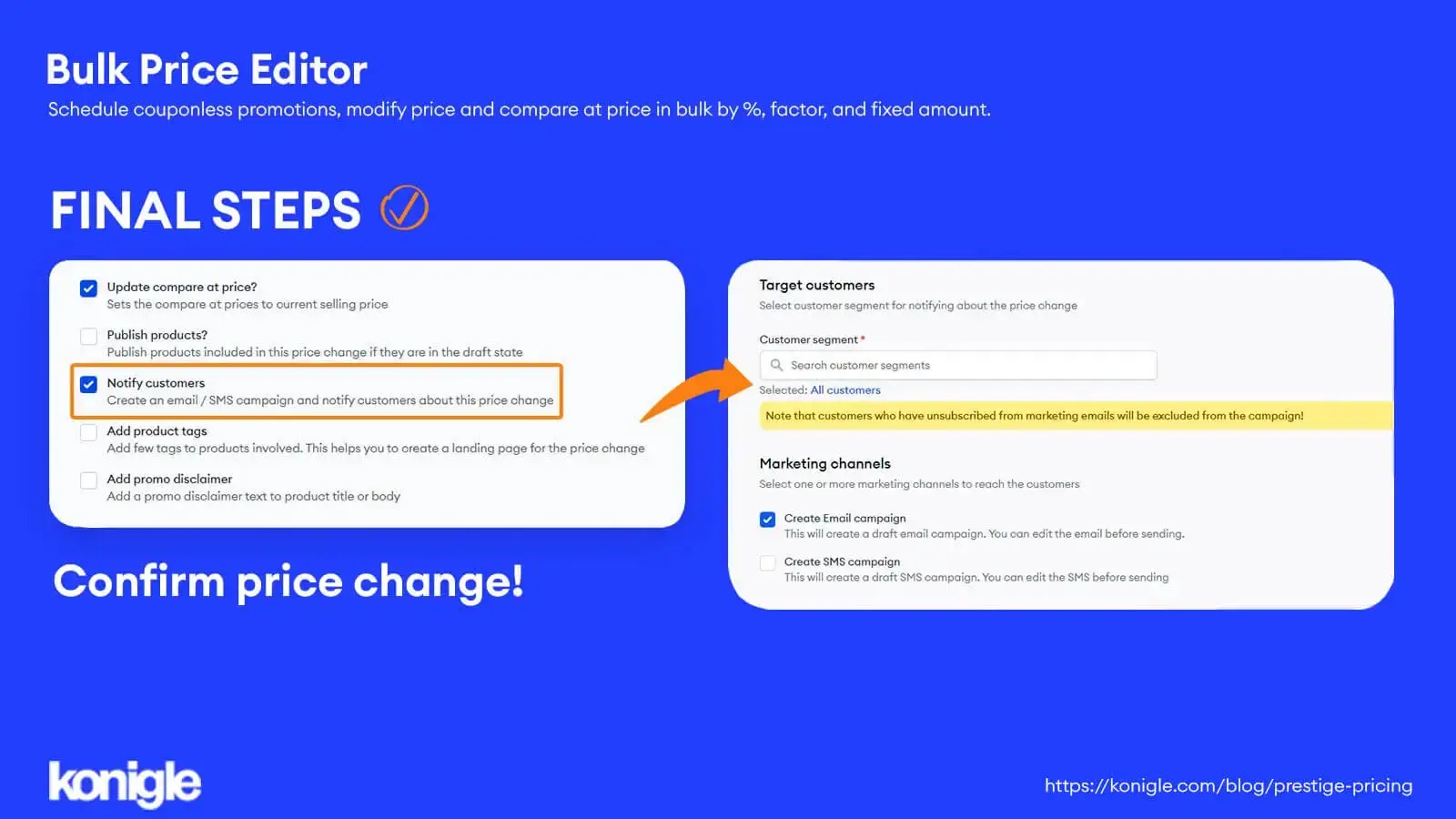 Perception is key. Companies that establish themselves as premier options in their market can charge higher prices for goods and services, regardless of their actual value. Prestige pricing works because people will pay whatever they think a product is worth.
Use prestige pricing examples to reinforce the quality of your service to the right audience. Boost the value of your product and communicate that value effectively to build your brand, reduce churn, and keep customers coming back. Even a 1% increase in price can increase profits by an estimated 11%.