Store-wide Flash Sale
Run flash sales across your online store within minutes.
Fast
Run a flash sale in less than 5 minutes
Reliable
Avoid losses, double discounts and 1 click rollback
Automatic Reports
Auto generated reports by variant to save even more time
About Store-wide flash sale
Flash Sales are a reliable technique to drive traffic and improve sales for any online store. A flash sale can help reduce dead stock and attract new customers. Read our 2021 Flash Sale Guide to understand benefits of a Flash Sale in detail.
Konigle's store-wide flash sale shortcut makes it super easy to run flash sales in a reliable and efficient way, saving time and eliminating errors.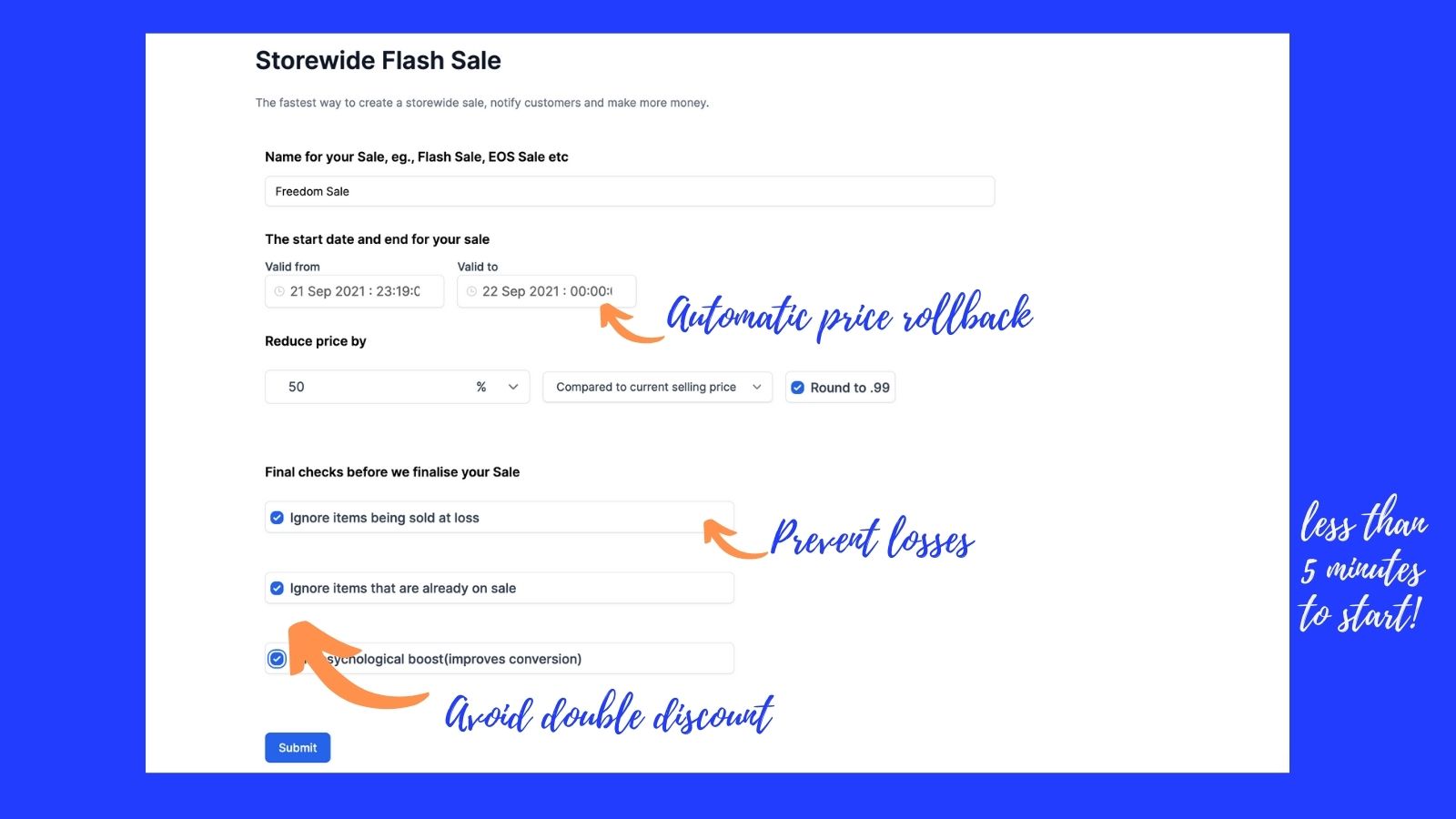 Start in under 5 minutes
Just decide on start and end time and discount percentage and you are set to go. The fastest way to run a flash sale.
One click Rollback
1-click price rollbacks to revert prices to the orginal values.
Schedule for Future
Easily schedule bulk pricing tasks to run daily, weekly or any time in the future, with automatic rollbacks.
Avoid double discounts
Konigle detects product on discount and avoids over discounting, to result in losses.
Prevent losses
Konigle detects products being sold at a loss and can avoid discounting them.
Psychological pricing
Konigle automatically sets your compare at prices such that to highlight larger discounts, leading to higher conversions.
Automatic Reports
Konigle autogenerates reports by variants to understand how the Flash Sale impacted the sales performance of various products.
Implement Charm Pricing (99 pricing)
Implement charm pricing with a click, by rounding off the price to the nearest .99 cents
SIgn up here.