Able Carry is a 5 year old Hong Kong brand that sells well designed high quality backpacks and thoughtful accessories. They run two storefronts: ablecarry.com and ablecarry.jp both of them running on Shopify. 
Here are 5 interesting things to learn from Able Carry.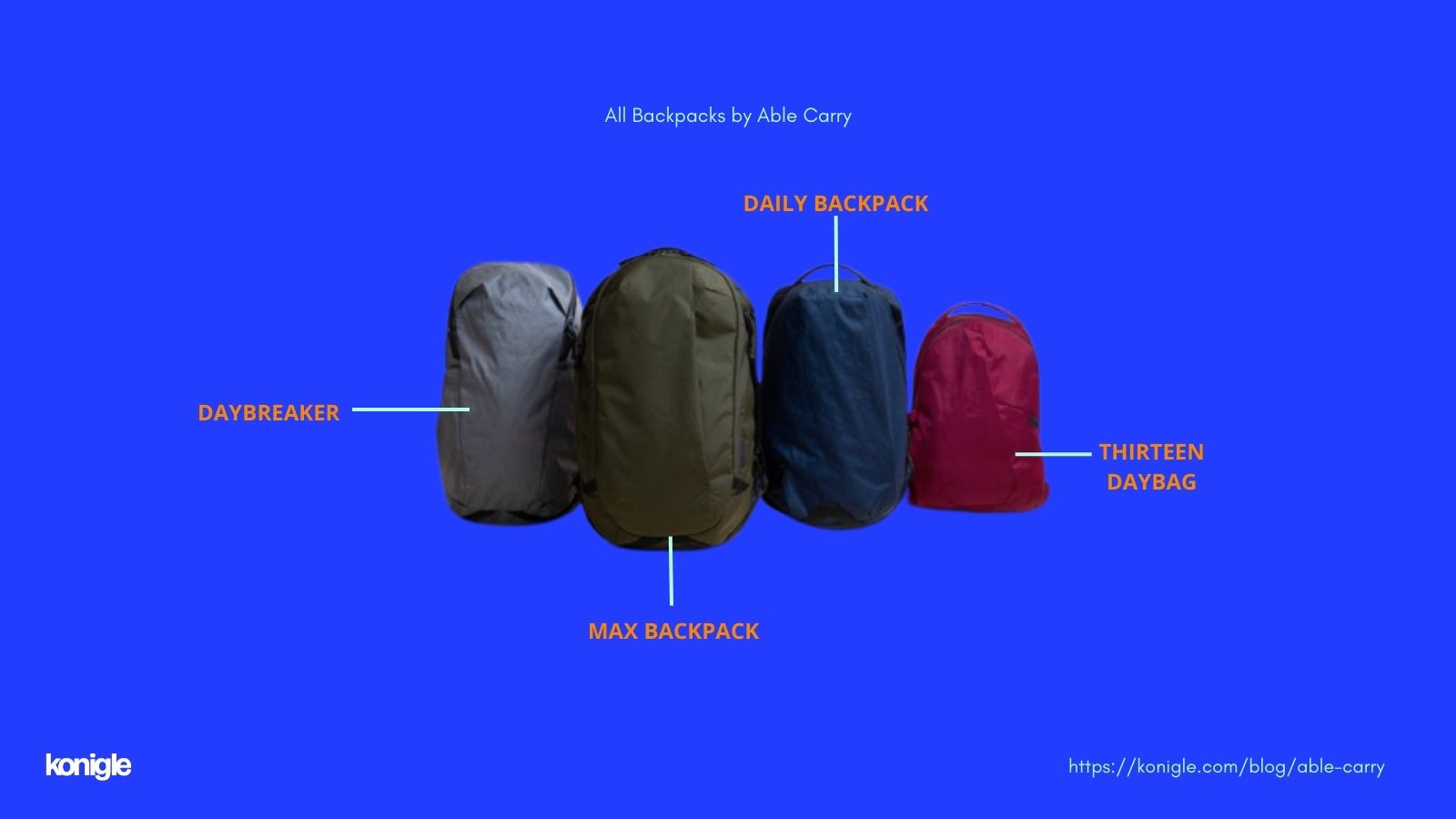 As they say, focus is where your energy flows. As seen above, Able Carry sells just 4 Backpack different products the Daybreaker, Max, Daily and the Thirteen Daybag. Even their accessories is just 4 products namely two pouches, a cooler bag and a rain cover. In total, they sell just 8 products with 4 core offerings. This helps them focus on creating a place for them in an almost commoditised market with so many players. This is surely an example of less is more.

The lesson to be learnt, which we see so many Shopify stores especially dropshipping stores fail to do is, start small, focus on a small niche and then grow profitably. This helps to identify your target customers well and provide a superior customer experience. Even Amazon.com started with books before it became the Everything store.
This is as much a fault of the various widget apps in the Shopify app store as of the Shopify store's themselves.
Most exit intent pop ups really suck. They increase drop off and slow down the Shopify Store.
Here's the growth tactic :
Offer a discount coupon in exchange for an email or phone number. 
Spend money or do SEO to get visitors to your Shopify Store, then show a pop up offering a discount coupon in exchange of the visitor's email or phone number. Once, you have the email or phone number, you keep sending them marketing material until they opt out.

We see tons of apps on the Shopify app store offering the ability to set up a widget, customize it and so many online merchants wasting time on customizing the widget to look good, but not focusing on the thing that really matters. Read on for more.
Here's how ablecarry.com has implemented the exit intent pop up  on their store
You can notice here how they wait for a certain time for a visitor to browse their website before showing an exit intent pop up. This time improves the user experience and also improves website speed. And if you notice, the pop up is not fancy, it has a photo showing perhaps their best selling product with a simple call to action. It is simple yet effective. If you implement a retargeting campaign and target those who have seen the pop up, gives you an opportunity to better re-target customers that are likely to buy.
Able Carry seems to be a store always running out of stock. Though not ideal but you can use out of stock products as an opportunity to grow your Shopify store profitably. Here's how :

Here's the growth tactic :
Back in stock alerts
Collect visitor emails for out of stock products with a promise to notify them when back in stock. This is a great tactic for multiple reasons :
It helps better estimate demand for out of stock products,
Build your subscriber list with potential buyers, and,
Reduce customer support queries.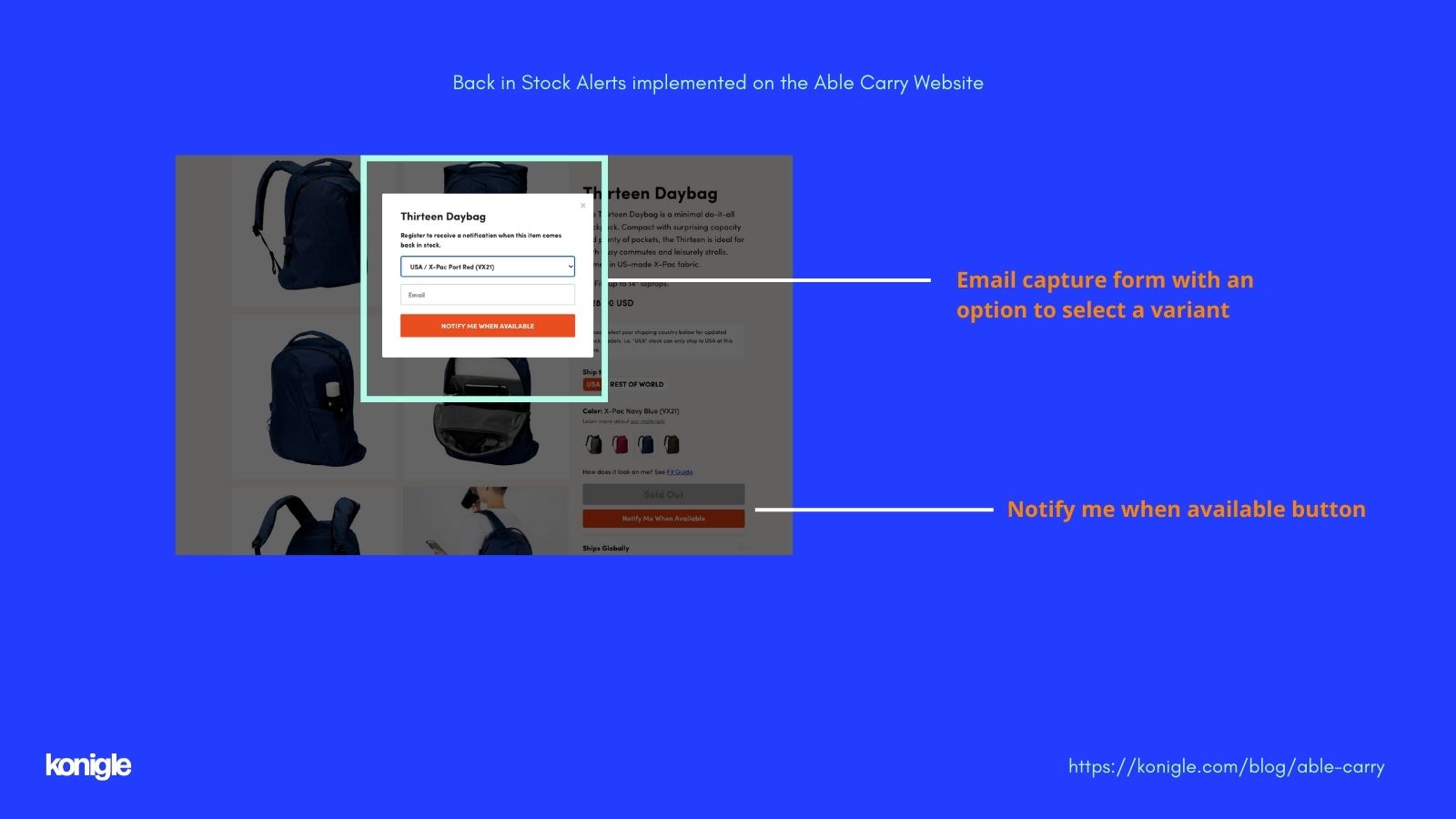 For backpacks, shoes or fashion items a lot of buyers are hesitant to purchase without trying. Hence, it is imperative for online stores to offer a no questions asked free return policy for almost up to 30 days. For eg, Nike offers a 30 day return policy for their shoes and Able Carry also offers a 14 day return policy. 
Though, having a return policy is important to improve conversions but for relevant businesses being able to add a Fit Guide or a page where visitors can understand how the product would work in the real world can help an online store reduce return requests and hence improve profit margins.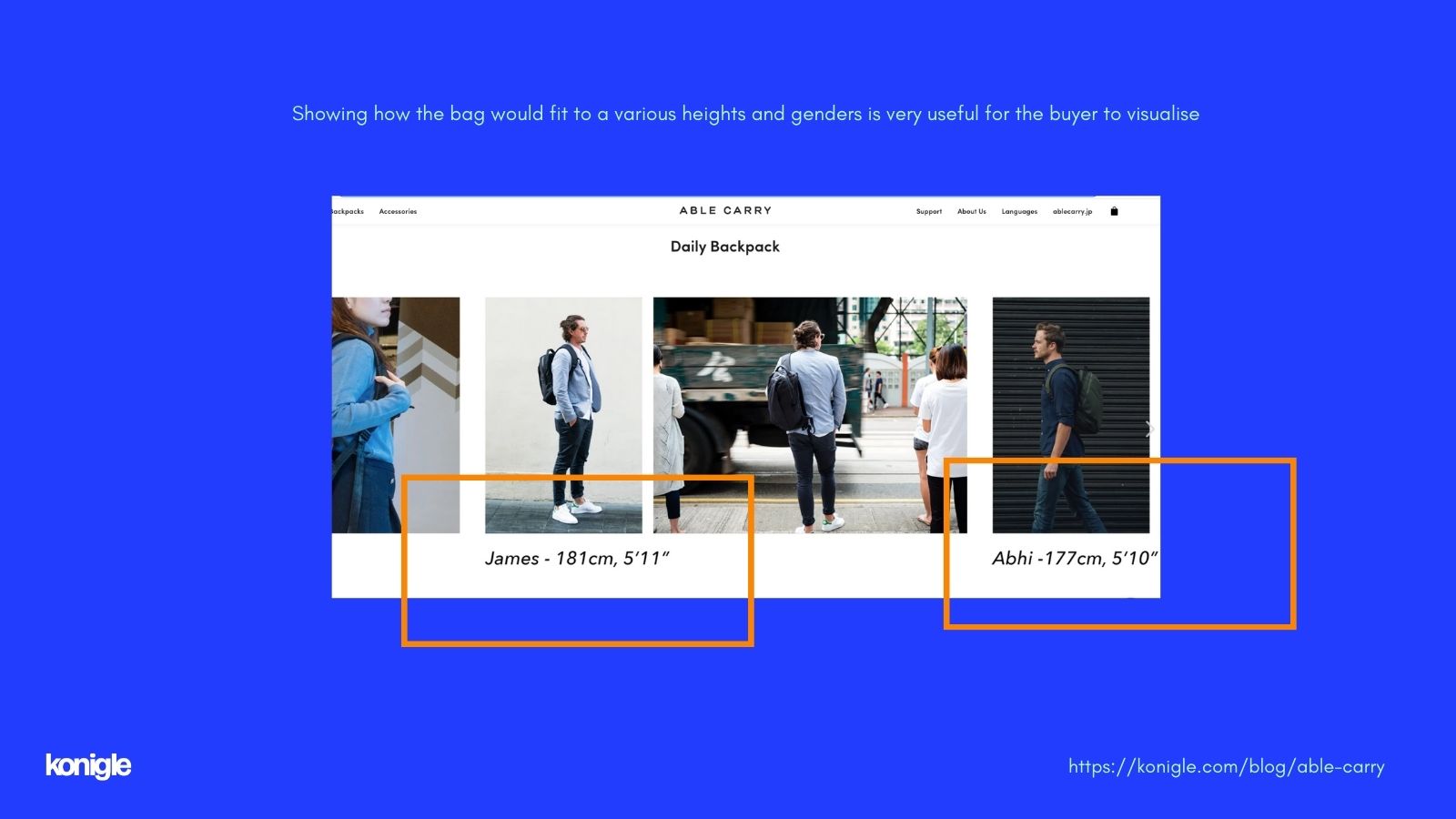 Here's an issue that most Shopify Stores suffer from leading to SEO problems, which Able Carry's Japan website suffers from too. This is something that most Shopify Stores do not even realise until they invest in a great SEO tool like Ahrefs. Fixing orphan pages typically requires theme updates to your Shopify Store. 
To help Shopify Stores identify and fix orphan pages for automatically and perpetually, we have created a 1 click Shopify Orphan Pages Seller Tool and an Orphan Pages Audit Tool for Shopify Stores. Here's the tool analysing Able Carry's Japan website :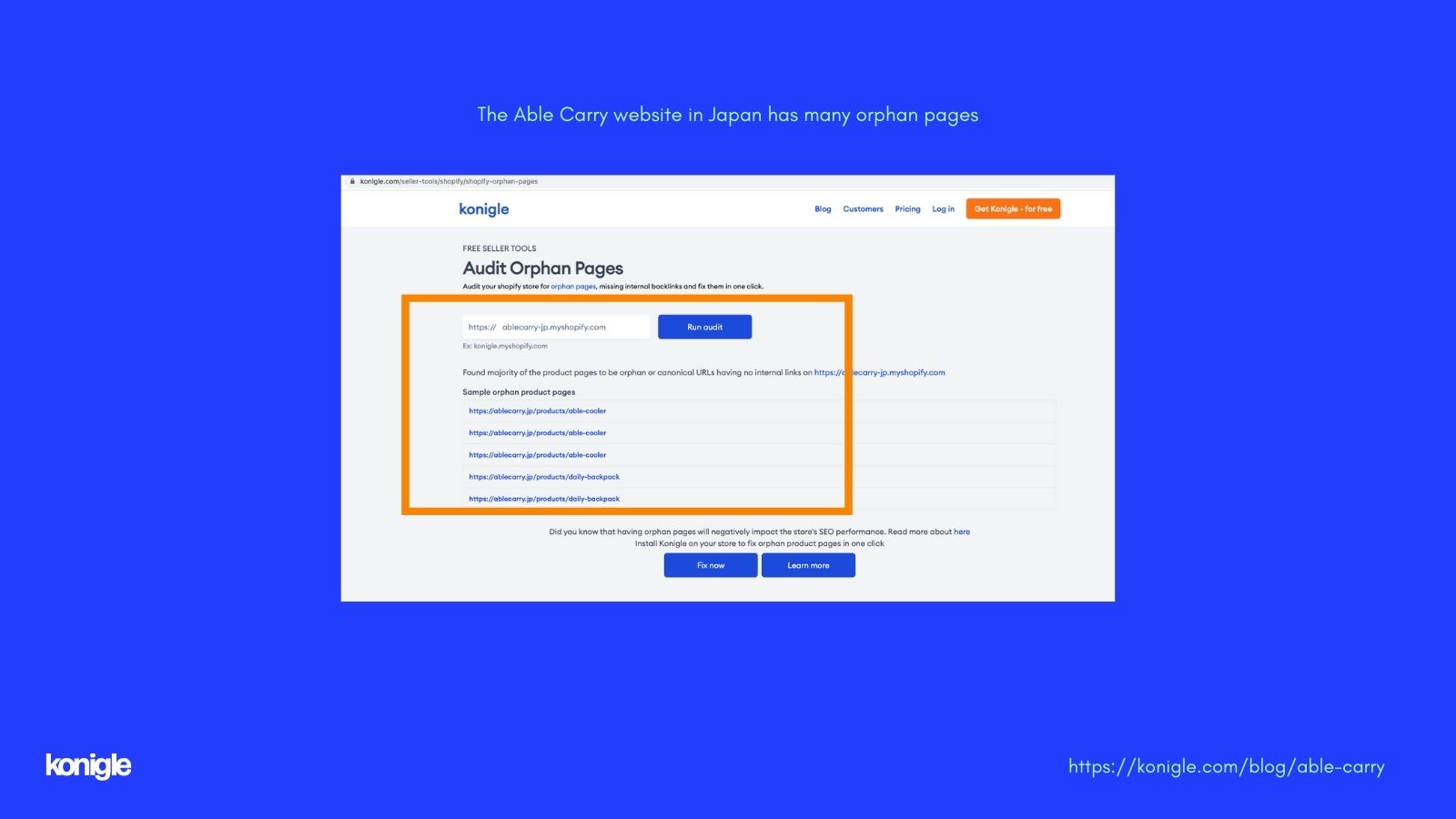 So, these are 5 things to learn from Able Carry, hope you find this useful. Here is a bonus growth tactic we can learn from :


Subscribe to our newsletter to read the bonus tip
Yes you can run a promotion as you plan to increase prices. As a business, you may have to increase prices from time to time, and especially with inflation increasing and supply chain disruptions. We love the honest to goodness approach from Able Carry as they informed their entire subscriber list in advance of an imminent price increase, while explaining reasons behind the price increase. They also invited folks to place orders for their products in stock at their current prices.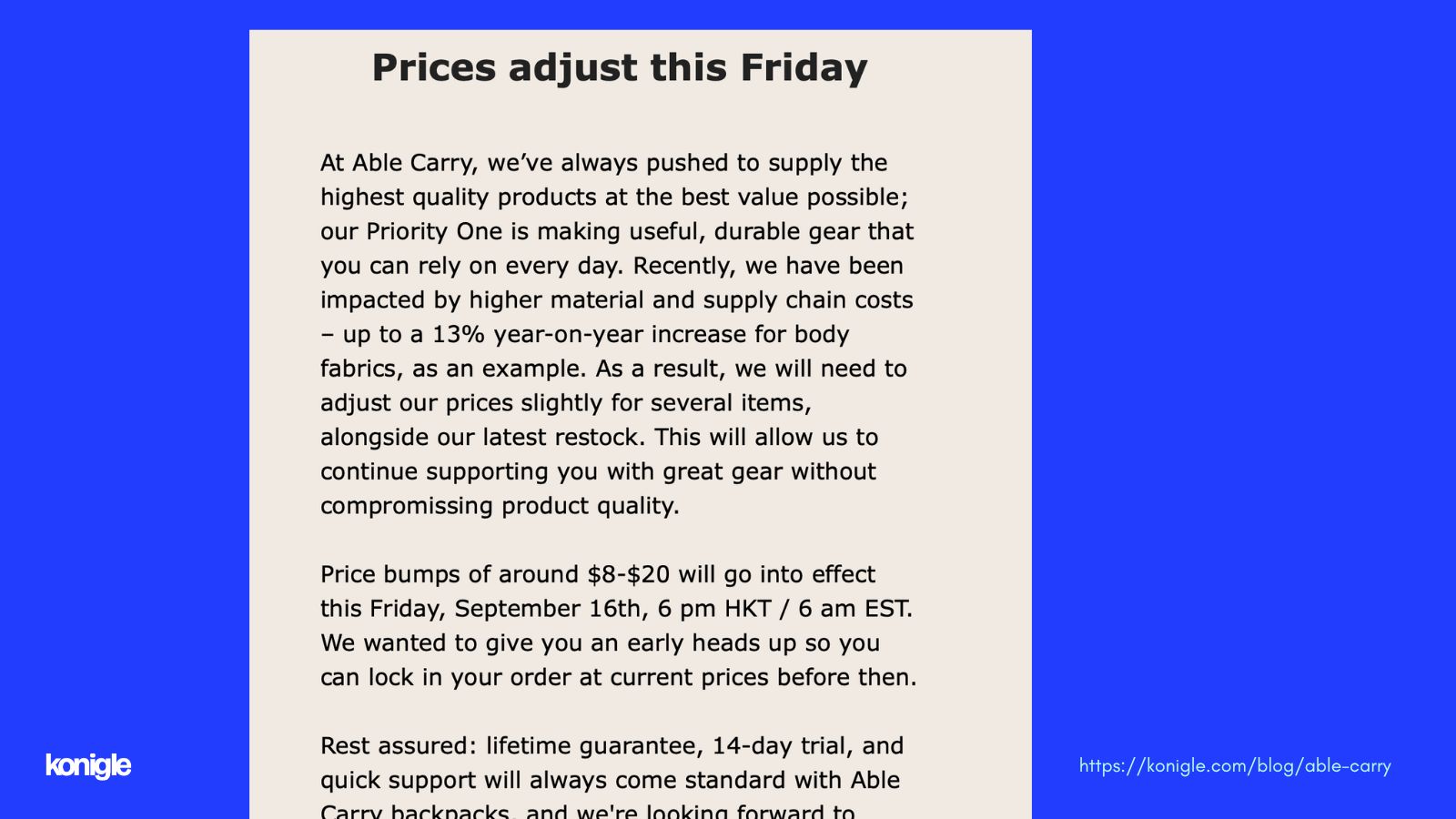 This is a great growth tactic, as it :
Increases customer trust,
Allow you to own the narrative around your brand,
Improves your profit margins as a business.
You can easily replicate the above tactic using the Shopify Bulk Price Editor seller tool as it allows you to do all of the above in a simple workflow.
You can schedule a price change to increase prices by % or % of cost. You can also filter by smart collections, inventory levels and more.
You can then compose an email and sms explaining the price increase and select all or a specific customer segment to send it to. Konigle will send the email and sms to your subscriber list, without needing a separate marketing tool.
You can also track how the above tactic impacted your Shopify Store with a before and after analysis