Orphan pages are pages on your Shopify store that live outside of the site structure because they do not get any internal link.  If a product page has no links pointing to it, then it's going to have very less page authority and could result in search engines deciding to drop it from the index.
To rank and have better visibility of your Shopify store products , search engines obviously need to know about the store and products. Search engine bots always follow the internal links of each store and save all the product data they find on pages in their index. This is Shopify SEO 101.
If Shopify orphan product pages have few meaningful internal links from other pages, Search engines will consider these product pages less important than other pages and not index them. So, if you wish to get organic traffic  then you should make it clear to search engines (and your customers) the page is important by making sure the page is not orphan and has internal links.
Orphan pages lead to two major problems:
Low Rankings: Even if your page has a good product with great content, orphan pages typically don't rank well in search engines, and that is why they do not get significant organic search traffic to the store.
Crawl Waste: Low-value orphan pages can waste crawl budget from your important pages.
Here's a great article by Ahrefs, explaining why Shopify Stores are flagged for Orphan pages in their Site Audit Tool.

Expected orphan pages:
1. Some pages are not currently present on your store, but another website is linking: Most commonly when an external link to a page that you then remove or redirect but because the old link is still present on that site, the search engine will still find it.
Unexpected orphan pages:
1. Expired pages: Some sites stop linking to expired content or discontinued some products but fail to return a status code (like HTTP 404 or 410) to indicate that the product page doesn't exist.
2. Site migration: Sometimes web pages are left out from a previous migration and aren't redirected, therefore some old product pages might still be available.
3. Website structure: When you create a structure or link with pages some important pages are missed and then occur as orphan pages.
By using Konigle's Shopify Orphan Page Seller Tool, Orphan Pages on a Shopify Store can be fixed by a click of a button without the  need of any theme changes.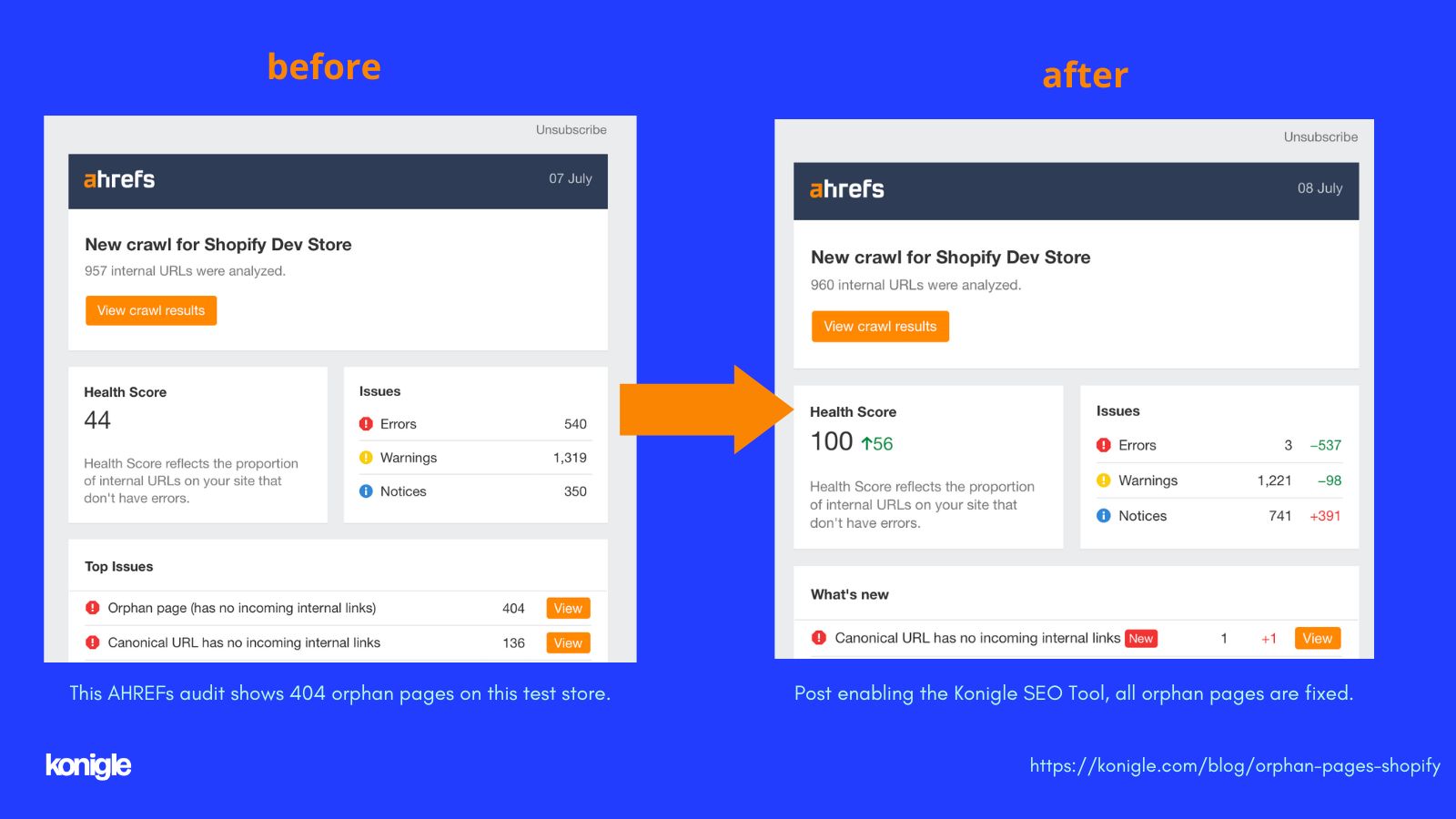 If you already have the Konigle app installed on your Shopify Store and you want to fix them or resolve them from the dashboard then please read the complete guide here.

Else, 
1. On the Konigle website and search Audit Orphan Pages  or click here.
2. Enter your  my Shopify URL into the input box and click on the Run Audit button.
4. You will get results for orphan pages are present on your website.
5. Click the button Fix now.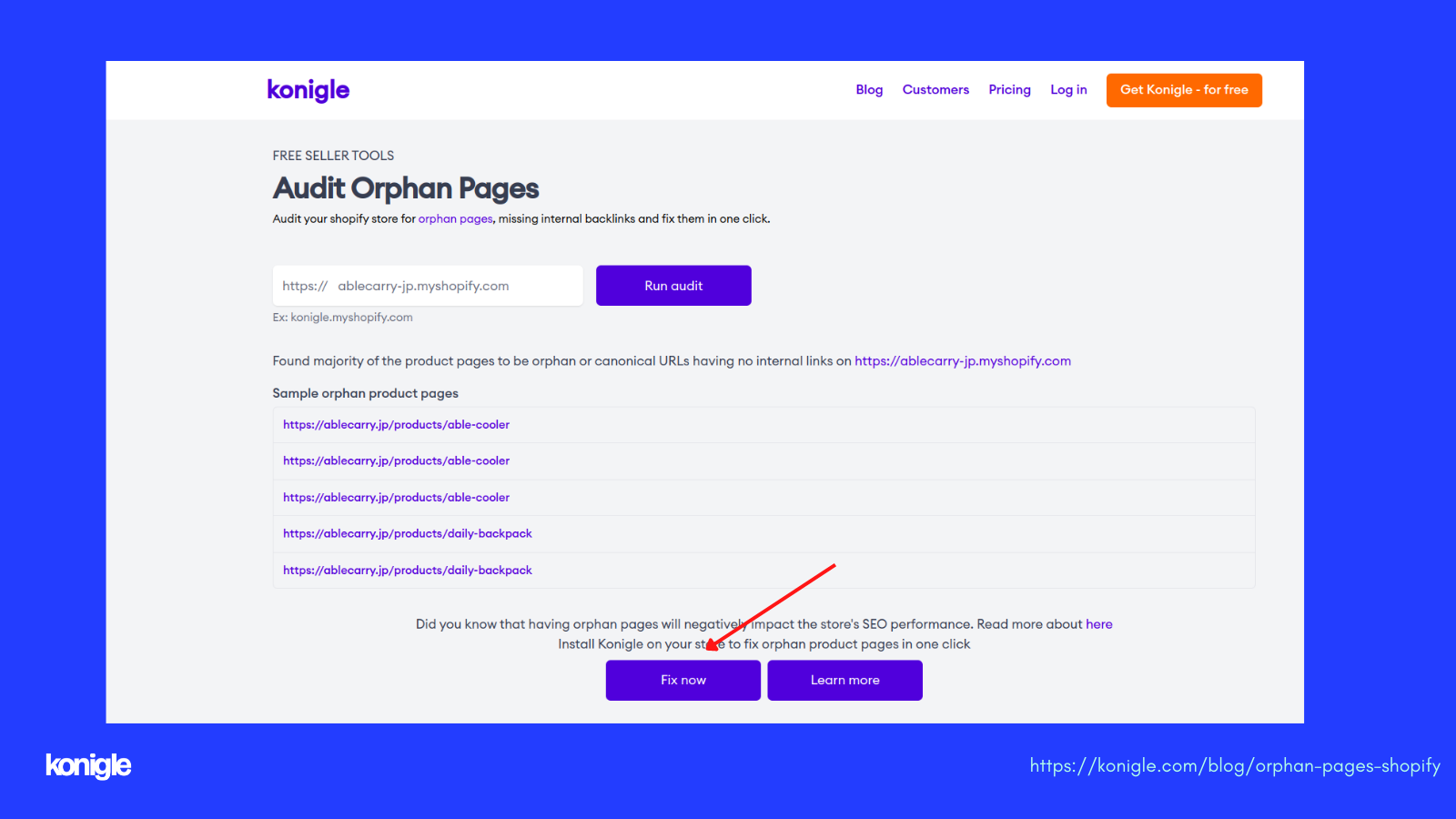 6. It will redirect you to a new page for konigle app installation (connect) in your Shopify store.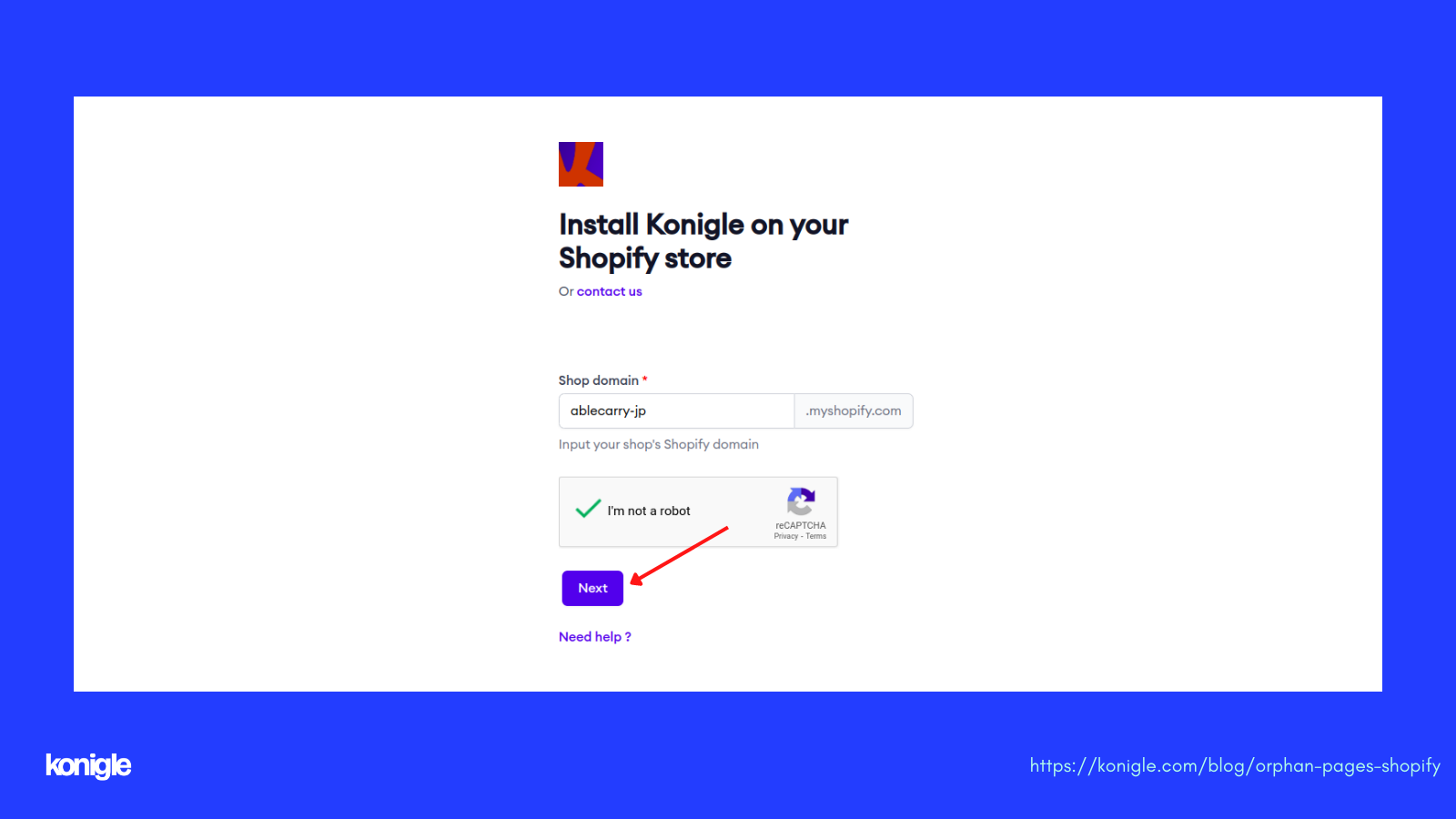 7. After successful installation you be redirected to the Konigle dashboard.
8. In the dashboard you need to click on Automatic Strategies.
9. Then choose SEO Optimizer Tool and click on the Arrow.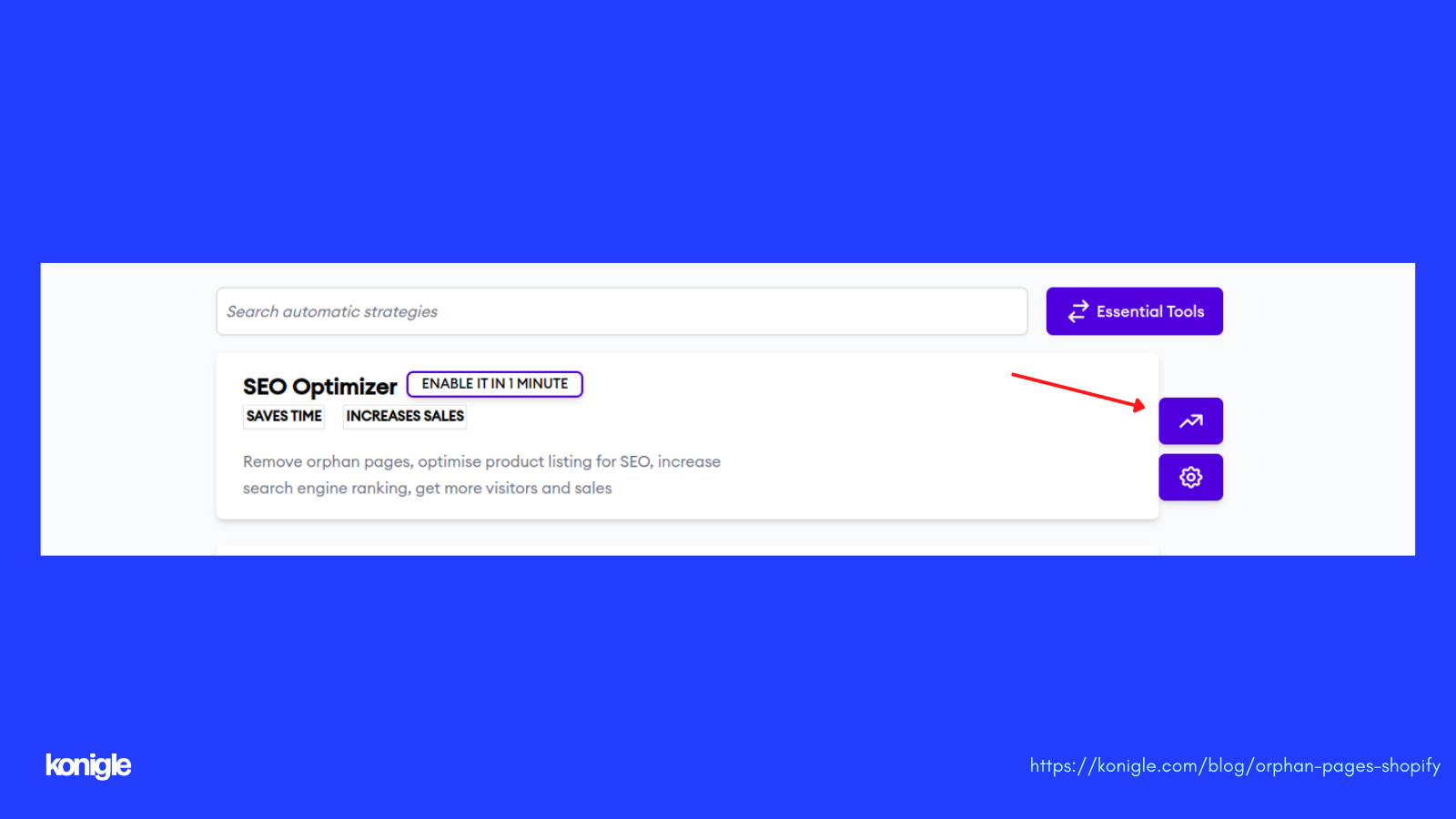 10. Click on Resolve Orphan Pages > Resolve Now.
11. Hit Enable to activate this tactic in your store.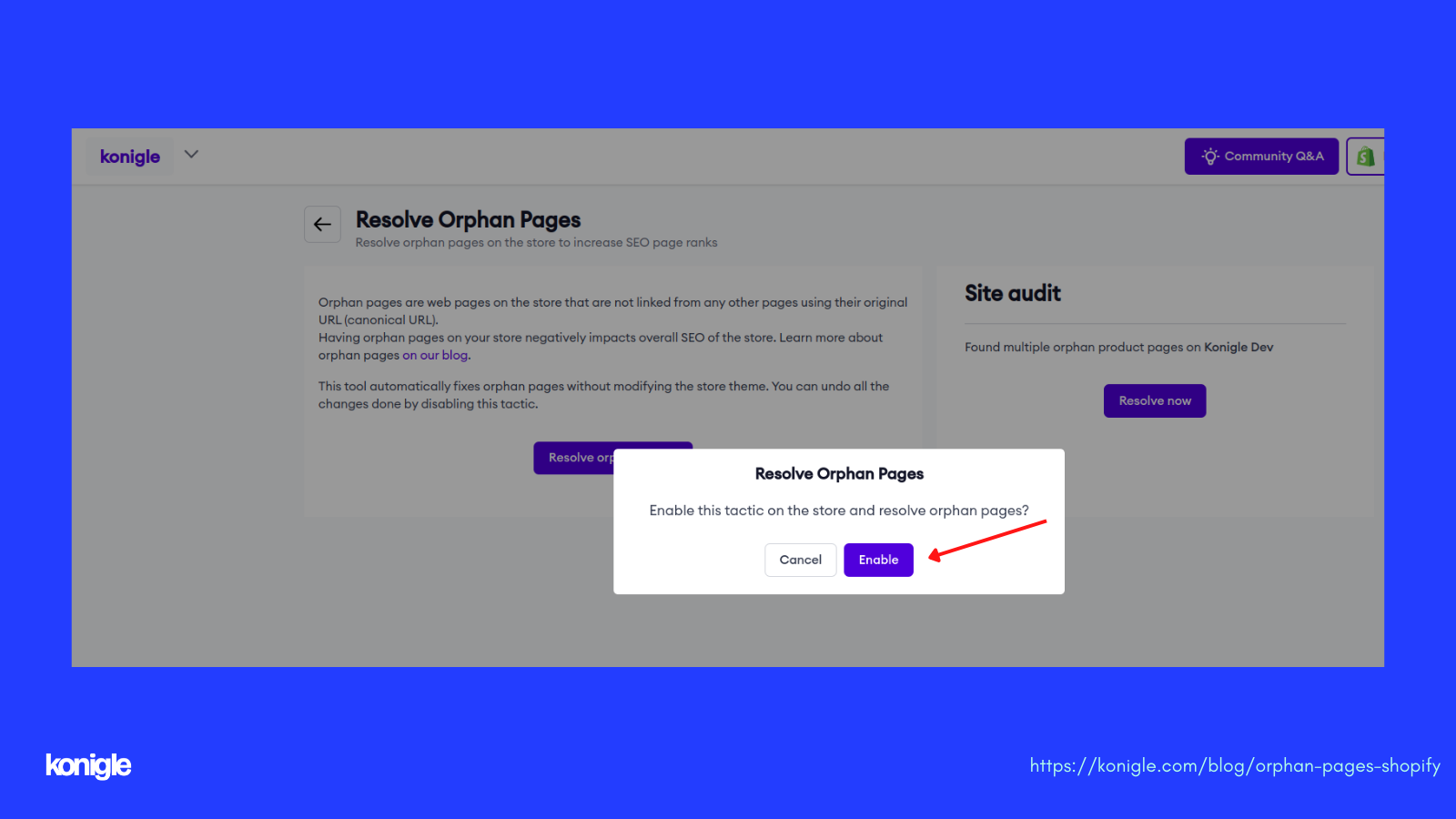 With Konigle, you will get easy to use seller tools that help you  grow your Shopify store.