Price Waterfall, also known as waterfall pricing, is a useful tool for uncovering additional charges, expenses, and profit losses that may have gone unnoticed when calculating the unit cost of a product. It can help you determine how much money your online store is making from each order.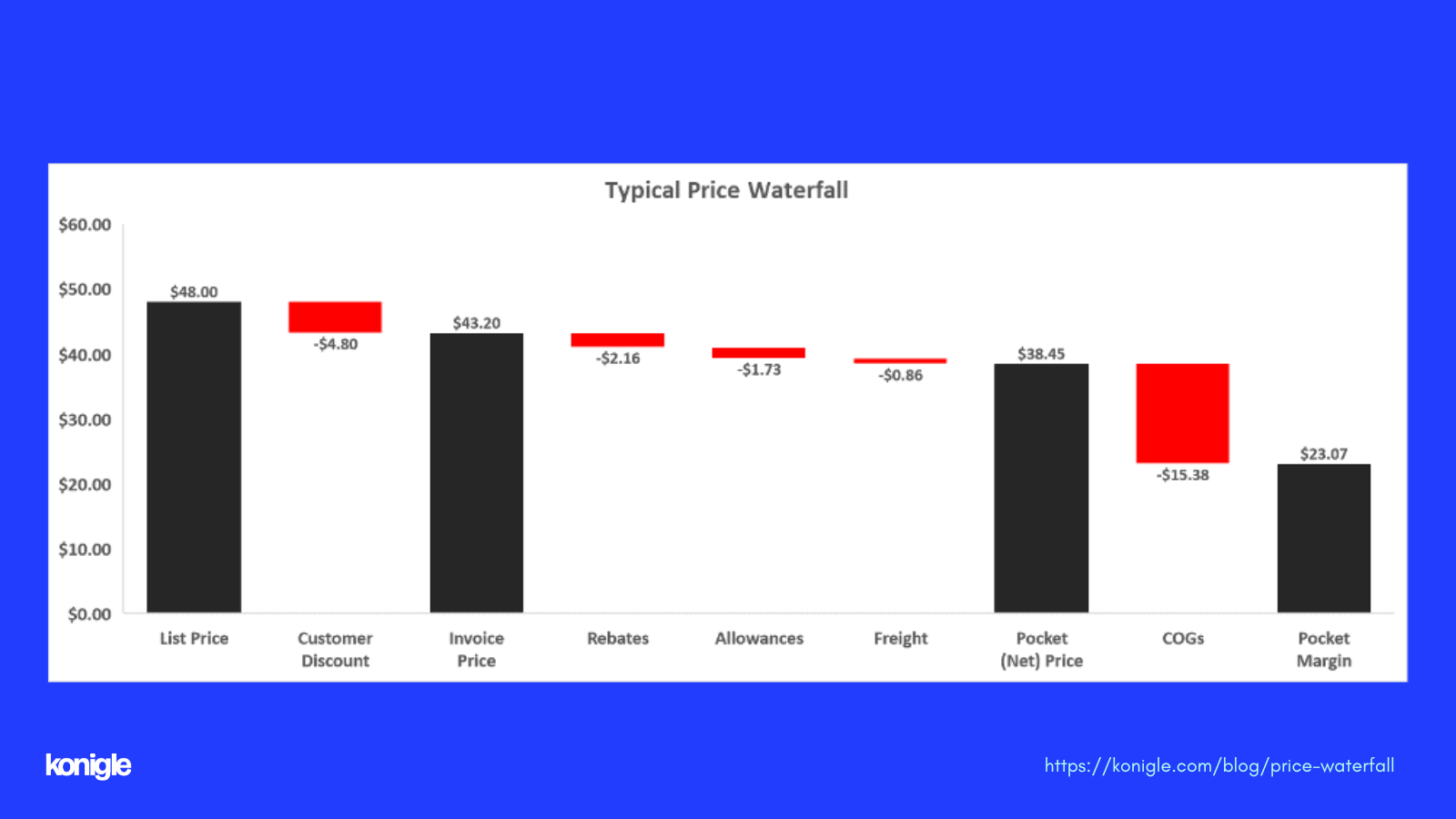 Price waterfall is an effective and powerful tool for online businesses to understand their earnings from the goods they offer. When done correctly, it can help them maximize their earning potential and set a price that is both competitive and profitable.
According to the Sellingnomics issue on profit margins, it was found that more than 65% of the SKUs for online stores signing up for Konigle lack costs. This is a major issue, as not knowing costs makes it nearly impossible to calculate profit margins per transaction.
The price waterfall approach provides visibility to take control. A thorough analysis enables online businesses to identify their sources of profit and potential cost savings.
For example, an online store selling an item for $100 can increase their profit margins from 0% to 40% by selling 10 items, as their fixed costs remain the same while their variable costs are spread over a larger number of products.
Waterfall pricing can help online stores increase their profit margin, implement cost-plus pricing, understand actual selling and service costs that affect profitability, increase promotional positioning, provide total transparency, engage in value-based negotiation, and perform market diagnostics.
The cost of the product or service
The quantity of the product or service
The customer's location
The time frame of the sale
The additional fees associated with the purchase
We can identify two business models for online stores: managing stock and drop shipping. Stores that manage stock should apply the price waterfall when they receive inventory, while those that drop ship should include it in their pricing process.
Inside the inventory management tool, you will get stock in tab, where you can manage your purchase orders. It also helps you to manage your expenses and even update your stock inventory.
1. From your Konigle dashboard, access the inventory management tool.
2. First, you need to click on the New Purchase tab to create a purchase.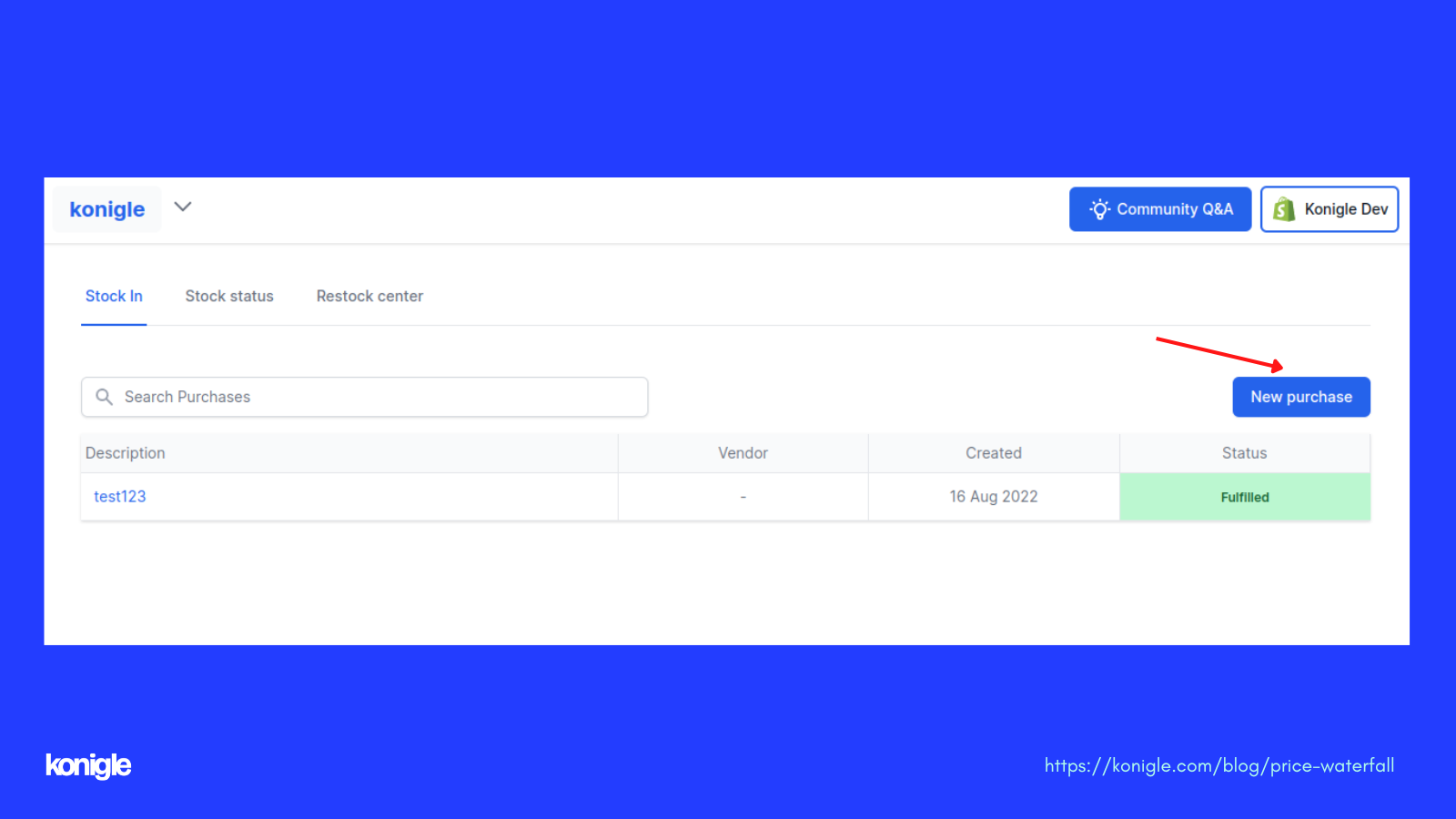 3. To create a new consignment simply rename it with reference number, bill number, etc. Select currency, Vendor name and move to the product filter.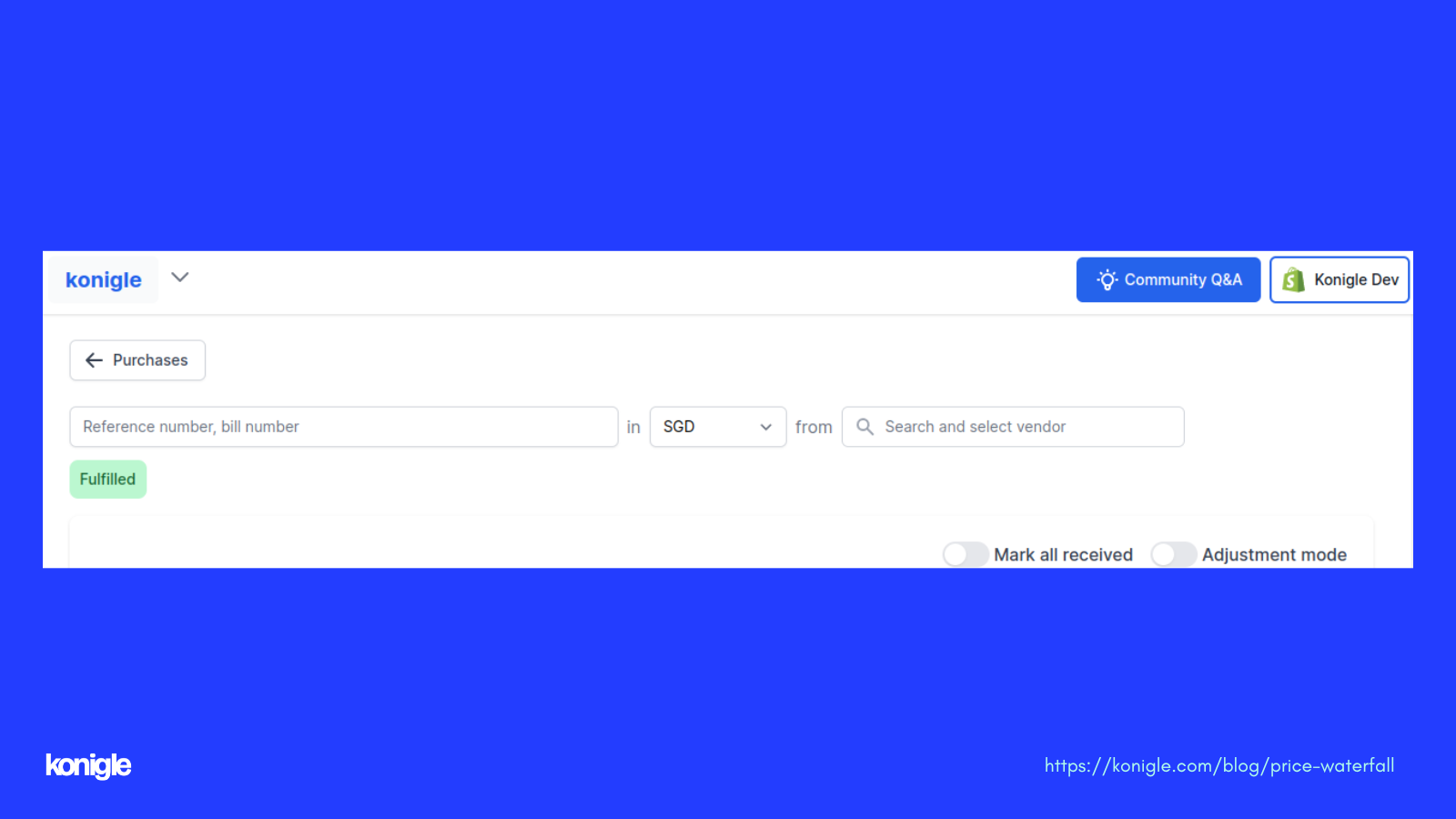 4. Filter the products that you would like to Pre-purchase from your supplier. More filters are available to narrow down your search. Once done, click on Apply filters.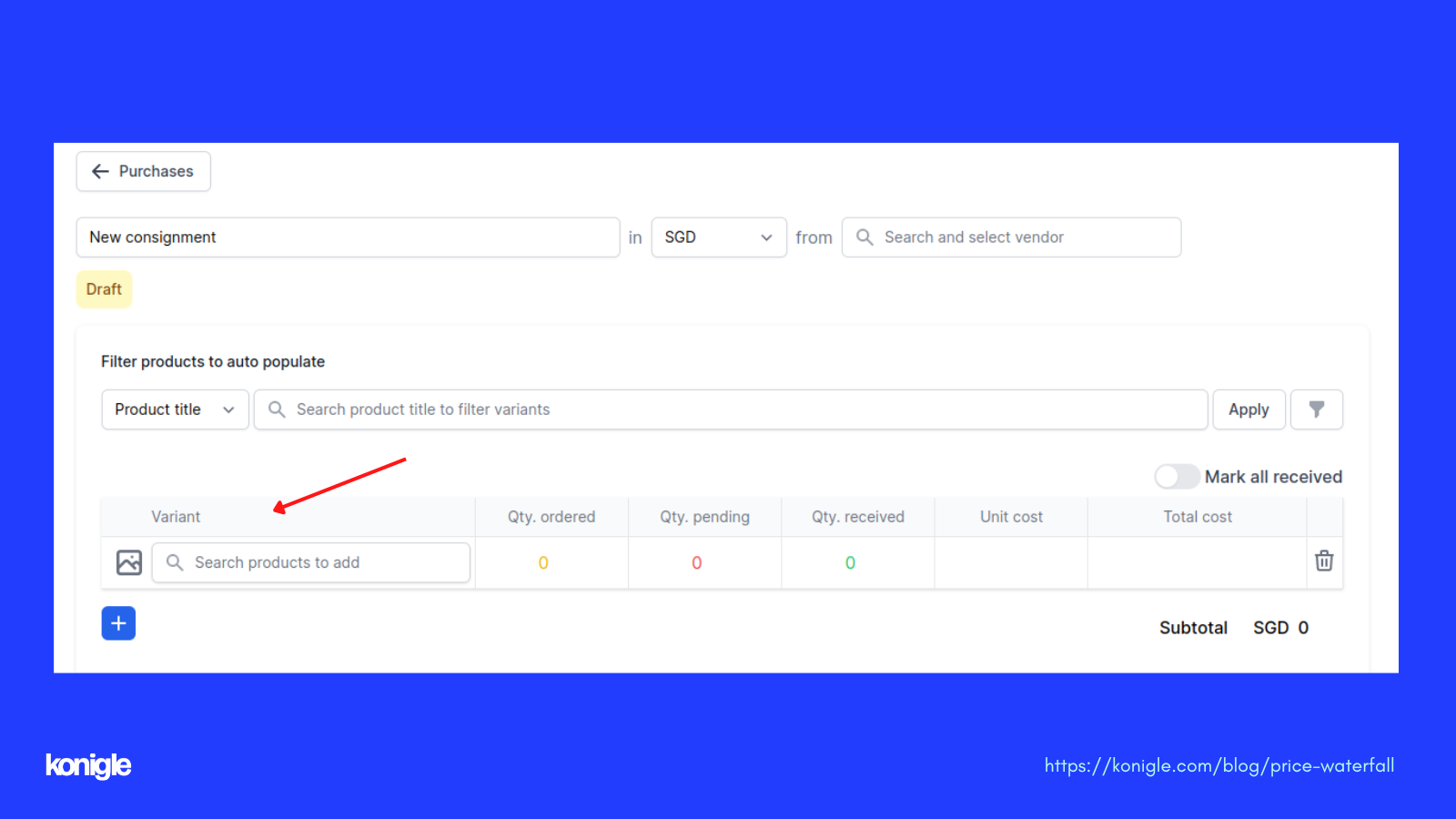 5. You can configure your requests to the variants, Qty. ordered, Qty. pending, Qty. received, set the unit cost for your variants and it will automatically calculate a total cost in the currency you selected. by clicking plus icon you can add more variants to the list.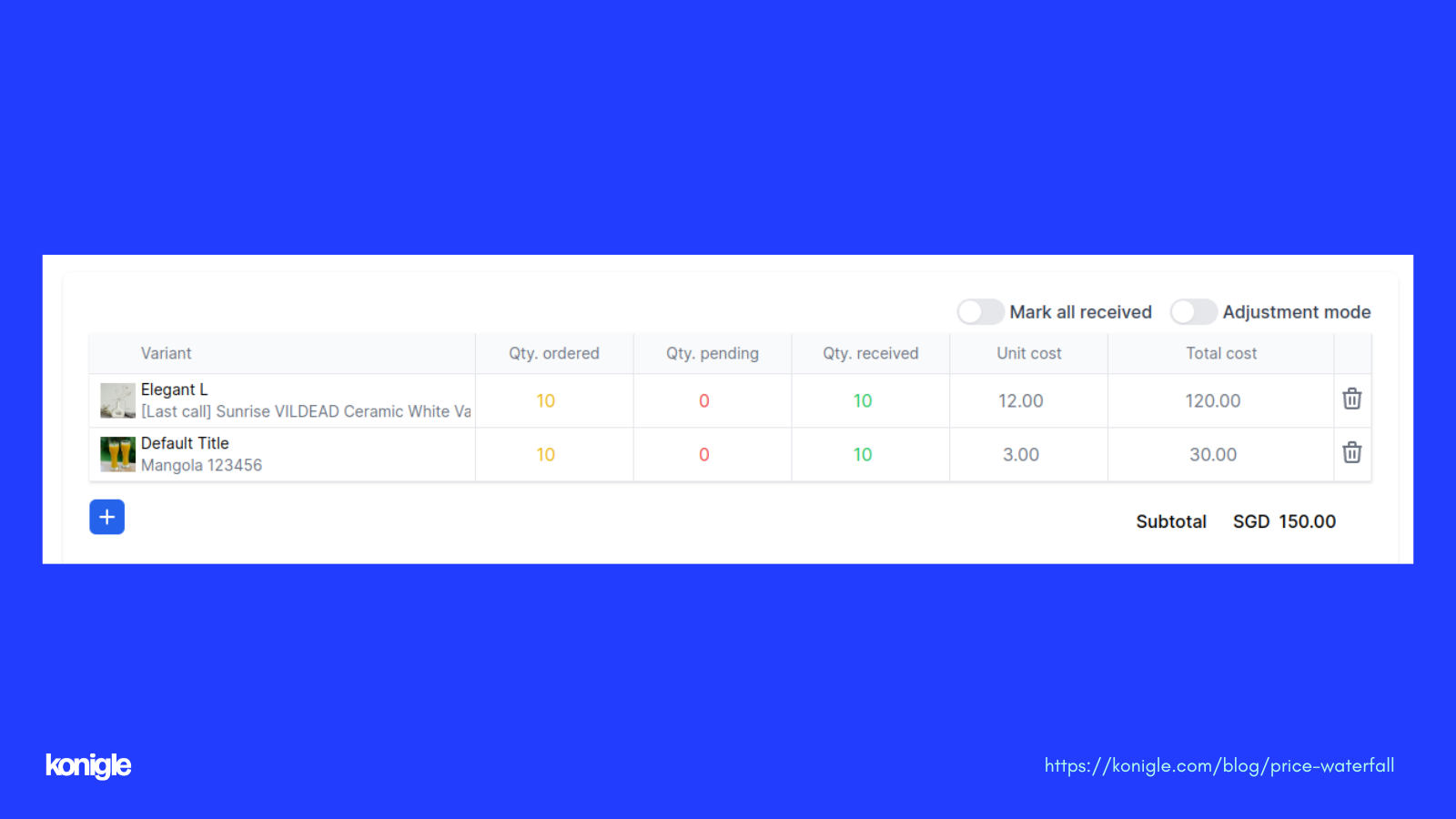 6. Once you are done with filtering, now you can add additional costs like customs duty, shipping, etc with a currency that you want to select, Once done, click on submit button.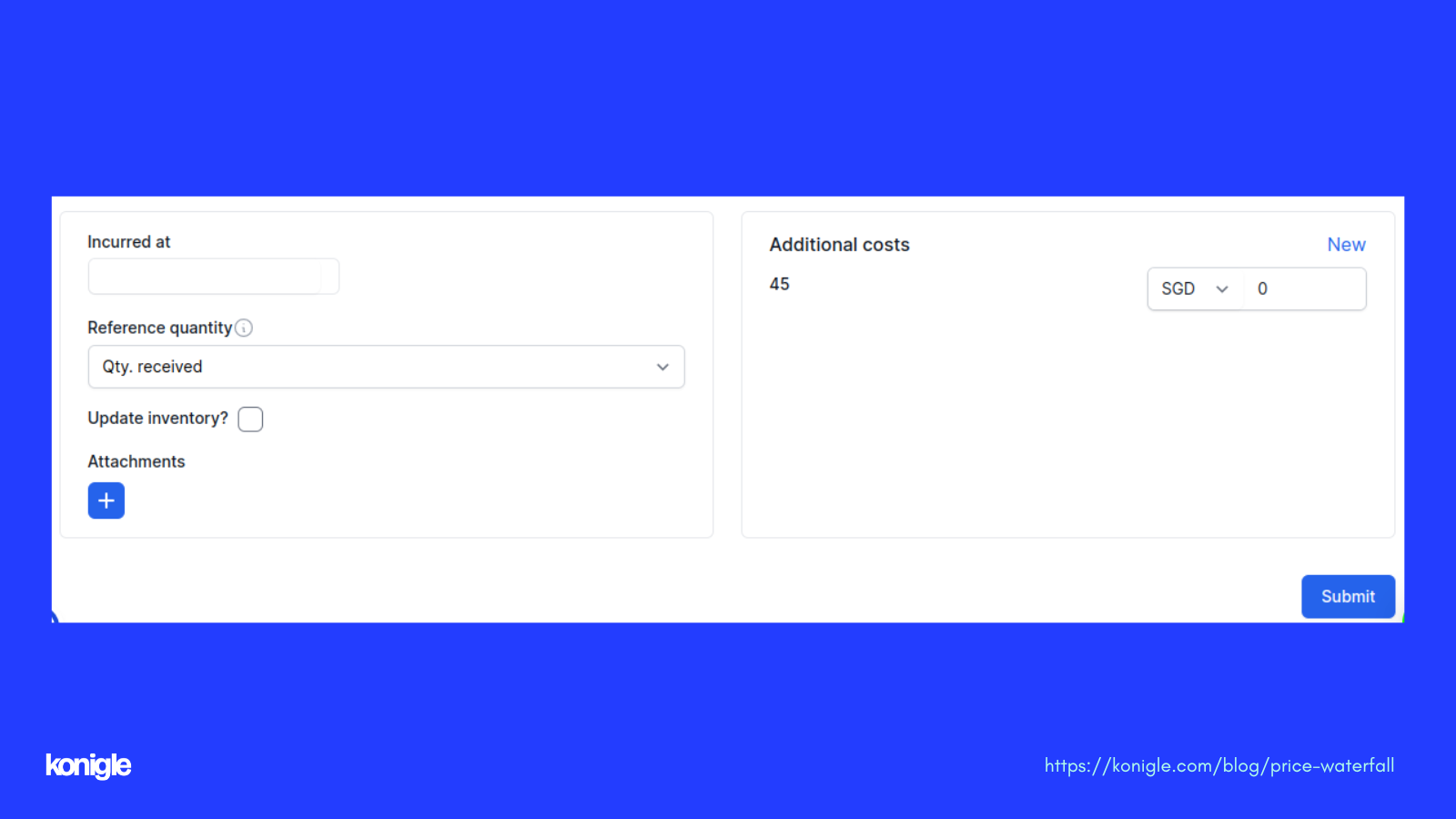 7. If you complete all processes at the dashboard you will see the product that you added(Description) with status(Partial or Fulfilled) based on the item you received. By clicking on each product you can easily update according to your need.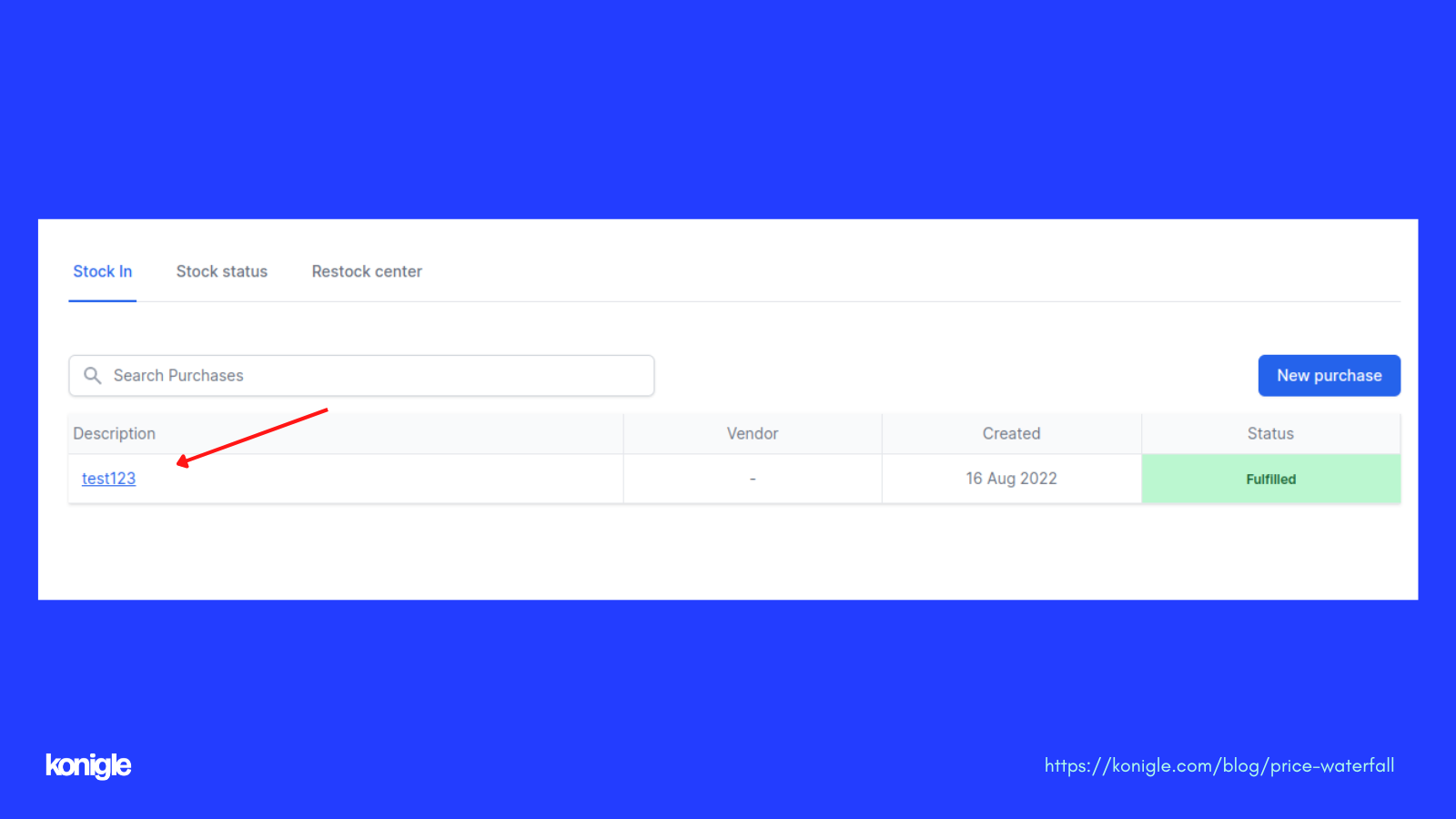 To learn how to manage your inventory, determined your product costs, and send purchase orders to your suppliers using konigle, please watch the below video.
For dropshipping stores use the Konigle Dynamic Pricing Seller Tool to implement the price waterfall, learn how to use it, here.
We strongly suggest that you utilize the waterfall pricing analysis to evaluate your pricing policy. This analysis is necessary to gain an understanding of all the costs that impact profitability. It is a powerful and effective tool to help you tackle pricing and losses and improve them.