The World's Most Absurdly Overpriced Product Listings during Covid-19
Constance Tan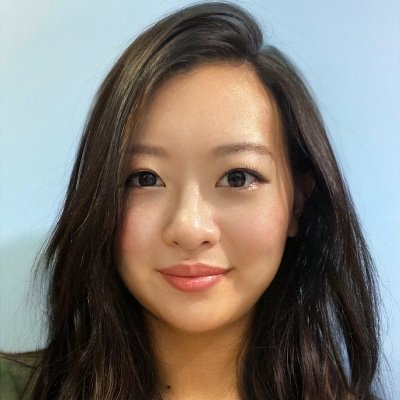 A compilation of basic items that were price gouged by scalpers all around the world during the covid19 pandemic. Find out which products was priced more than 100x their original prices.
When Covid-19 arrived, many distributors saw an opportunity to capitalize on people's fears and overpriced their products. Masks, sanitizers, and toilet paper has never seen such price hikes, even in the past during the SARS epidemic. Many major eCommerce platforms have cracked down on thousands of these price gouging sellers. However these efforts are often manual and thus have limited impact. We found these absurd, outrageous prices that people have listed when analyzing competitor pricing for these hot selling necessities:
$1,000 for a single facial mask (USD)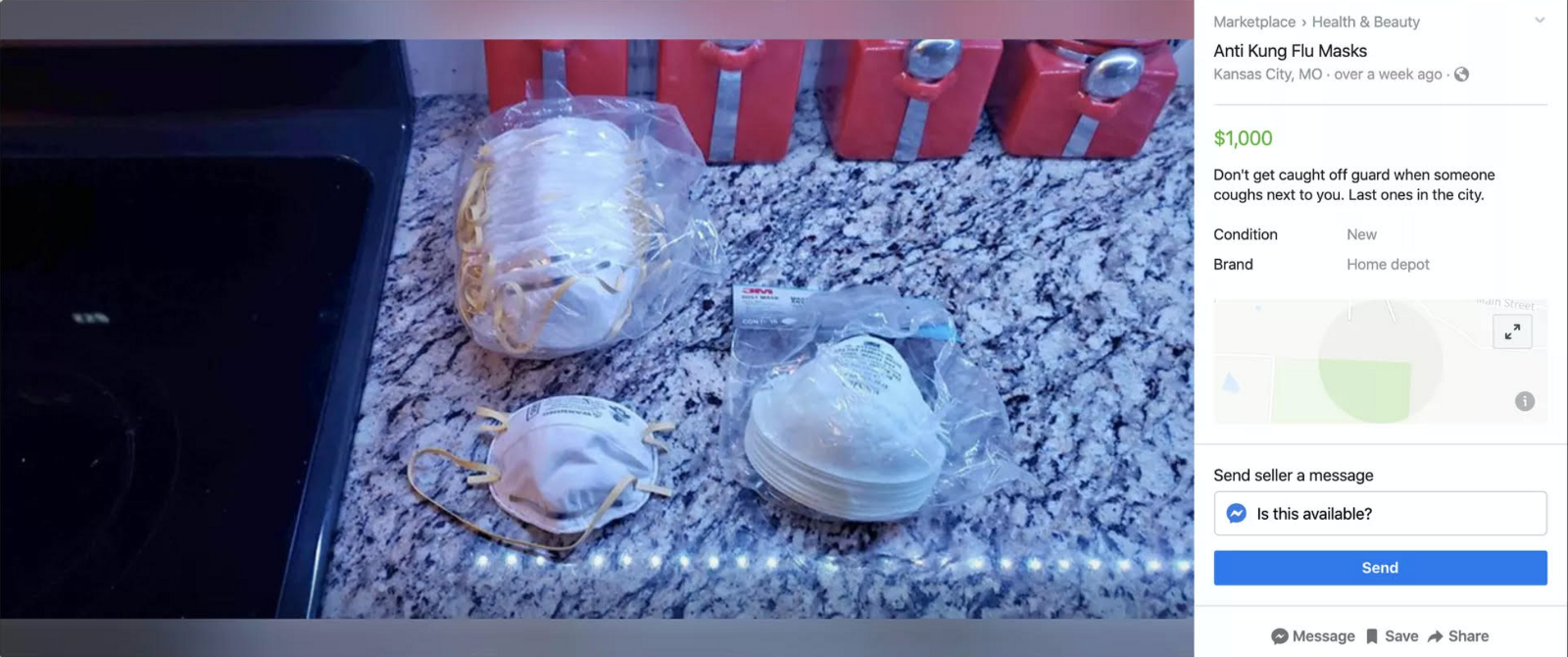 Screenshot : Facebook Marketplace via The Verge
In Kansas — United States, a seller capitalized on the dwindling local stocks and listed each facial mask for $1,000 on the Facebook Marketplace. Such instances of overpricing are unethical. Sadly however they are likely to work if they used price positioning strategies correctly. This listing has since been taken down.
$100,000 for a 48-pack of Toilet Paper (AUD)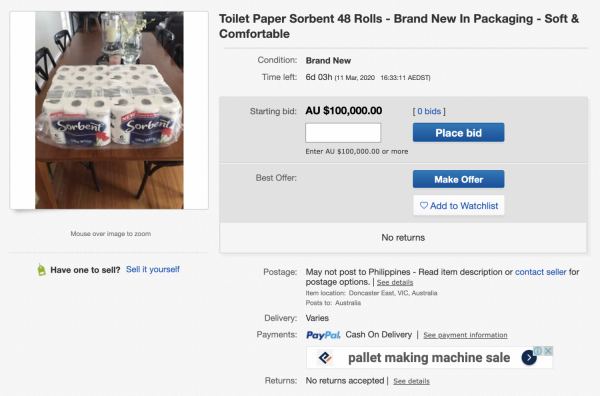 Screenshot : eBay by Tiziana Celine via Techtimes
Overpriced product listings like this one are probably made sarcastically. This seller listed 48 rolls of toilet paper for AU $100,000. Both eBay and Amazon Australia have been working to crackdown absurdly overpriced items. The Australian Competition and Consumer Commission during this time however stated that their power to stop price gouging is limited
$50 per pack of Instant Noodles (SGD)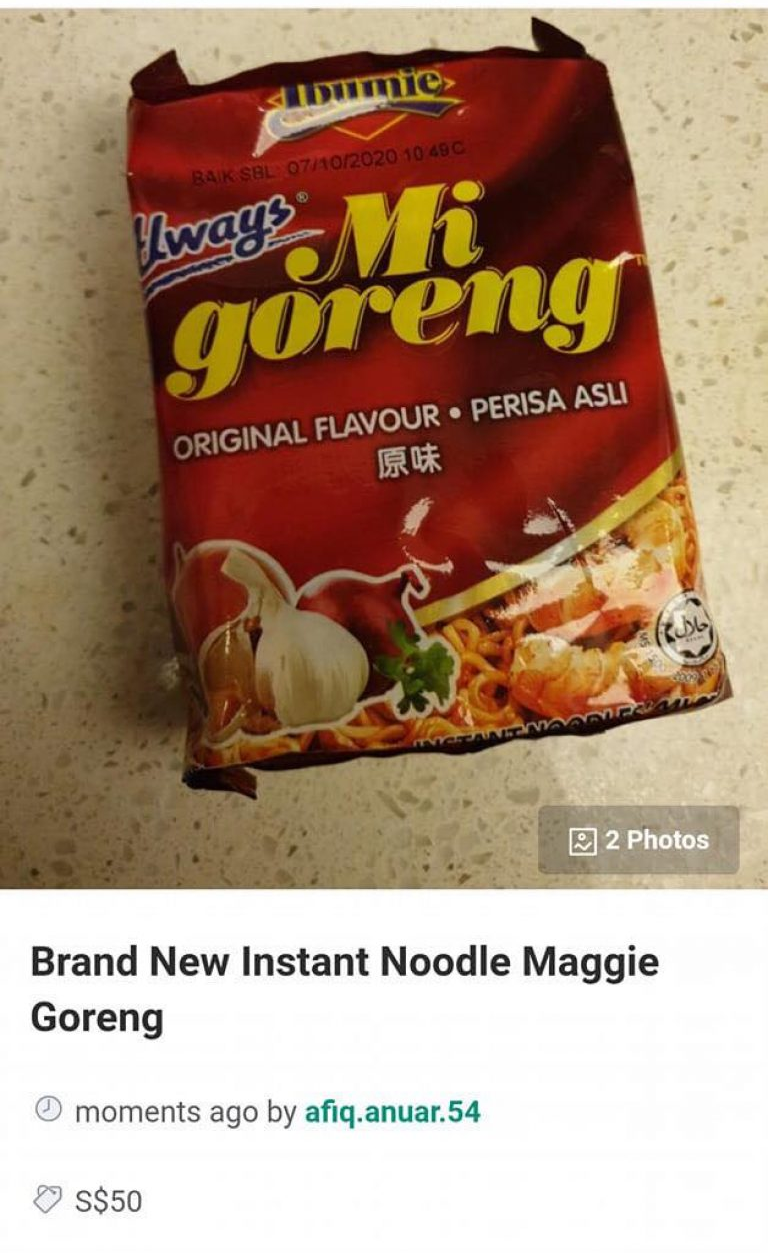 Screenshot : Carousell from SG Kay Poh via Mothership.sg
A typical pack of instant noodles in Singapore costs around 40 cents. This absurdly overpriced product listing is 125 times more expensive than it usually retails for. Listings like this have been popping up as often as they have been taken down. And this is rather strange
$3893 for a pack of 12 tiny Hand Sanitizer bottles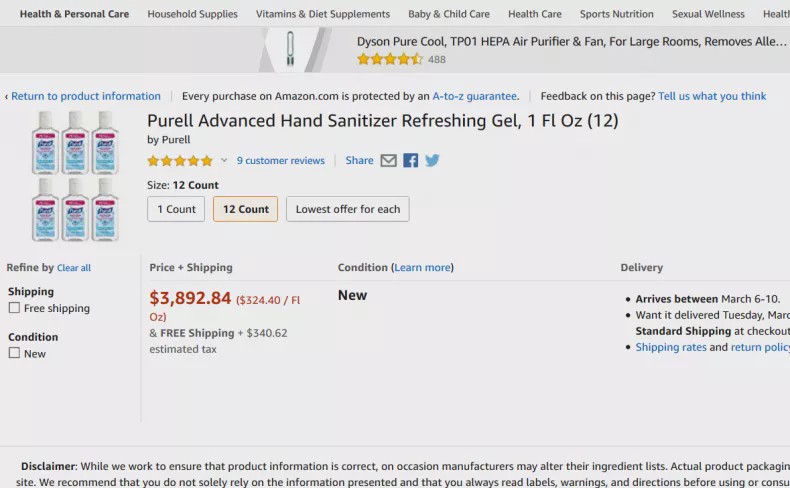 Screenshot : Amazon via Newsweek
As people worldwide spend hundreds of dollars for their hand sanitizer, this seller decided to sell their products at almost 10 times higher. Thousands of dollars for 1 Fl Oz bottles? This is outrageous even while incredible price hikes are the norm! Amazon quickly took this listing down during recent efforts to delete overpriced product listings. Purell in particular has been a popular brand for resellers to hike prices.
How to avoid overpriced products and price gouging
It's really obvious to see these opportunities take advantage of fear and panic during a crisis. However in reality, overpricing hurts both businesses and consumers every day. Businesses get stuck with dead inventory they cannot clear when they fail to understand their pricing landscape. Consumers need domain expertise, and could take unreasonable amounts of time to find the best deal. This can become an unpleasant experience for both parties involved.
The best defense is to find an effective way to regularly track prices of products important to you. There are many automation tools out there for both businesses and consumers to monitor prices, and get alerted when they change. Today's featured prices were truly absurd. But we knew this only because we see prices for these everyday products fairly regularly.
So crisis or not, always be prepared. Track your competitor's prices today.
Want to receive e-commerce tips and tricks?
Sign up for our newsletter to stay up to date.
Get e-commerce tips and tricks
Subscribe to Konigle newsletter
We care about the protection of your data. Read our Privacy Policy.