If you run a Shopify store, then sometimes, you must face the problem to schedule or change prices on Shopify. You often have to do so when there is some instability in the market or you want to create more sales for products.
What would you do if you have a large Inventory?
For that we come up with a solution that actually helps you to figure out how to schedule price changes on your Shopify store easily. Trust me! It won't cost you much time or money.
Here's what you can do with it:
Edit prices of all products or select specific variants.
1-click price rollbacks

Powerful Price Configurator

Schedule price change for future

Implement charm pricing (99 pricing)

Many powerful filters

You can easily schedule price changes for all the store products, one or more collections, or just a set of products of your choice. 
Before knowing how to schedule prices on Shopify, you should have a good product pricing strategy first. This thing you should really catch on to when pricing your products, as they can have a valuable impact on your store. Therefore, always thinks about these factors when doing so:
1. Best Product Pricing
Product costing can help you to understand how much you want to charge for a product.
For example, if a product cost is not more than $50, look at the type of product and category, then consider marking it up four or five times. In other words, you should sell it for around $200-250.
This way, you'll be able to make a good profit and increase sales. Here, we don't consider shipping fees and other expenses for simplicity.
2. Other Expenses
Your Shopify store fees, tools, marketing, transaction fees, and other expenses should be reflected when setting a good price for your products.
Since these expenses are a must in your business expenses, consider covering these costs at least in your pricing but never only thought about profit and increase more than market price this would harm your sales and store.
3. Competitors' Pricing
While researching, you definitely saw e-commerce stores selling similar products, you'll also have a hint in setting the average price of your products. As a result, you can schedule price changes on your Shopify store accordingly.
Without further stir, let's fly in a spaceship towards a solution.
The one-click solution is Konigle's Bulk price editor, a tool that you can easily use to schedule price changes for your Shopify store. It also allows you to schedule price change events, useful for seasonal and flash sales.
1. From your Konigle dashboard, access the Bulk Price Editor.
2. Filter the products that you would like to purpose to make changes to. More filters are available to narrow down your search. Once done, click on Apply filters.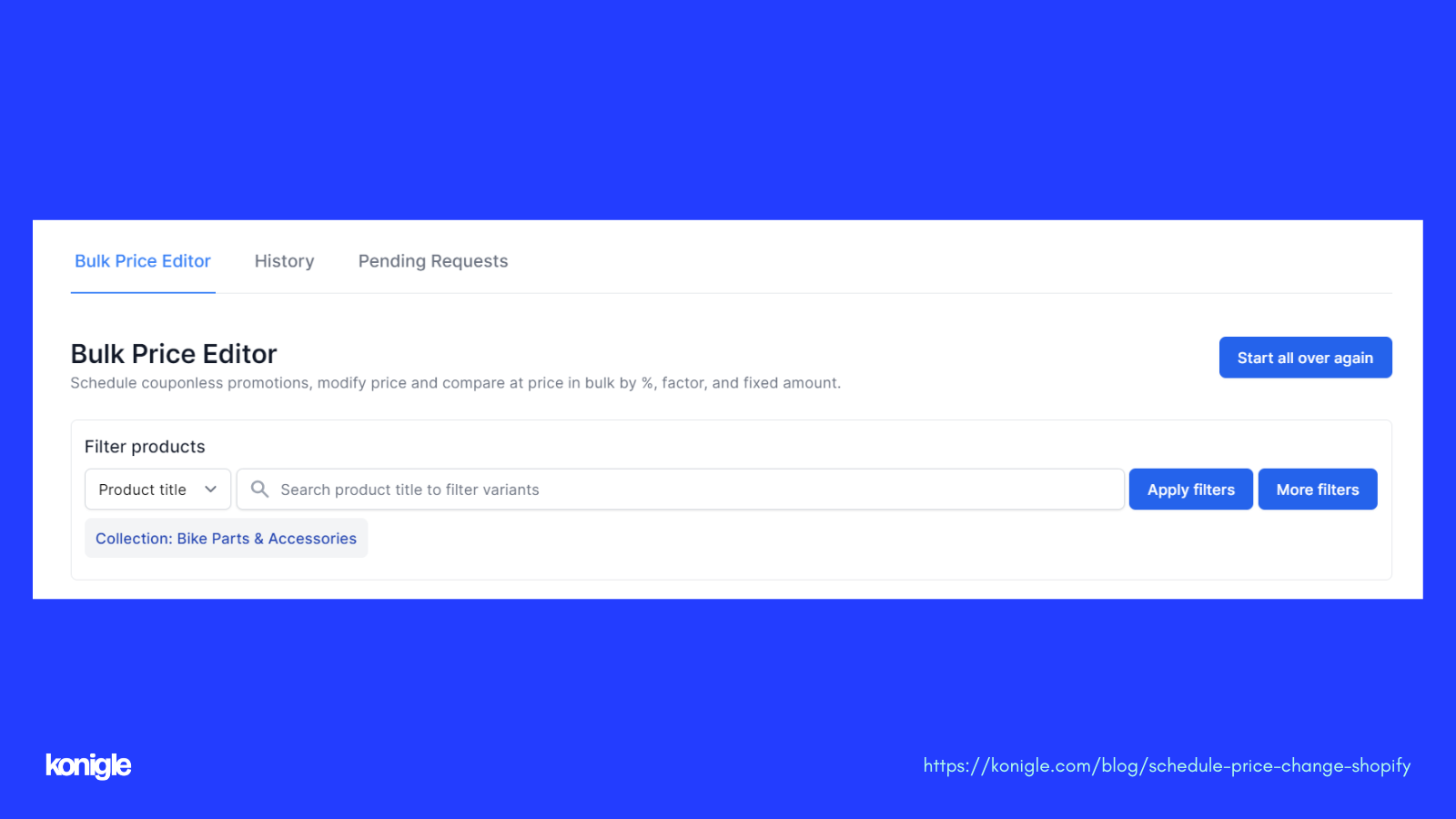 3. You can Configure price requests to increase, reduce and set either your selling price or compare at price in bulk.
- You can choose to include Charm Pricing on this step such as if you would like the prices to end at .99 or .95, etc.
4. In this step, you actually schedule the price with description and validity. Maybe you will use it for a Year-end sale or black Friday offer so according to that, you can easily create your description.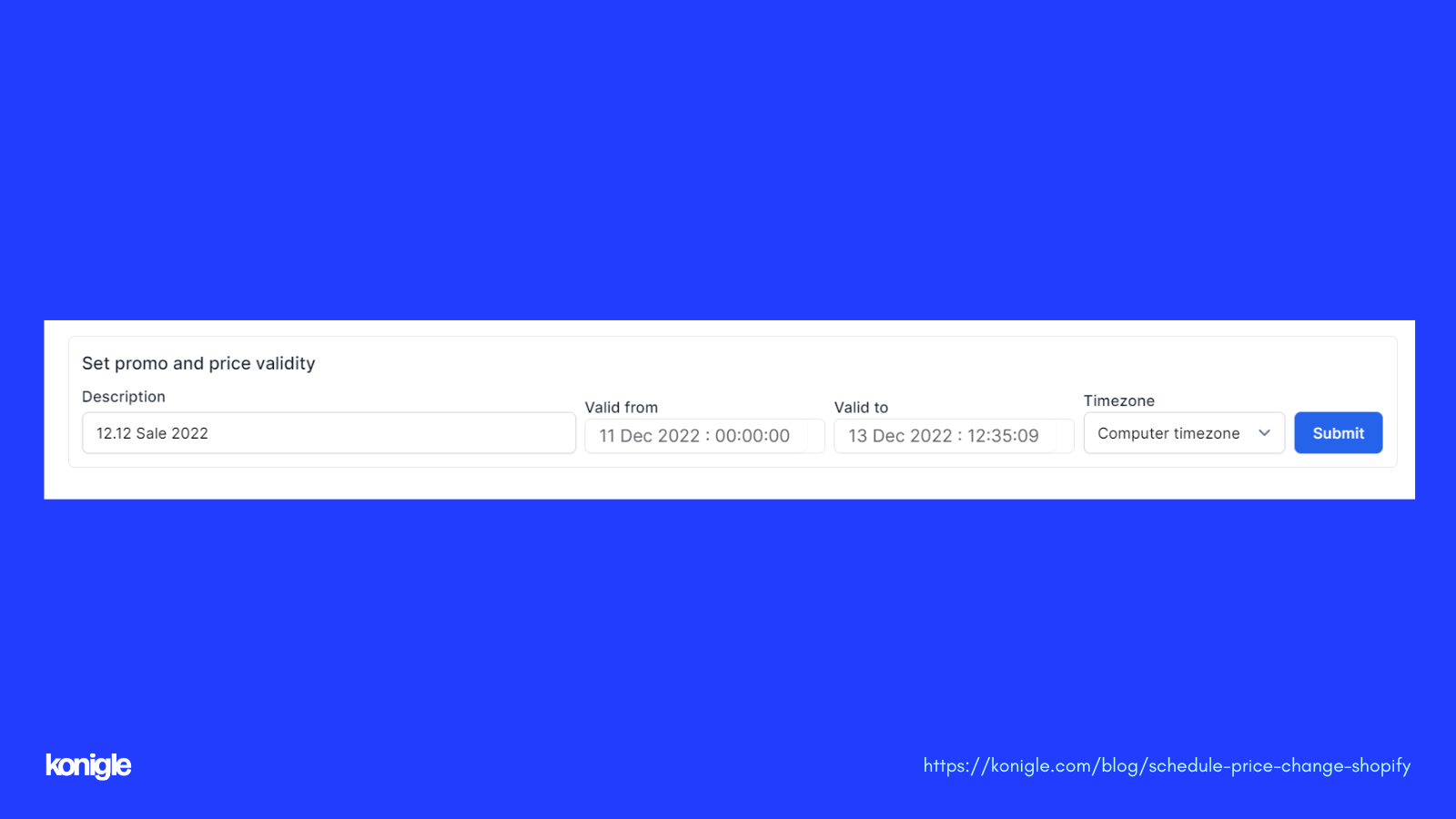 After creating a description you can easily schedule price validity start date and end date with specific starting and ending time.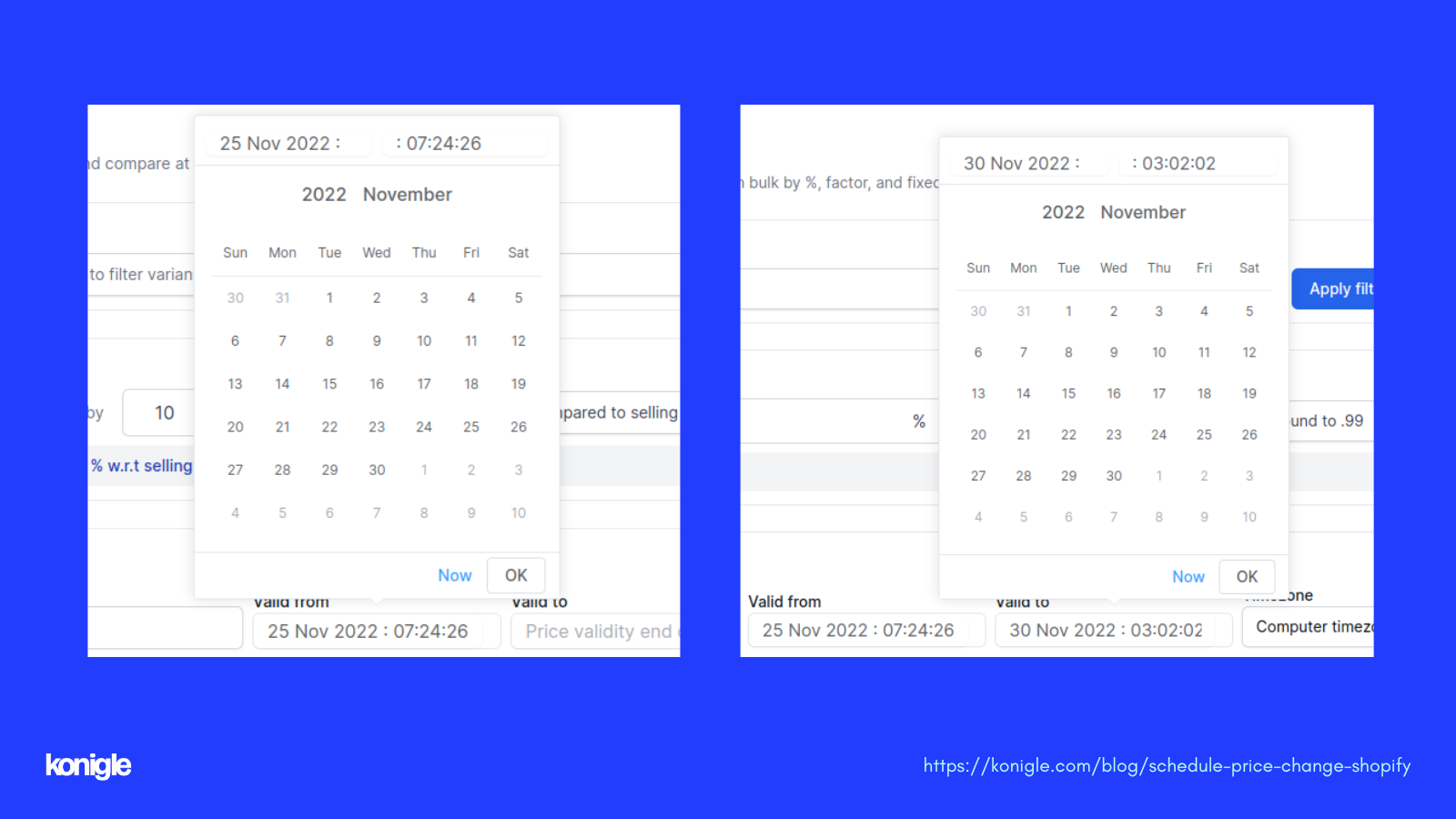 Next, you can even choose which time zone the request should follow, either your Shop's or your local time.
After following all steps, click Submit.
5. Confirm the price change request. If you're running promotions or wants to notify your customer, then you can choose to Notify customers on this page and Click Next.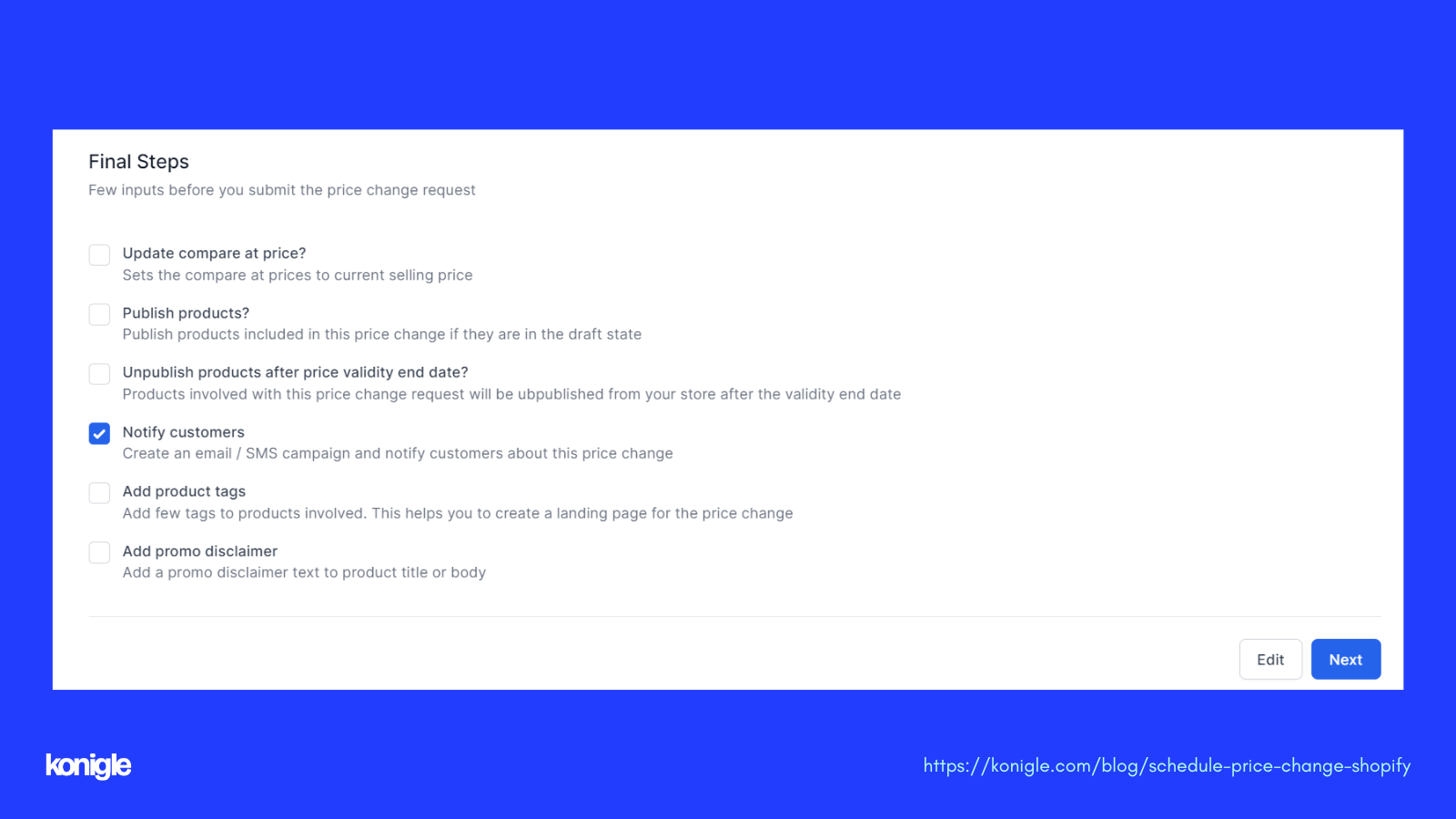 6. In this step, You can choose a customer segment to notify about this price change. You can even choose to create an email campaign, SMS campaign, or both.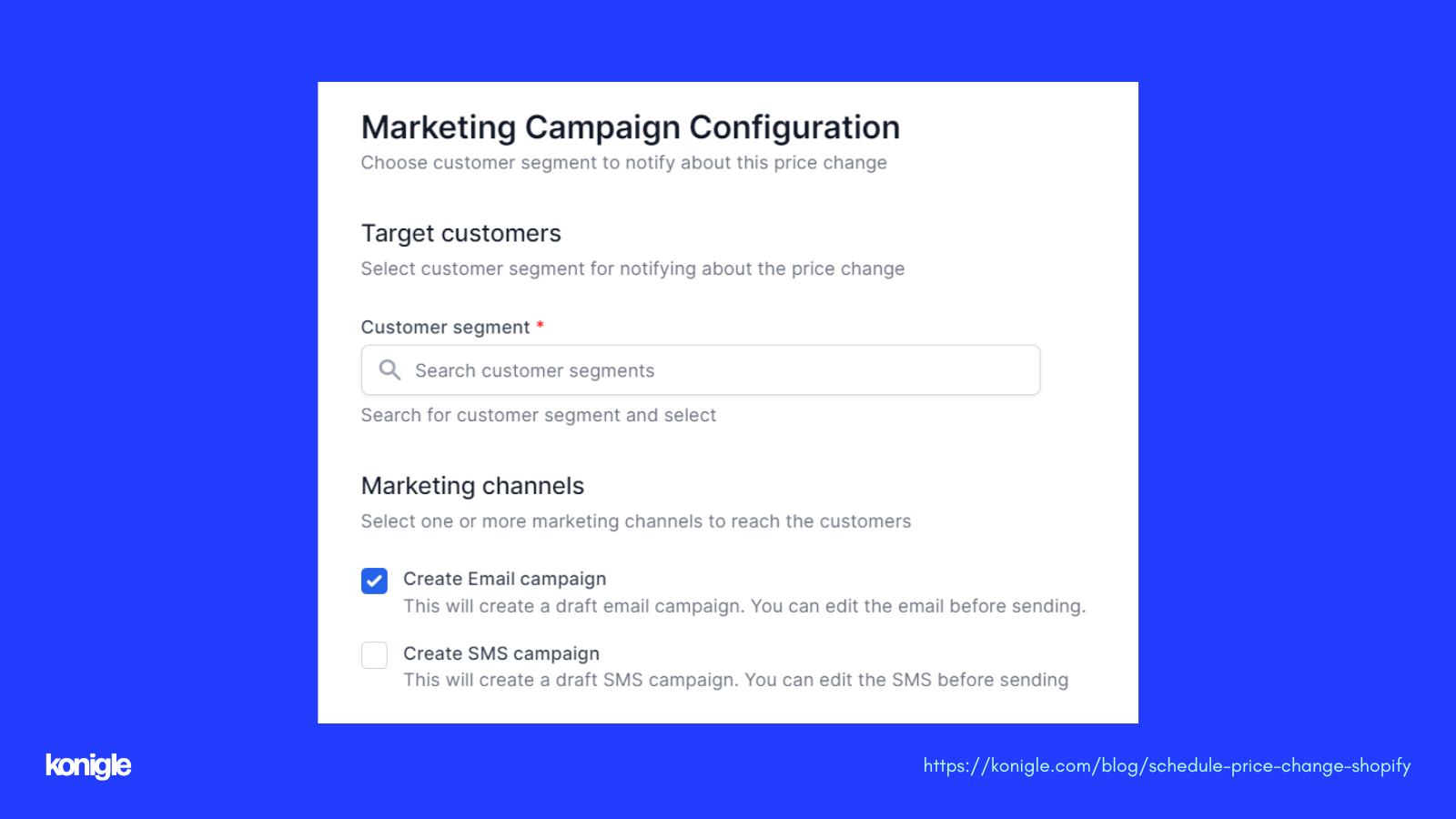 You may also watch this video to see this whole process and clear view of each step:
That's how to schedule price changes on Shopify using konigle. Pretty easy, isn't it? I hope this guide has helped you understand each step more clearly. By having a powerful pricing strategy and Bulk price editor tool, you can easily earn more profit from your Shopify store.
Konigle helps you to save time, reduce your efforts, and increase your revenue. Subscribe to our newsletter to receive more valuable information, tips, and many more for your Shopify store.
Subscribe to get alerts for tips and tutorials