In this article, we will tackle:
Why do you need an inventory management system?
What is shopify inventory management?
How to manage your inventory in Shopify with ease?
Inventory Management is vital to a company's profitability, and a lack of effective inventory tracking can really hurt your business. This can result in not having adequate inventory, which prevents companies from providing enough products to meet demand and on the other hand, can also make you overstock low-demand products leading to dead stock.
This is a fine balance and even big brands fail at it. In 2019, Marks & Spencer failed to stock popular sizes and this resulted in sales of clothing and household goods falling 5.5%.
Inventory management aids businesses in determining which and when to order a specific product. Inventory is monitored from product procurement up to its sale. To guarantee there is always adequate inventory to fulfill client orders and proper warning of a shortfall, the whole process identifies trends so business owners can act on them accordingly.
Shopify Inventory Management involves managing the stock of products, ensuring that there are enough items in stock to meet customer demand, and avoiding overstocking or stockouts. Effective inventory management can help businesses save money by reducing the cost of holding excess inventory and the potential loss of sales due to out-of-stock items.
Restock by creating purchase orders to be sent to your suppliers
Manage these POs and update your supplier costs and inventory
Monitor your product inventory costs
Enter consignments in another currency and have it converted to your store's currency
Check all your product statuses and determine inventory statuses such as low, high, dead stock, etc.
Install the App
The Restock Center allows you to easily reorder products, create purchase orders and automatically send them to your suppliers via excel or CSV file.
Choose the products that you would like to reorder. By clicking the filter button, you'd be able to choose from the various options such as a Vendor. Then, click on  Apply Filters.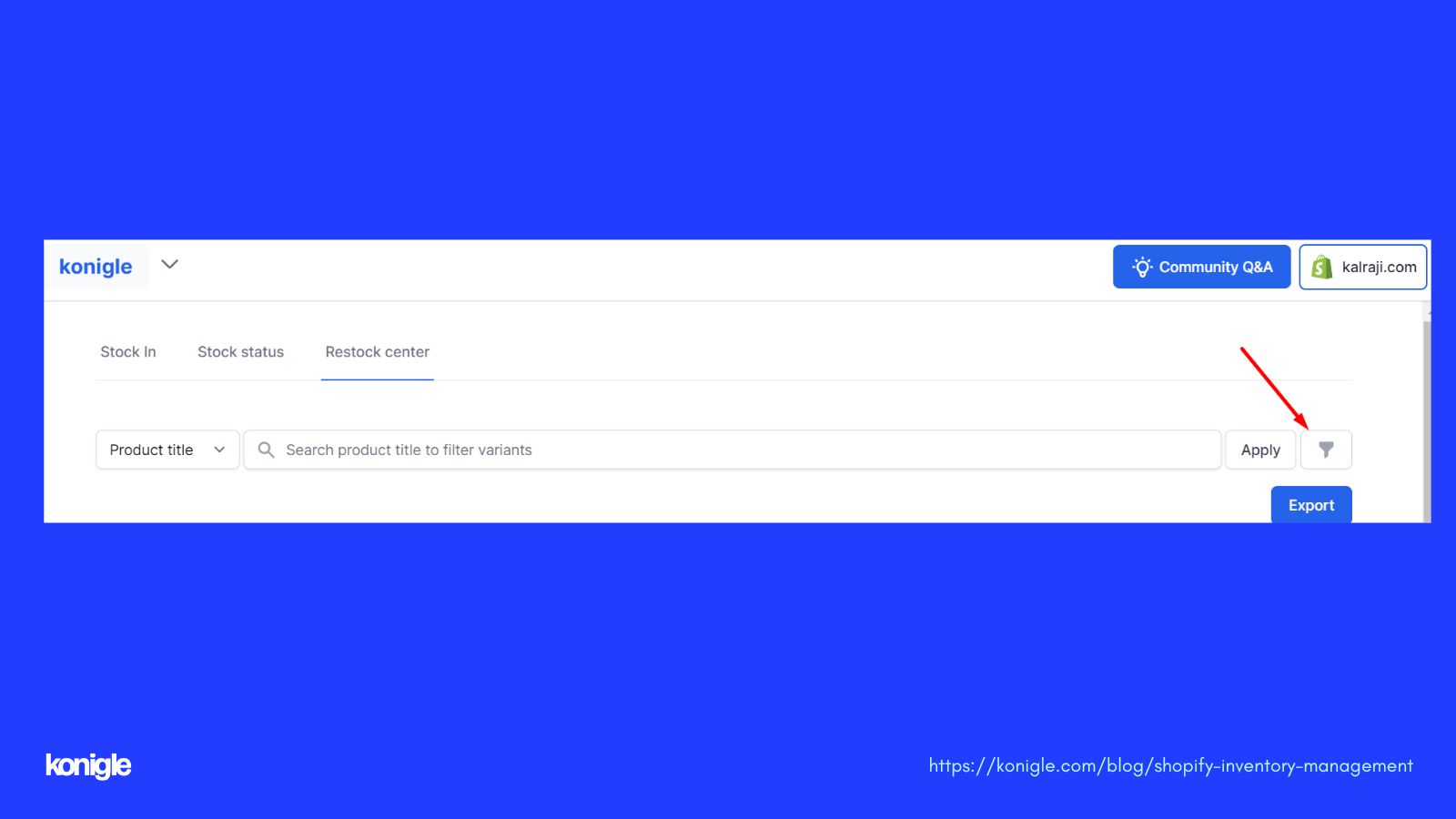 2.   Indicate the number of quantities that you'd like to reorder under Qty. to buy and click on Export.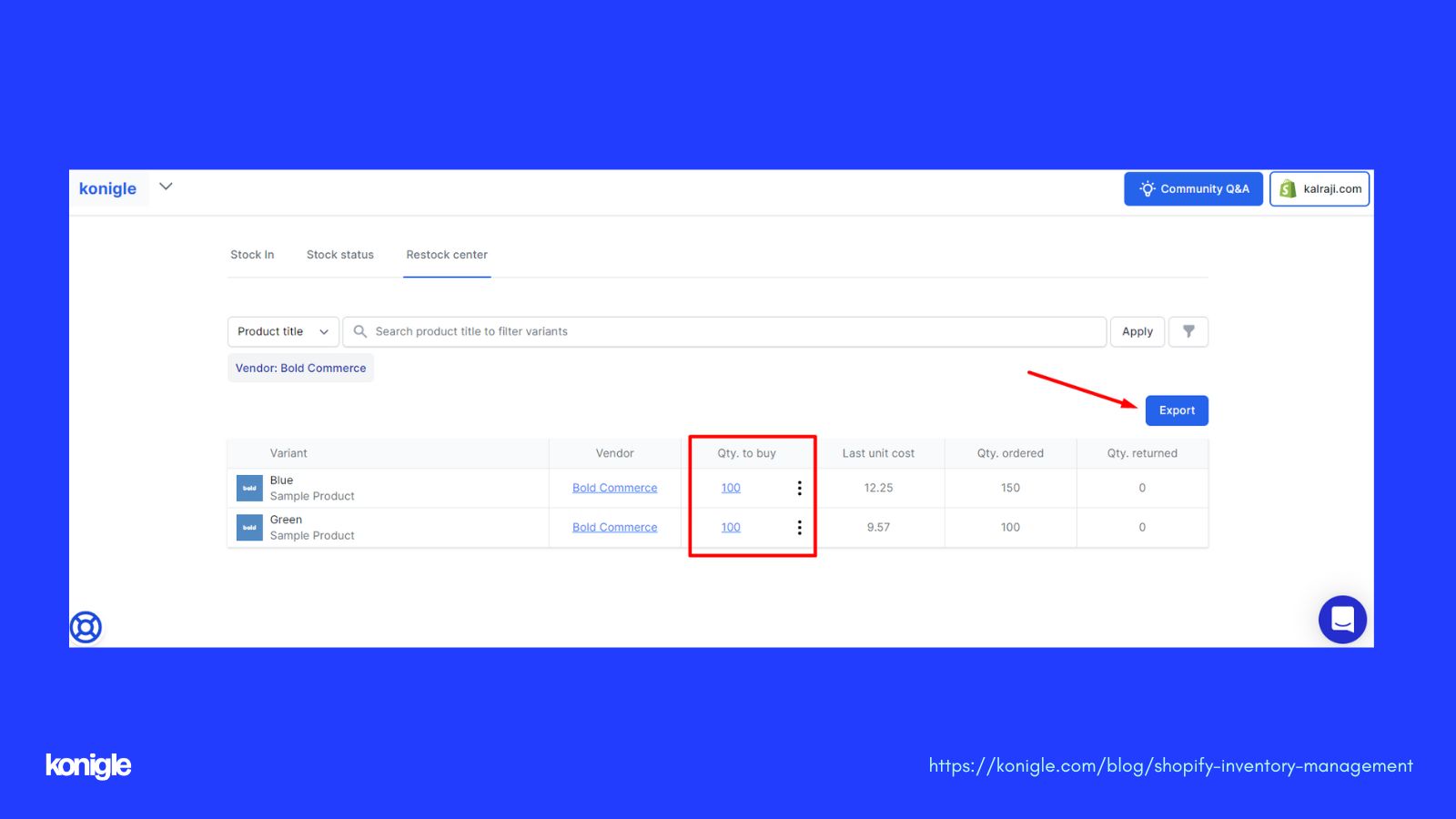 3. Finalize your Purchase Order. Tick on Create Purchase Order in order to manage this PO on the same tool.
        4. Select the output file that you wish to be included on the email notification to the supplier. Either via CSV or Excel file.
        5. Indicate your Purchase No. under Descriptions / Notes.
        6. Enter your supplier's email address under Send email to. Multiple email addresses can be separated by hitting enter.
        7. Click Export and this will automatically send an email to your supplier together with this purchase order.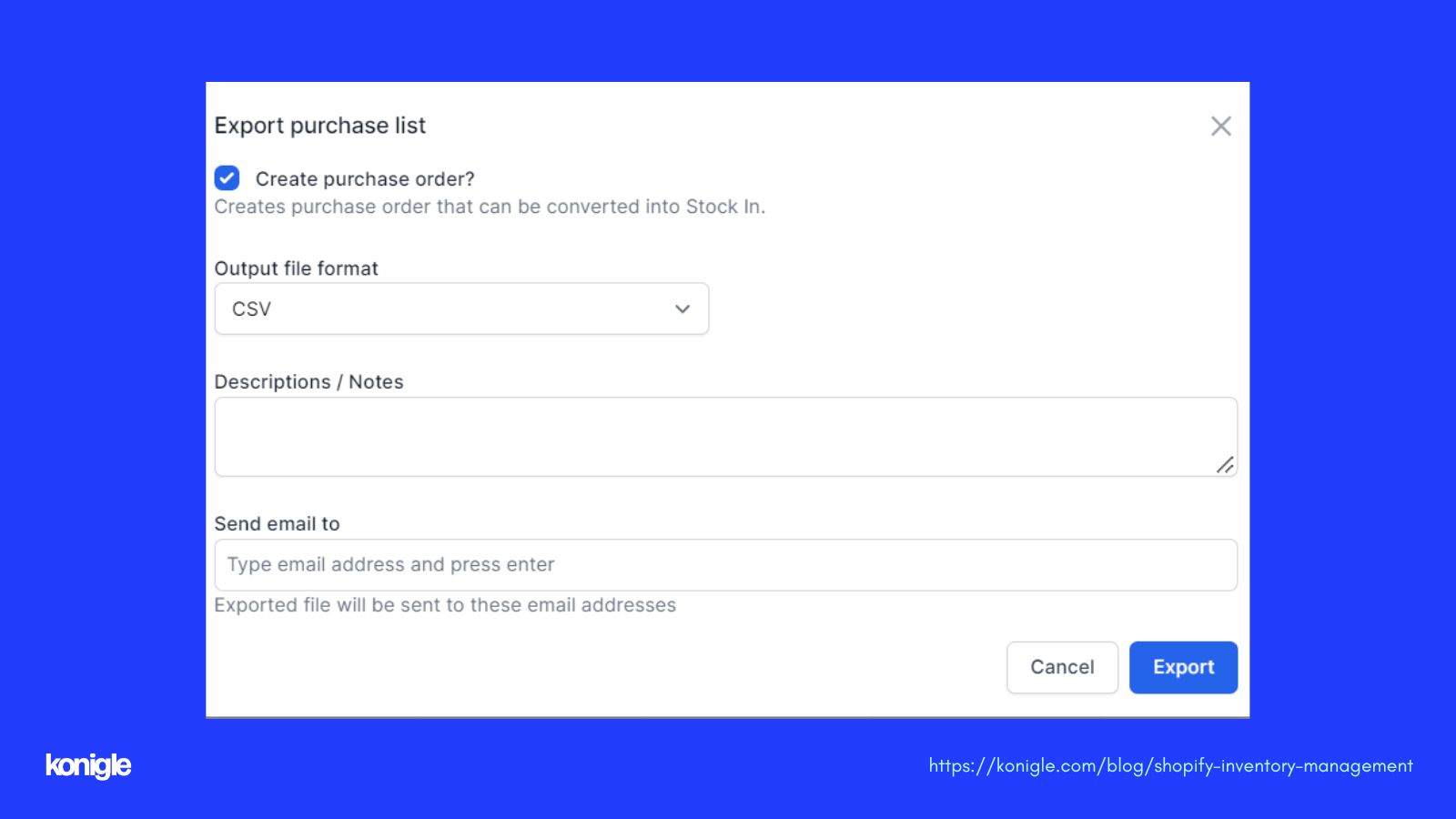 The Stock In allows you to manage POs you've created via the Restock Center or even key in new consignments. The tool also allows you to:
Manage your total cost for each consignment
Track your pending orders
Update your Shopify inventory for received products
If you have used the Restock Center for your new PO, you can directly manage it from this tool by opening your PO name under the description.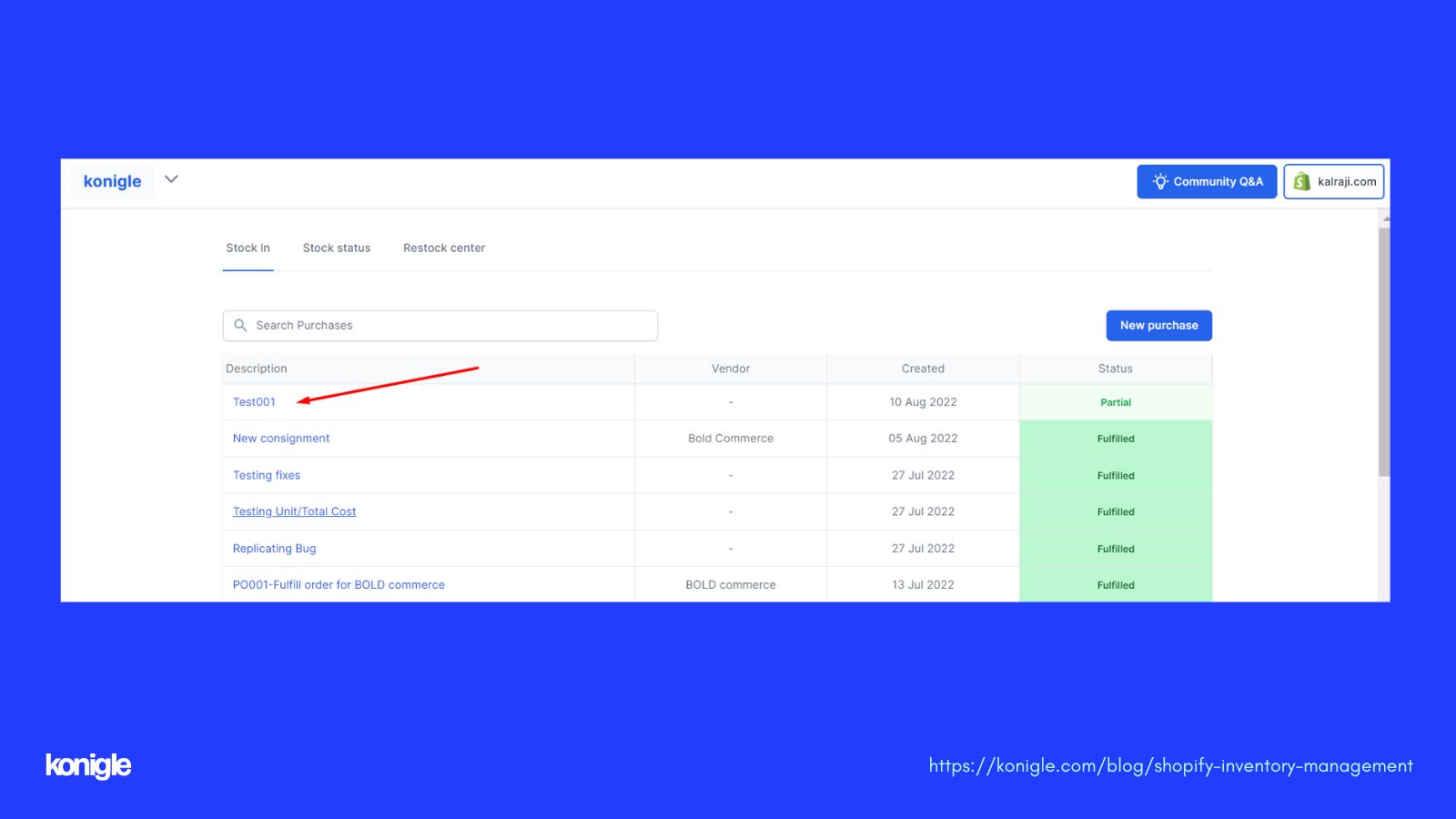 2. From this page, you'll be able to update the following: 
       2.1 Currency- you can indicate a different currency here if based on how you are charged by your supplier. The tool will automatically convert in your shop's currency based on the daily forex.

         2.2 Manage your consignment's Qty Received and Unit cost.

        2.3 Enter your consignment date and any additional costs (E.g. Shipping fee, customs fee). You can also  automatically tick the Update Inventory to automatically update your Shopify's inventory based on the Qty received.
         2.4 Choose your Reference quantity or the basis of your Total cost. You can opt to based it on the total Qty ordered or on the total stocks you have received. You can also include any attachment such as any image relating this PO.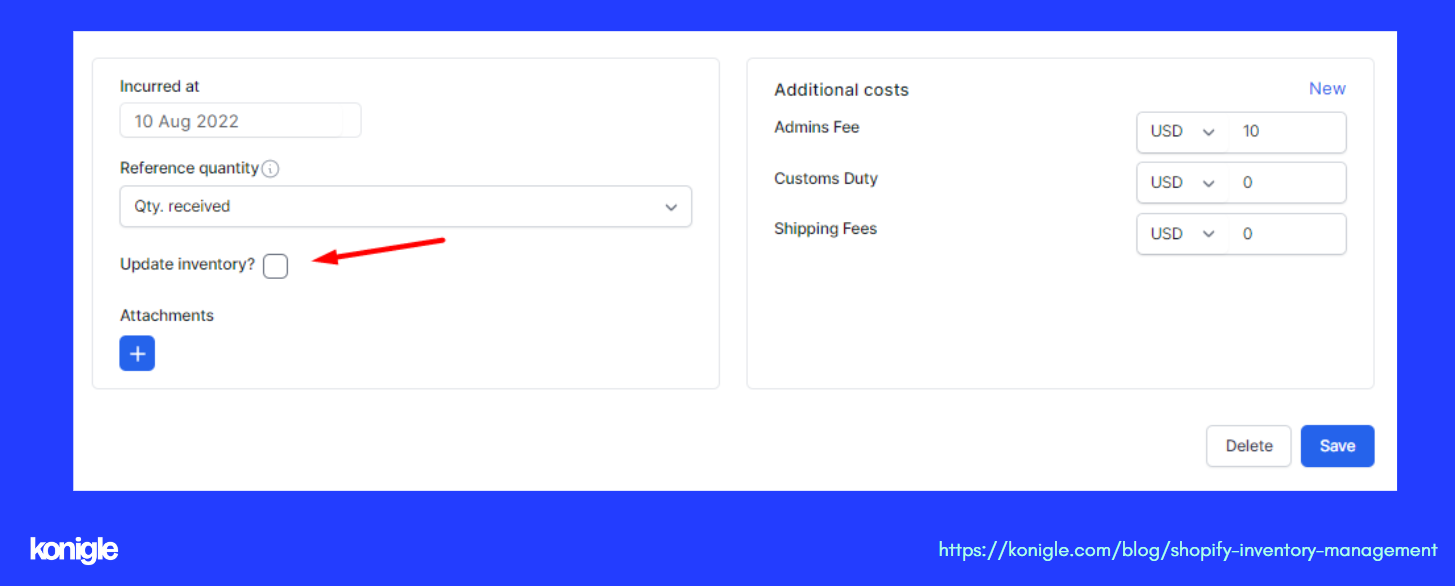 3. Click Save to reflect the changes.
*You may always go back and update this PO as you receive more quantities of your ordered products.
*You can also manually enter your consignment by clicking New Purchase from the main Stock In

The Stock Status tool helps you to have a better understanding of your product's inventory level. It can show you which products have high, normal, low, under, dead stocks.
If it's the first time you're using this tool, you can start by updating these information.
Shop Display Stock- the number of stocks you would like customers to see in your store.
Target Date- the date you're aiming to sell out the stocks.
Lead time (days)- the number of days needed to procure the product from the supplier.
Cost- is the products unit cost.
Status- can be High, Normal, Low, Under or Dead stock. This updates depending on the Min. stock threshold. This is the amount of stock that you want to hold at any given point in time. If the real stock goes below this number, the stock status will be "Low". This number is used to determine the stock status based on the current selling rate of the item. You can set it up by clicking the kebab menu here:

Then assign the Min. stock threshold from this page. You can also choose to apply it to all the filtered products.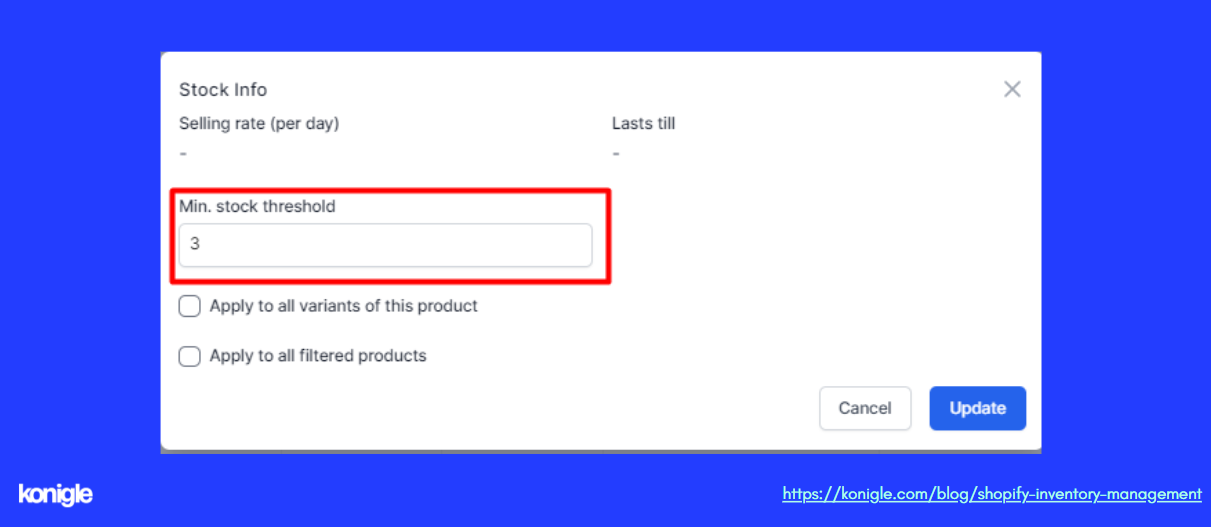 This can be your go-to tool in checking for your stock status and forecasting which product do you need to re-order or which items should be under promotion before it even becomes a dead stock. 
You may also watch this video to see the tool in action:
In 2014, I started selling fast fashion over Instagram and eventually opened an online store, but striking this fine balance for managing inventory drove me nuts and was one of the reasons why I did not continue selling full-time. But when I discovered Konigle and understood how Konigle helps online sellers strike this fine balance without pulling their hair apart, I was convinced to join the team and help hundreds of thousands of sellers who give up and build the online business of their dreams. 
Konigle's shopify inventory management app is a collection of tools that aims to help you save time by automating manual processes, reduce your costs by having the all-in-one tool and increase your sales by running growth strategies in your Shopify store. Install the app today for FREE and start managing your inventory with ease.