In this article, learn about the difference between Discarded and Abandoned carts and how it affects your Shopify store. Also discover how to obtain this data and turn it into insights to improve conversions.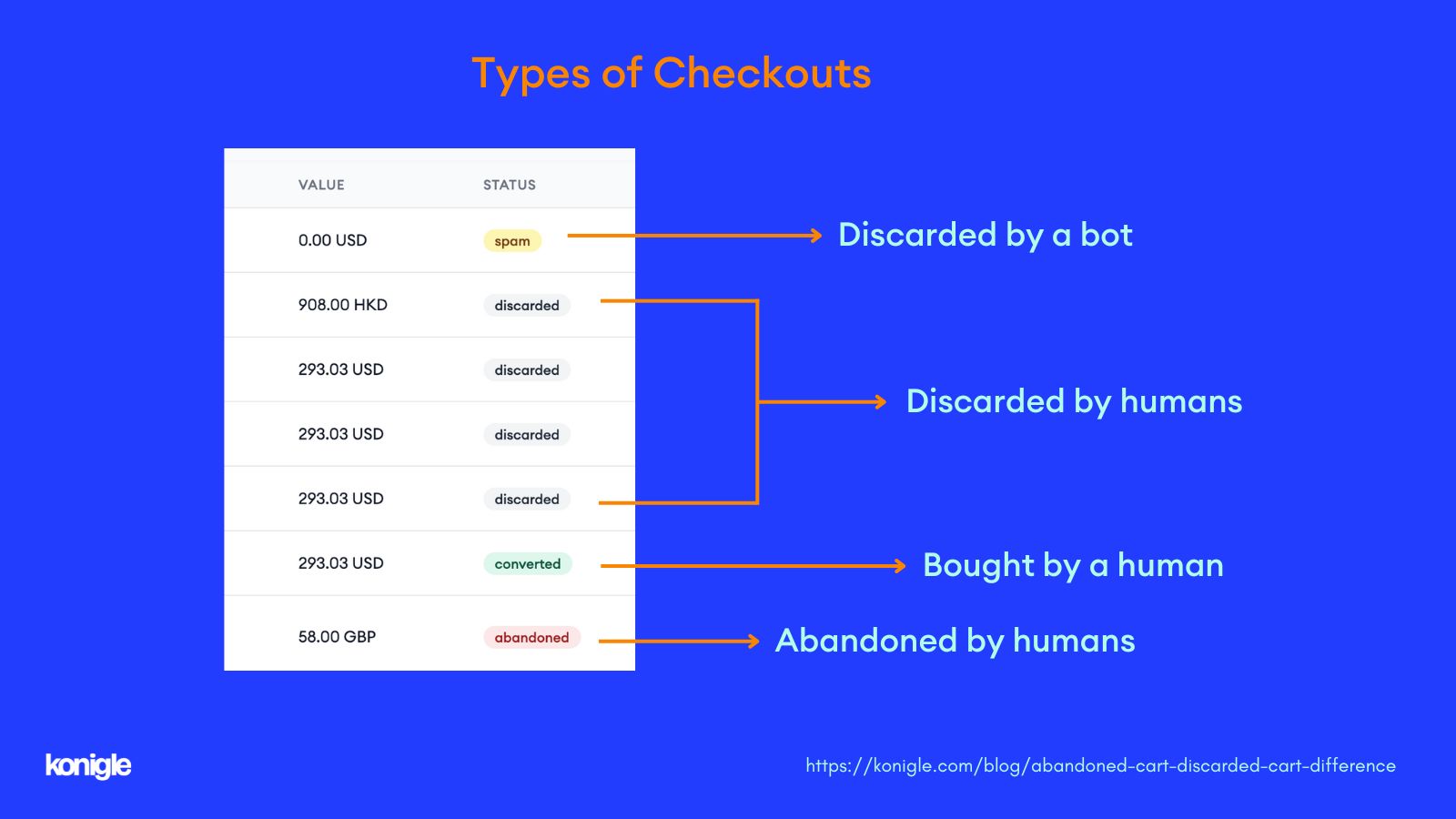 Discarded Checkouts 
Add to carts that do not lead to sales are either discarded or abandoned. Discarded carts are add to carts that did not progress to the checkout page and no customer information was entered. This can be because customers aren't ready to buy or still shopping around comparing prices. In some instances, customers are also using carts as a wishlist that they can go back to once they are ready to make the purchase. Many discarded carts are also due to bots.
Abandoned Checkouts 
Abandoned carts, on the other hand, are closer to a purchase, wherein customers have gone through the checkout page and have entered their information, and are one step closer to making that purchase. Learn more about the top reasons for Cart Abandonment in our recent blog about Understanding Shopify Checkouts.
In a physical store, just imagine handing over an item to the customer and they head out to the cashier for payment but have suddenly left the items unpaid because of long queues. As a store manager, you can action this by opening up another POS to immediately help with the long queues.
In the online world, it's a bit tricky to provide a resolution without actual information on abandonment rates. With Konigle's data, about 75.94% of carts are either discarded or abandoned. You cannot improve what you cannot measure, and monitoring checkout statistics is an important tactic to identify potential checkout issues leading to loss of revenue for an online store. Overall, it gives an overview of your store and customer behavior.

Discarded carts are usually a sign of users finding the final price a bit steep, while abandoned carts usually also show shipping costs being too high, both of which highlight that you may need to work on your pricing strategy.
1. It is important to understand cart abandonment rate, discarded checkouts as well as conversion rate.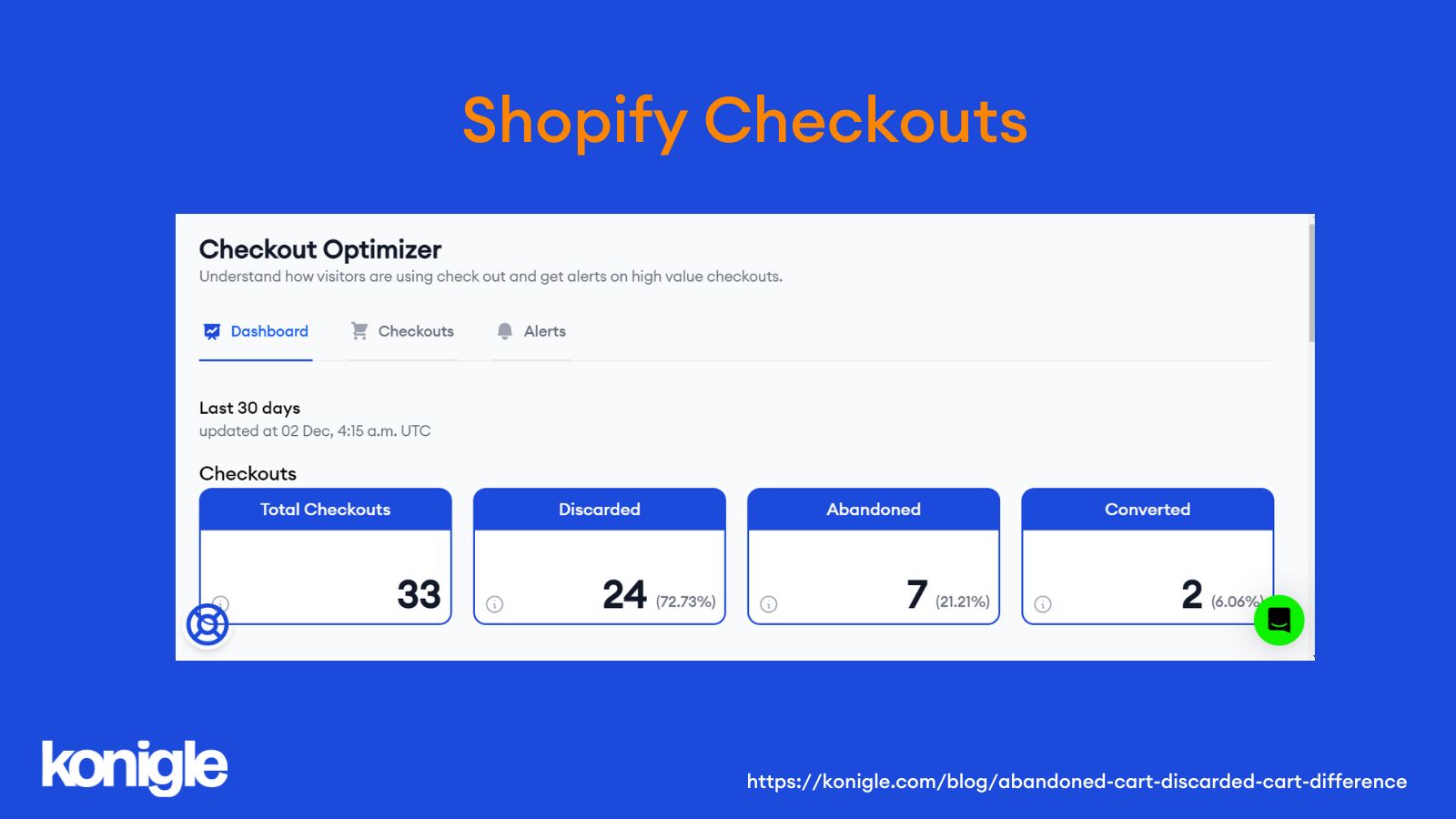 2. It is important to understand top discarded products on your store as they help identify products that could have high buyer interest but may be priced wrongly. Another important checkout metric to track is Average Order Value by country, as this may help you understand how buyers from various countries buy.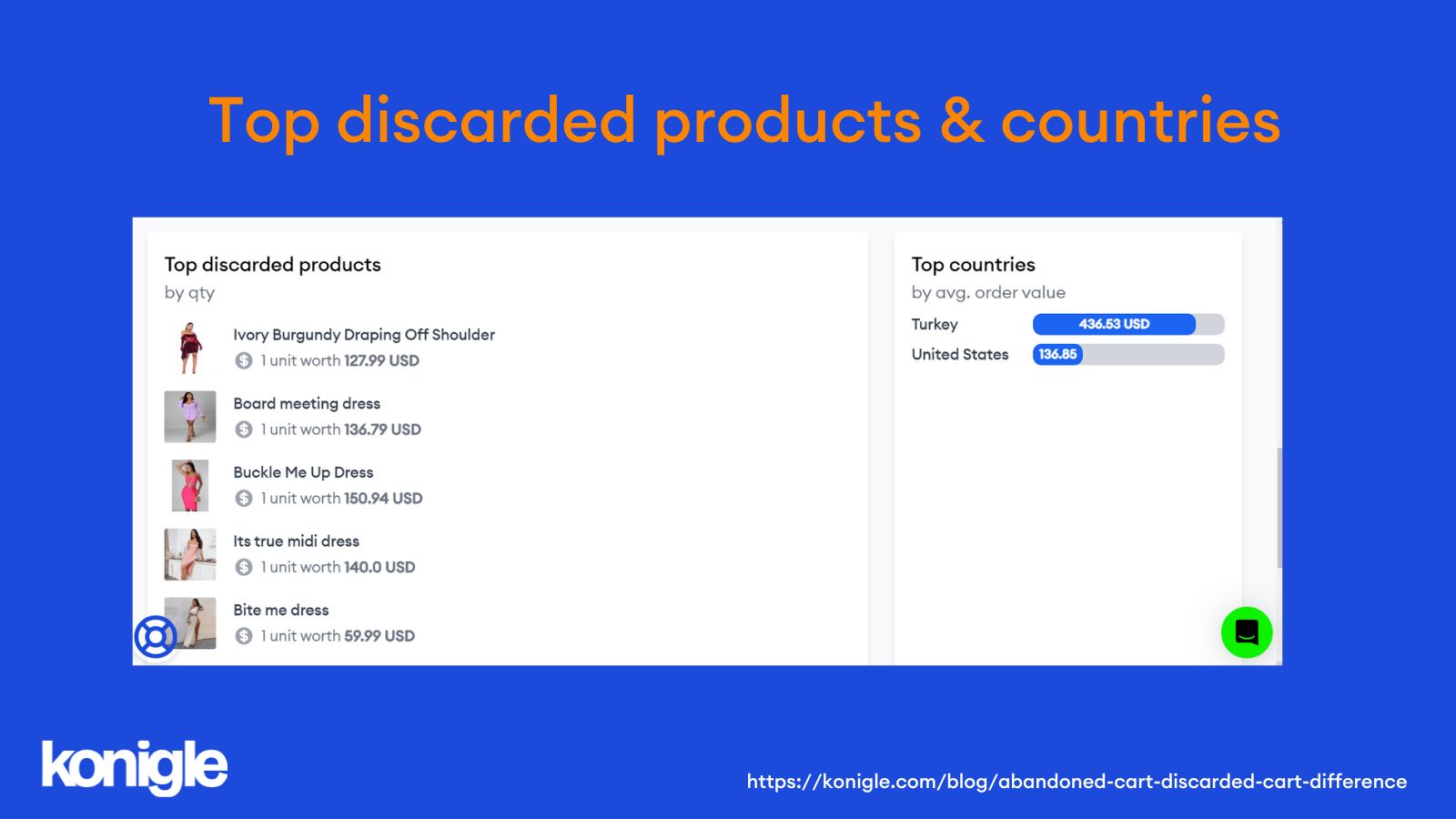 For an online store that is either starting out or that sells high value items such as jewellery or electronic equipment, i.e. having a high average order value, a great tactic to increase revenue is to have a human being interact with a qualified (high value cart) and convert it to a sale.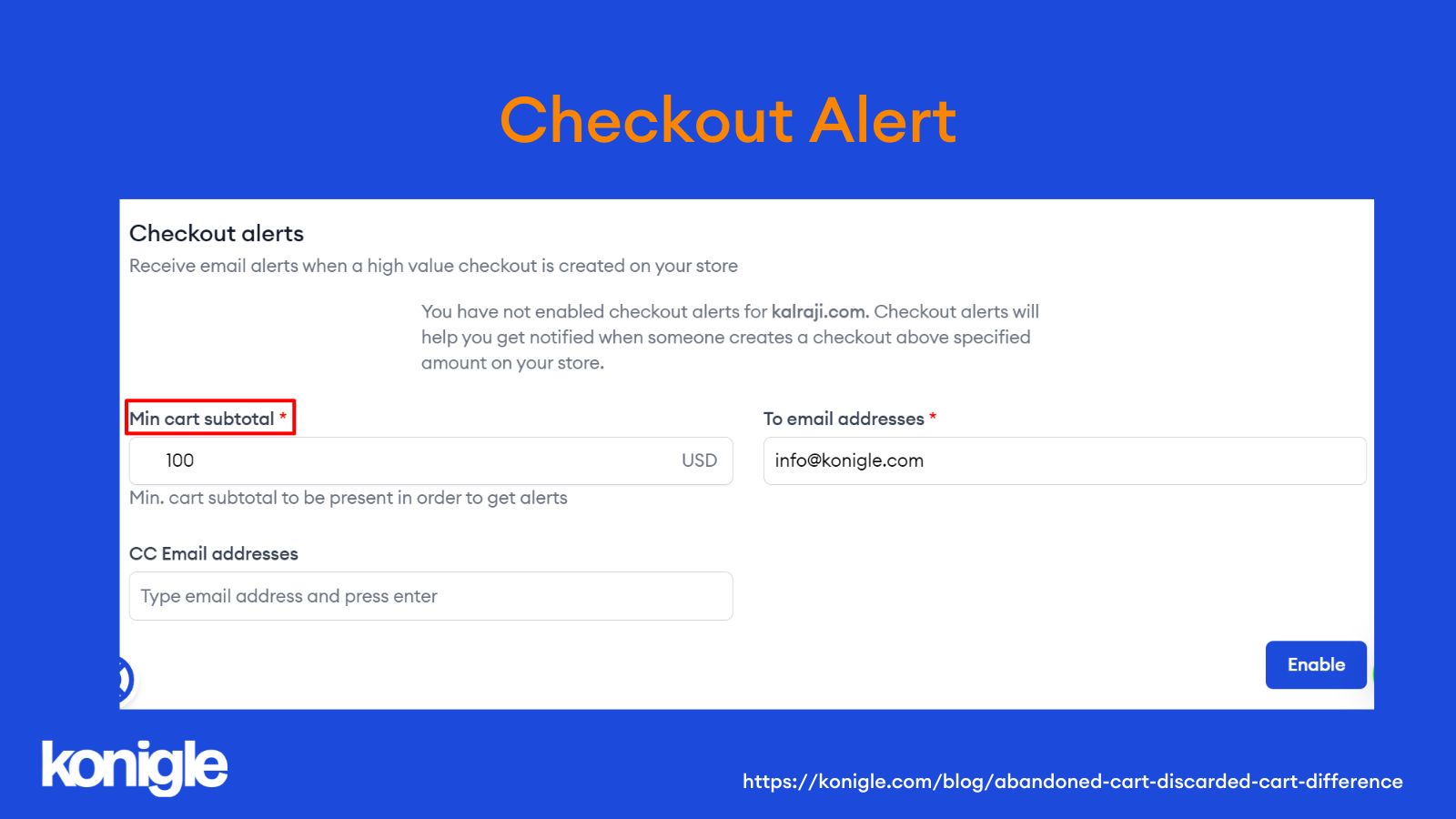 This is very similar to a sales process, where the abandoned cart is a highly qualified prospect. In the above example, whenever an abandoned cart that is greater than 100 USD, Konigle's Checkout Optimizer, sends an alert to email addresses specified with details of the checkout such as name, email address, items in the cart and the checkout link. Now a human can write a personalised email and share a discount coupon to try and get the abandoned cart to be converted. We observe almost 50% higher conversion rates using this tactic versus a generic abandoned cart recovery email. 
Knowing about your store's Abandoned and Discarded carts can help you mitigate lost sales opportunities. By activating your abandoned email cart recovery in Shopify and using a tool such as Konigle's Checkout Optimizer, you can get actionable insights such as reviewing top discarded products' prices versus its MSRP.