Is SMS marketing for Shopify more effective than email marketing? This is a frequently asked question by a lot of Shopify stores, so we thought of sharing our learnings.
In this article, let's go through:
Customers Preference
SMS vs. Email Marketing

Scheduling SMS and Email campaigns under one tool
-Managing your email campaign
-Managing your SMS campaign
  SMS are short and direct messages that do not require an internet connection to be received by your customers. In terms of open rates, SMS marketing outperforms email marketing. While email only has an average open rate of 20%, SMS campaigns can reach as high as 98%.  
In a study, SMS took top rank among channels people preferred for obtaining loyalty & time sensitive marketing time-sensitive information from businesses (48%). Email (22%), app notifications (20%), and direct mail (8%) are some more methods.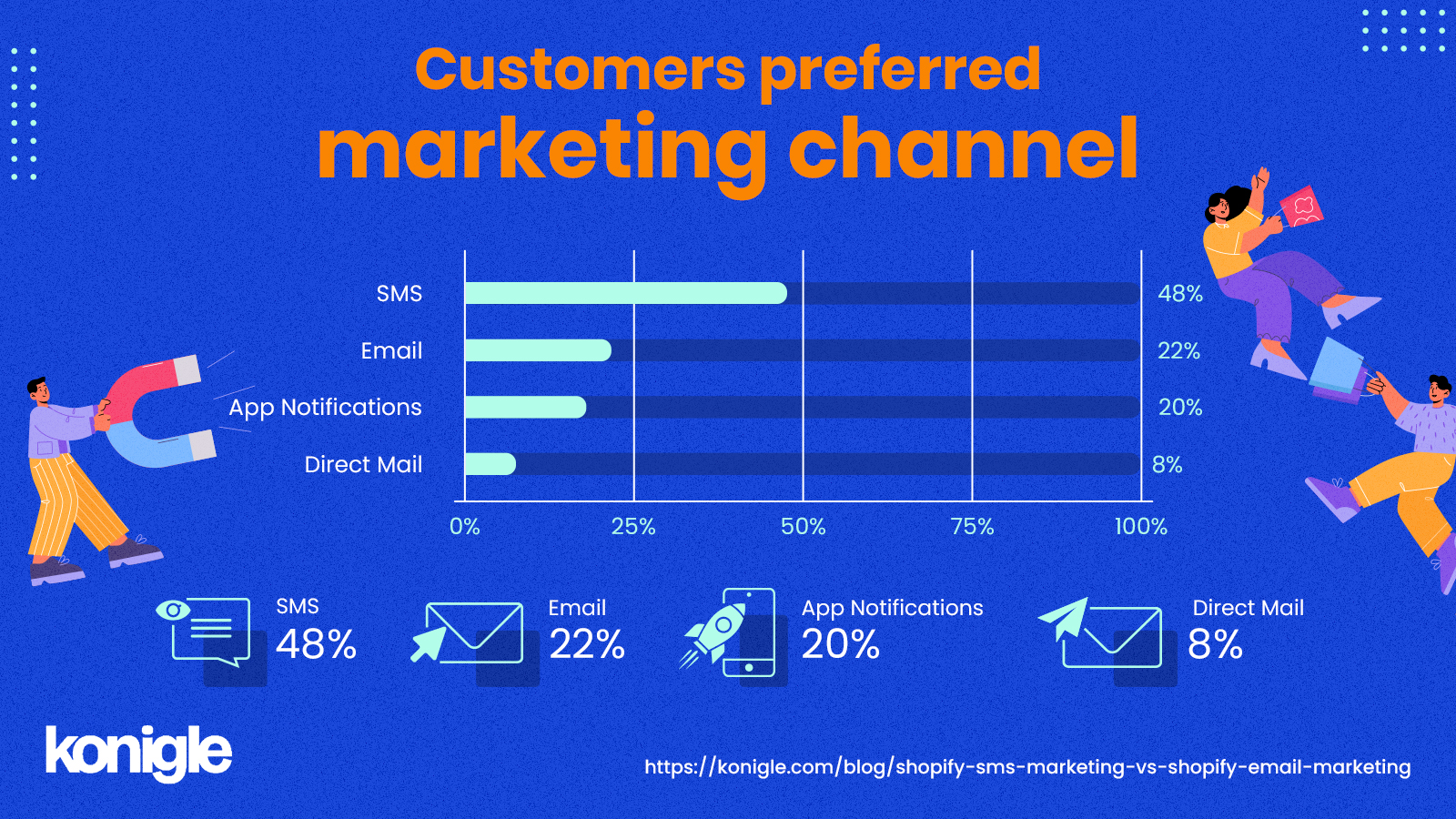 Though SMS marketing is well loved by customers, email marketing is a widely used personalized marketing technique with emails that consumers can read at their most convenient time when they prefer to check their inboxes. One draw back of email marketing is your marketing emails landing in spam.
Both have pros and cons and as an online store, why should you settle for only one?
At Konigle, we believe that both marketing strategies can be beneficial to a Shopify store and should be used to your advantage. Notifying your chosen customer segments on either of these two methods shouldn't be difficult and now, you can even manage it under a simple to use seller-tool.
The Shopify Bulk Price Editor allows you to reprice your products and manage run an SMS and email campaign under the same tool without paying for multiple apps. You get up to 500 sms free a month too.
Simply follow these steps:
   1. Add and install the Konigle app from the Shopify App Store.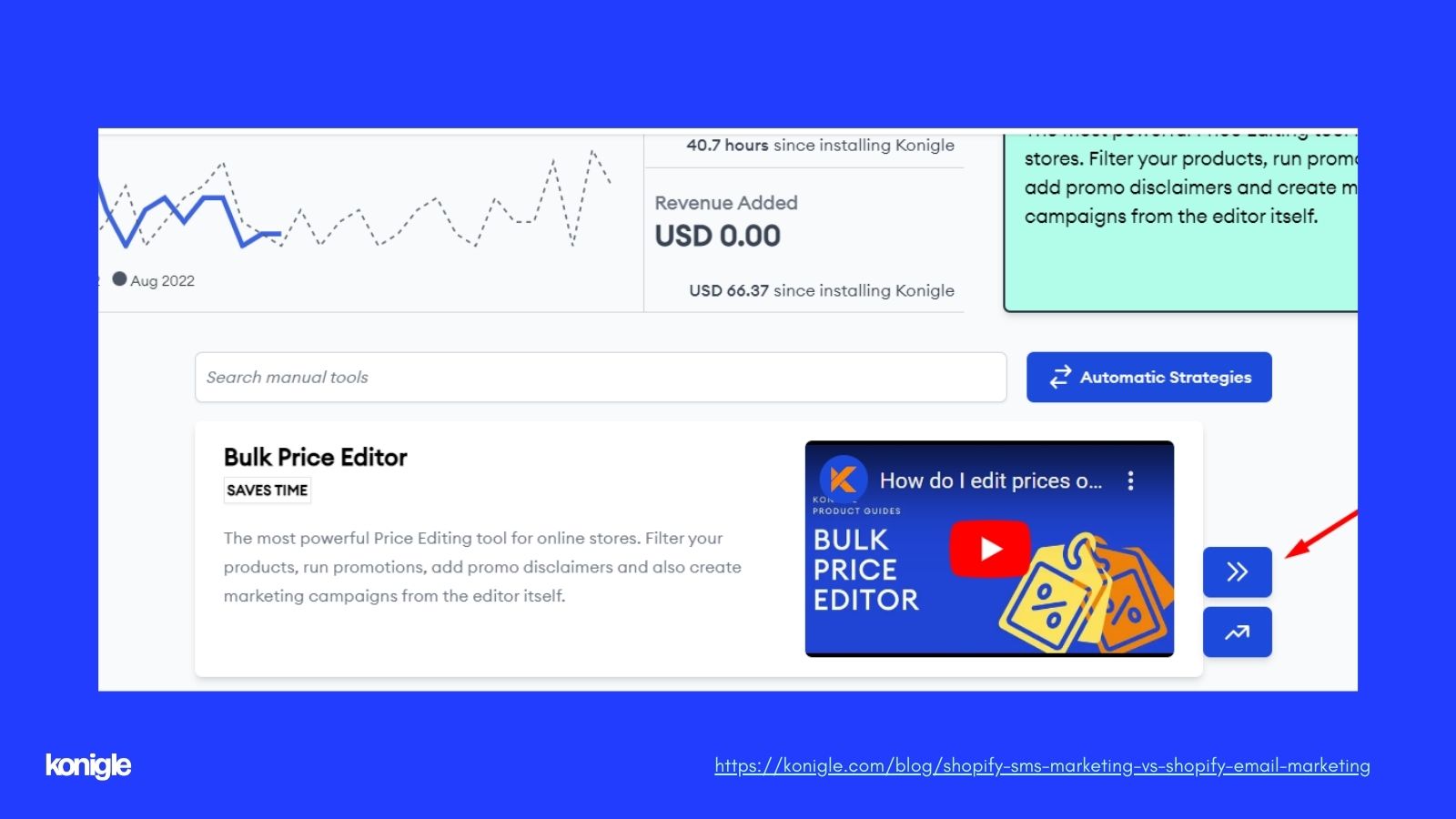 3. Choose the products that will be on promotion by filtering them either via the title keyword or clicking on More Filters to narrow down your filter.
4. Once the products are chosen, configure your price. If you're running a sale, you can choose to Reduce these products by a specific amount or a percentage. Apply Charm pricing by rounding off your sale prices to .99 or .95.  
5. Enter your promo description and validity and hit Submit.
6. Before finalizing your reprice request, ensure you tick the Notify customers. Then click Next.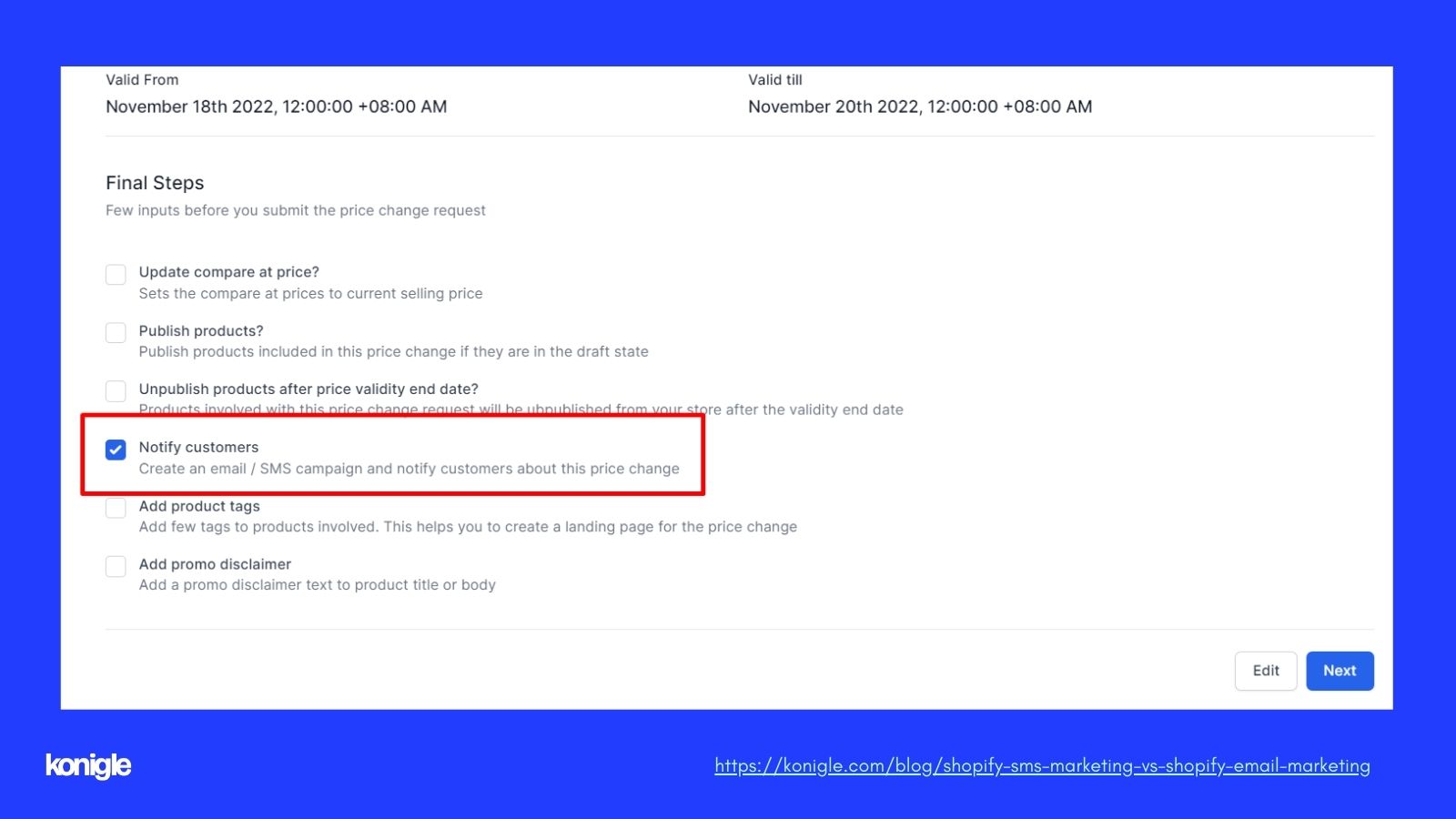 7.  Configure your marketing campaign. Choose your customer segment. To learn more about creating customer segments in Shopify, you can also check this article.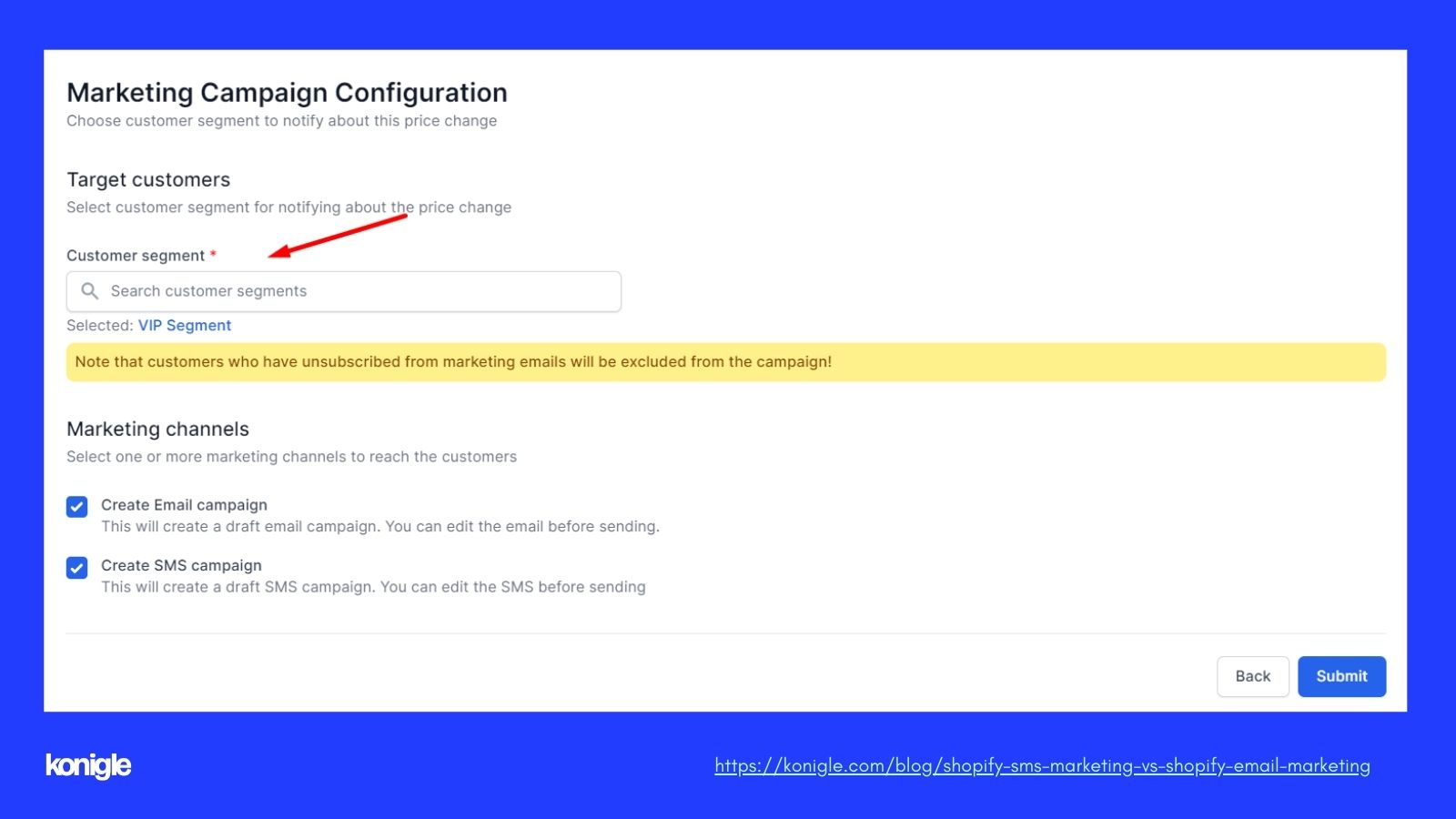 8. Click Confirm to finalize the request.
9. Hit Go to campaign to manage your email and sms templates
1. From the Outreach tab, click on the Email template: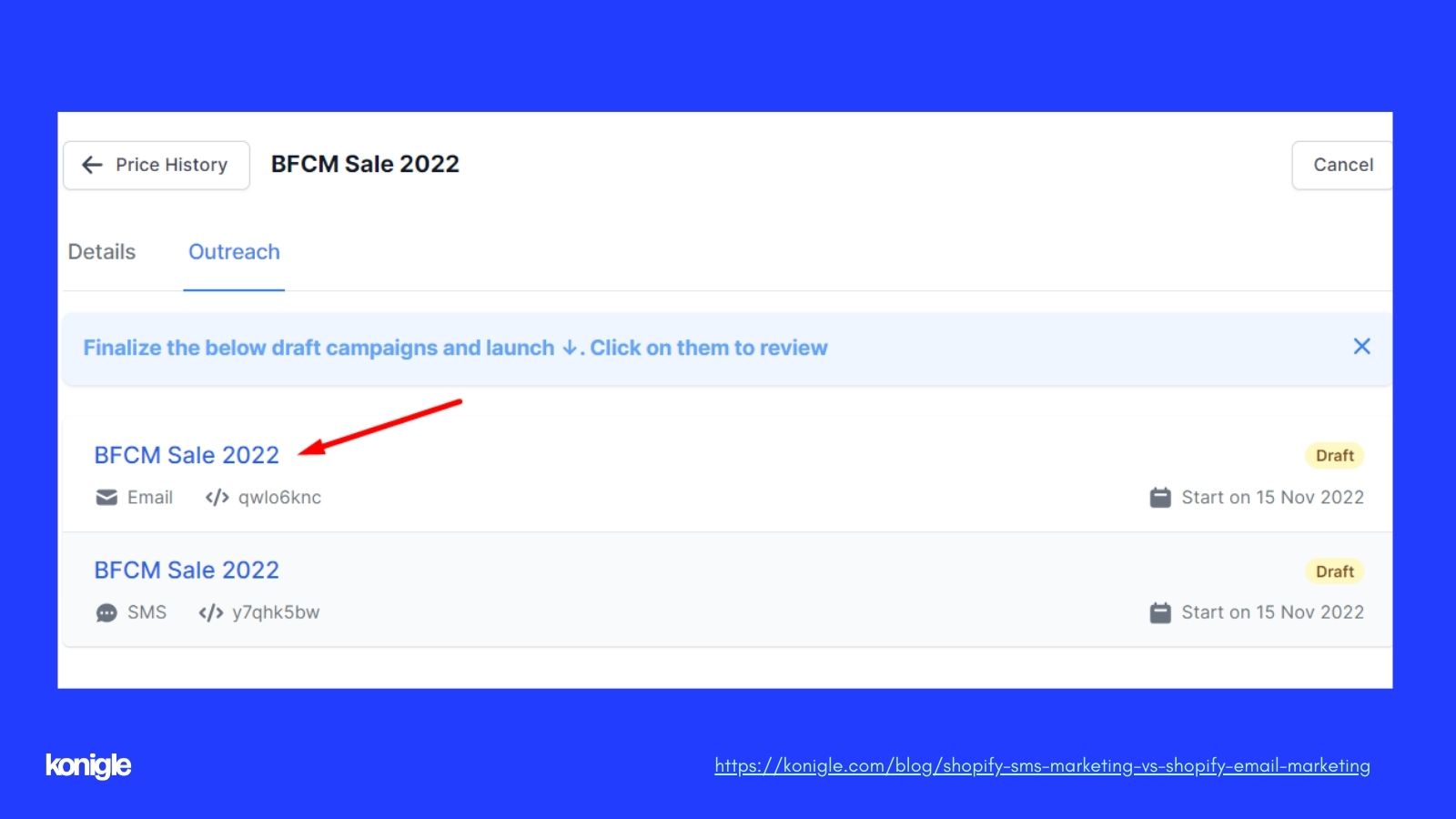 2. You can customize your template by uploading your own logo, changing font sizes and colors, creating your own ad copy and even adding your landing page. The grids are clickable and can be edited.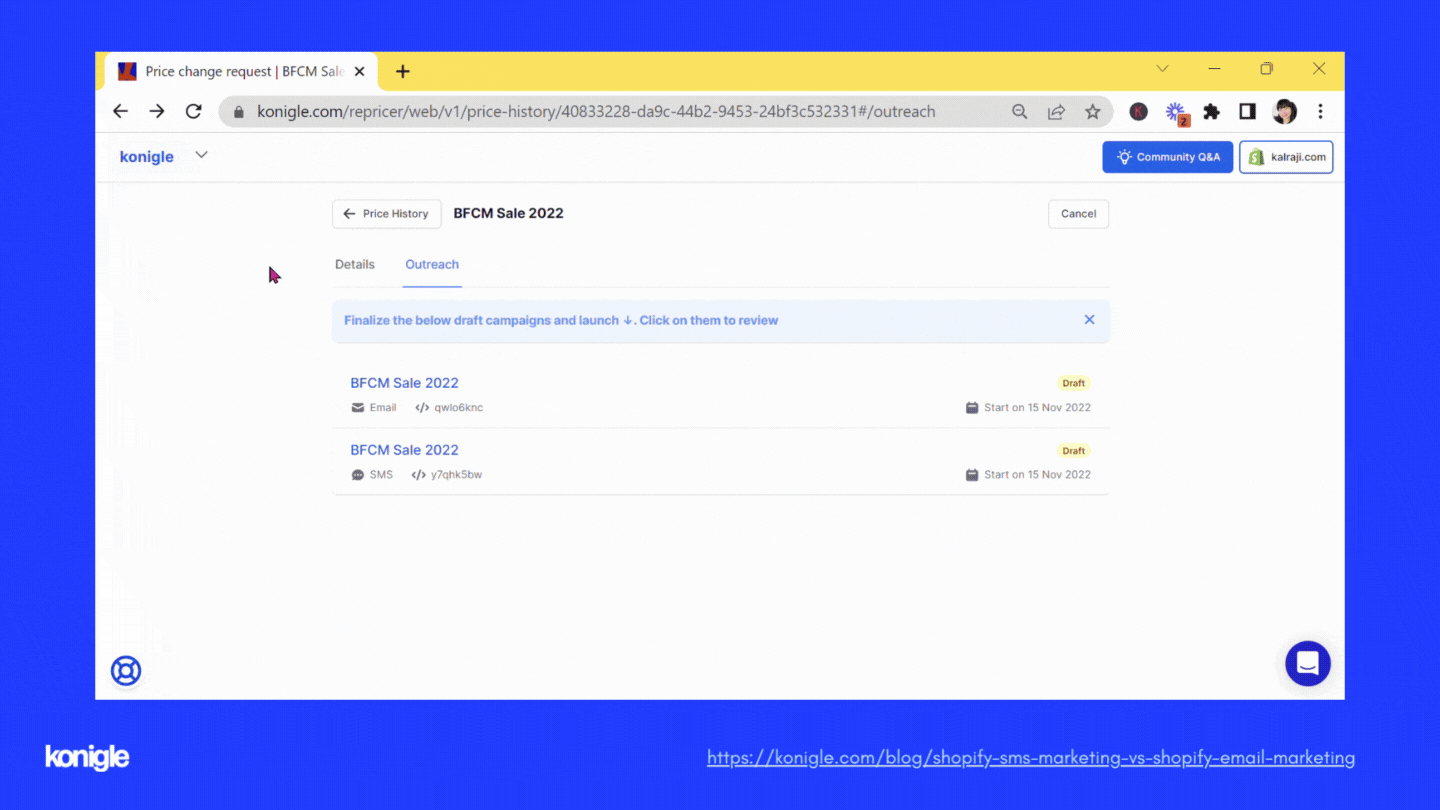 3. Click on Save once finalized. It is highly advisable to run a test by clicking on Test and entering your own email address. This way you have an overview of what your customers will receive and a chance to ensure that there are no broken links on the email.
4. Choose to either Launch or Schedule your email campaign. According to reports, the first three days of the workweek—particularly between 9 AM and 3 PM—are the best for observing engagement.
1. To manage your SMS campaign, go back to Outreach and click on the SMS draft: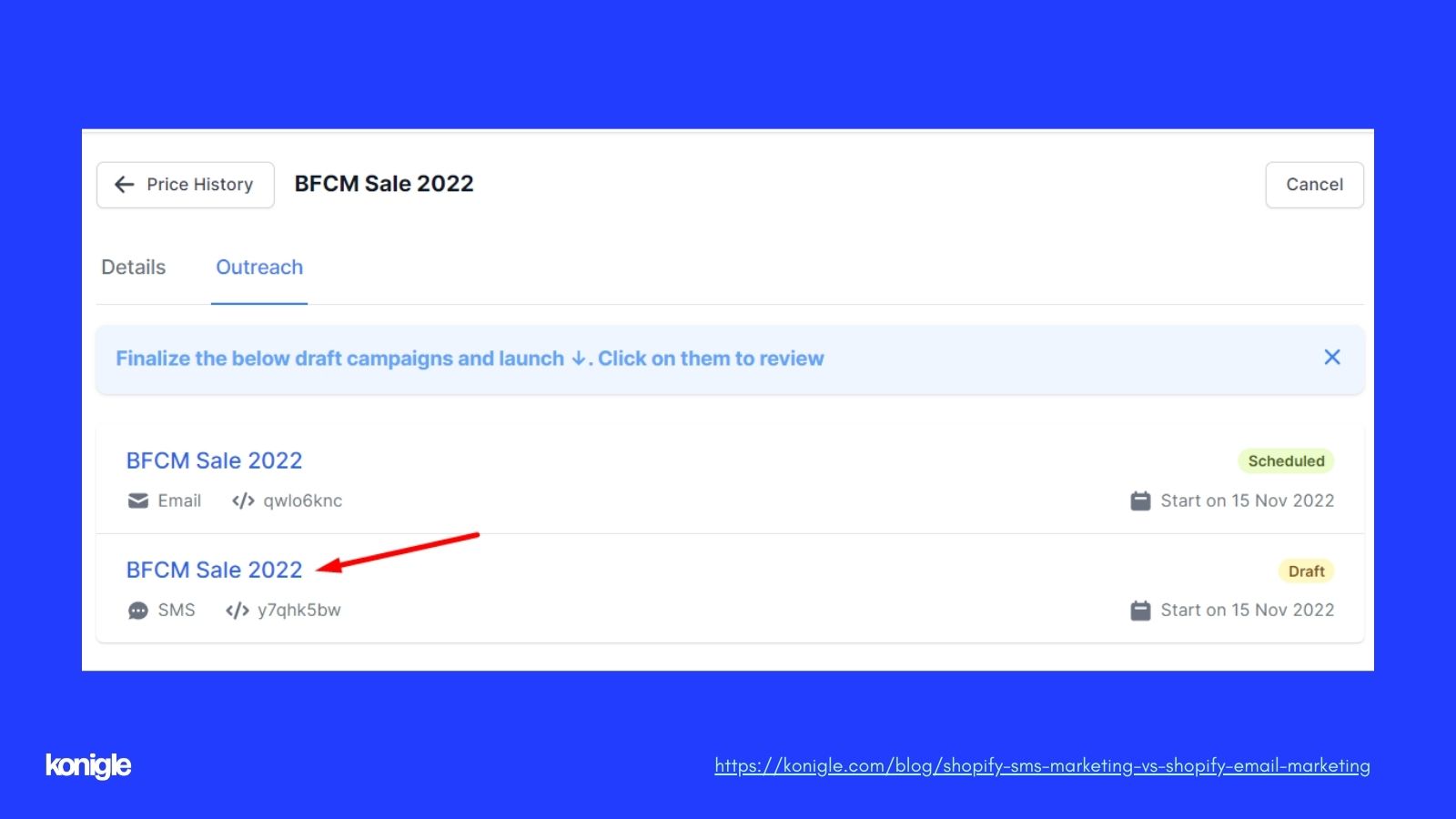 2. Edit your text message and paste the landing page to be included on the SMS.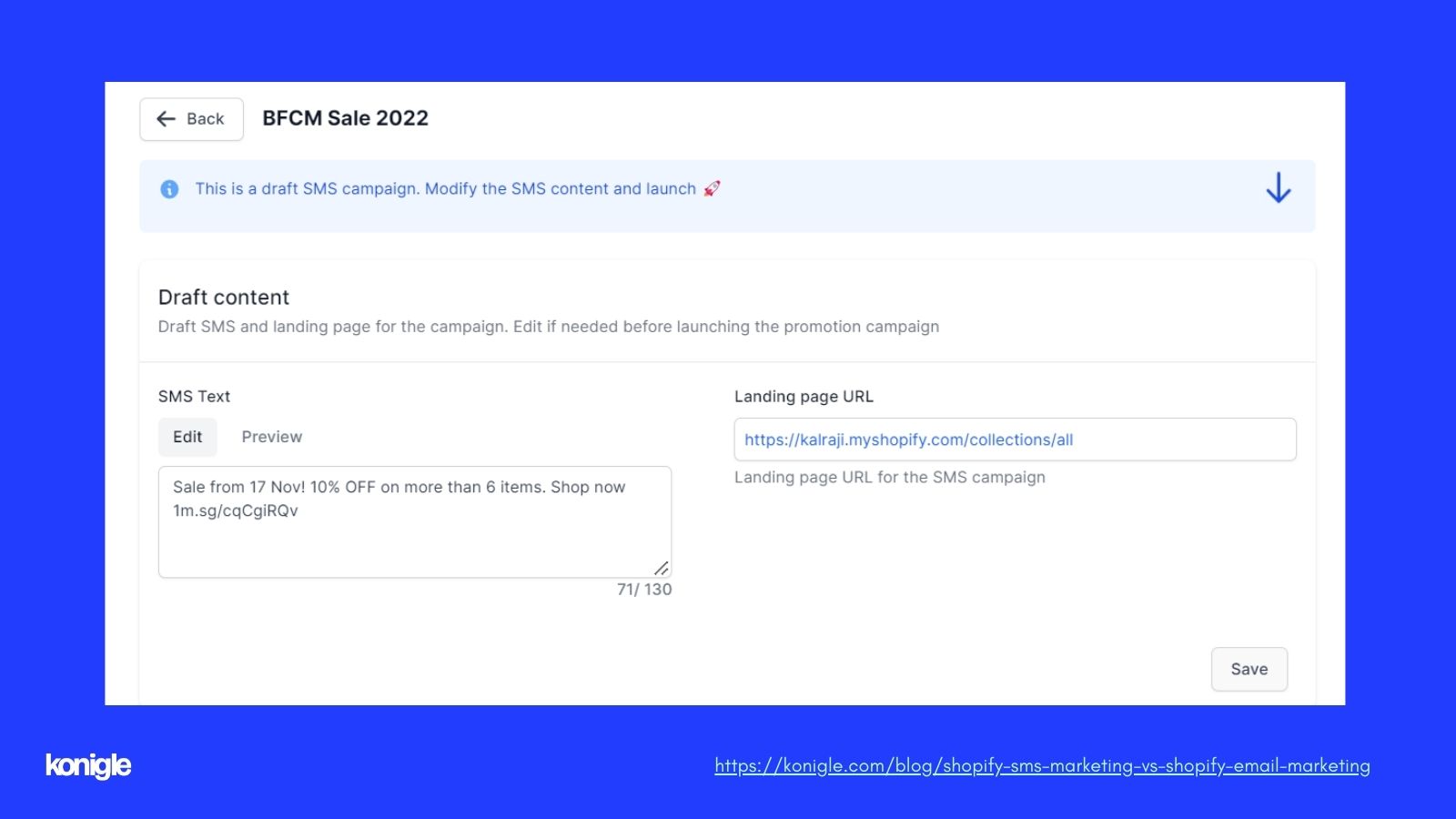 3. Click Save once finalized.
4. Choose to Launch or Schedule when to send the SMS to your customers.
Review the overall impact of your promotional campaign by going to Price History>Details.
  Manage your Shopify store by using the Konigle app, a collection of tools that helps running Shopify stores easy and profitable. Install the app today!