A pricing strategy in which a newly launched product is initially set at a high price and then gradually its price is lowered over time is called price skimming. The main goal of the price skimming strategy is to maximize the profit potential of a newly launched product's novelty factor taking into account demand, timing, and competition.
Consumer Electronics like mobile phones are well known to use Price Skimming as a pricing strategy, launching the latest and greatest phones at a steep high price and then gradually discounting the phone as a newer version is launched.
Apple typically lowers the price of the prior versions, as it did with the iPhone 13. After its release in 2021, it is now being sold at $100 less together with the release of the new iPhone 14.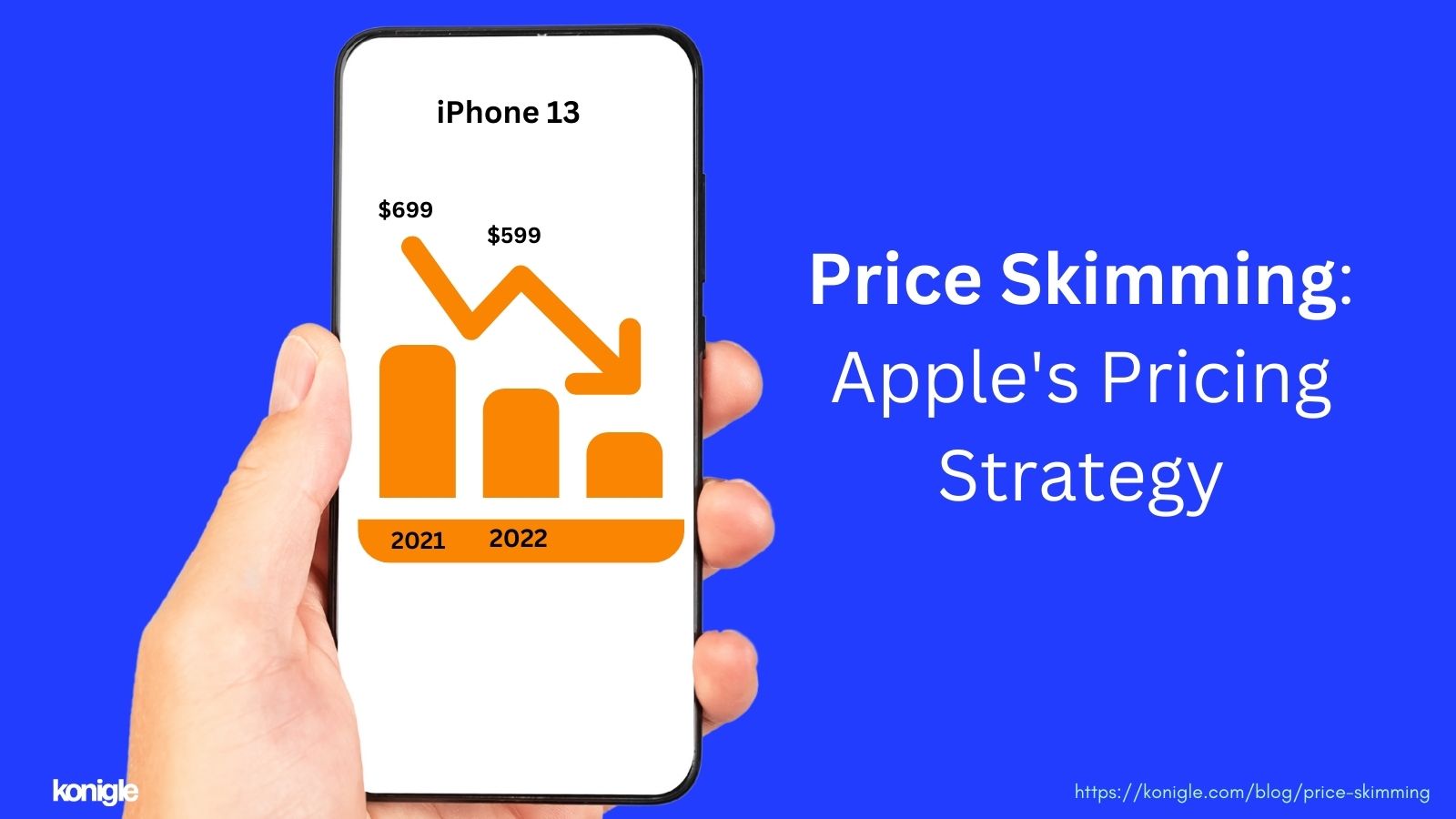 Easily setting, increasing or reducing your prices.
Setting up a validity period for skim pricing.
Publish draft products by setting them as Active as you configure the prices.
Follow the steps below to start:
  Install Konigle.
  From your Konigle dashboard, navigate to the Bulk Price Editor tool.    
Start by filtering the products you'd like to set prices for. If this is the first time you're setting up your pricing, you can click on More filters and select the appropriate filters to narrow down your search. You can even select all your draft products. Click on Apply Filters.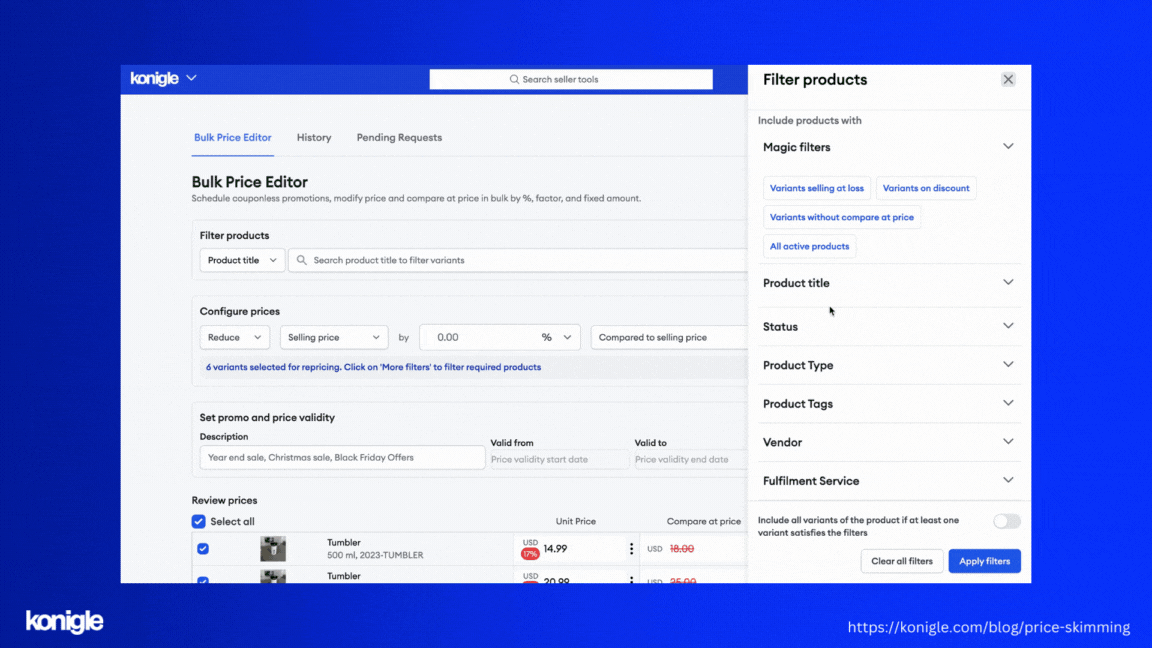 4. Configure your prices. Choose Set, the Selling price, with the amount that refers to the lower price after the  launch.
Let us take the example for the iPhone 13. Launch Price: $699 and After Launch Price: $599. The product then needs to be set to the After Launch Price.
You can even choose to apply Charm Pricing by rounding off the price to .99, .95, etc.
5. Enter your description for this price request. (E.g. Regular Price After Launch) and set a Valid from date to be when the Launch is over. Click Submit.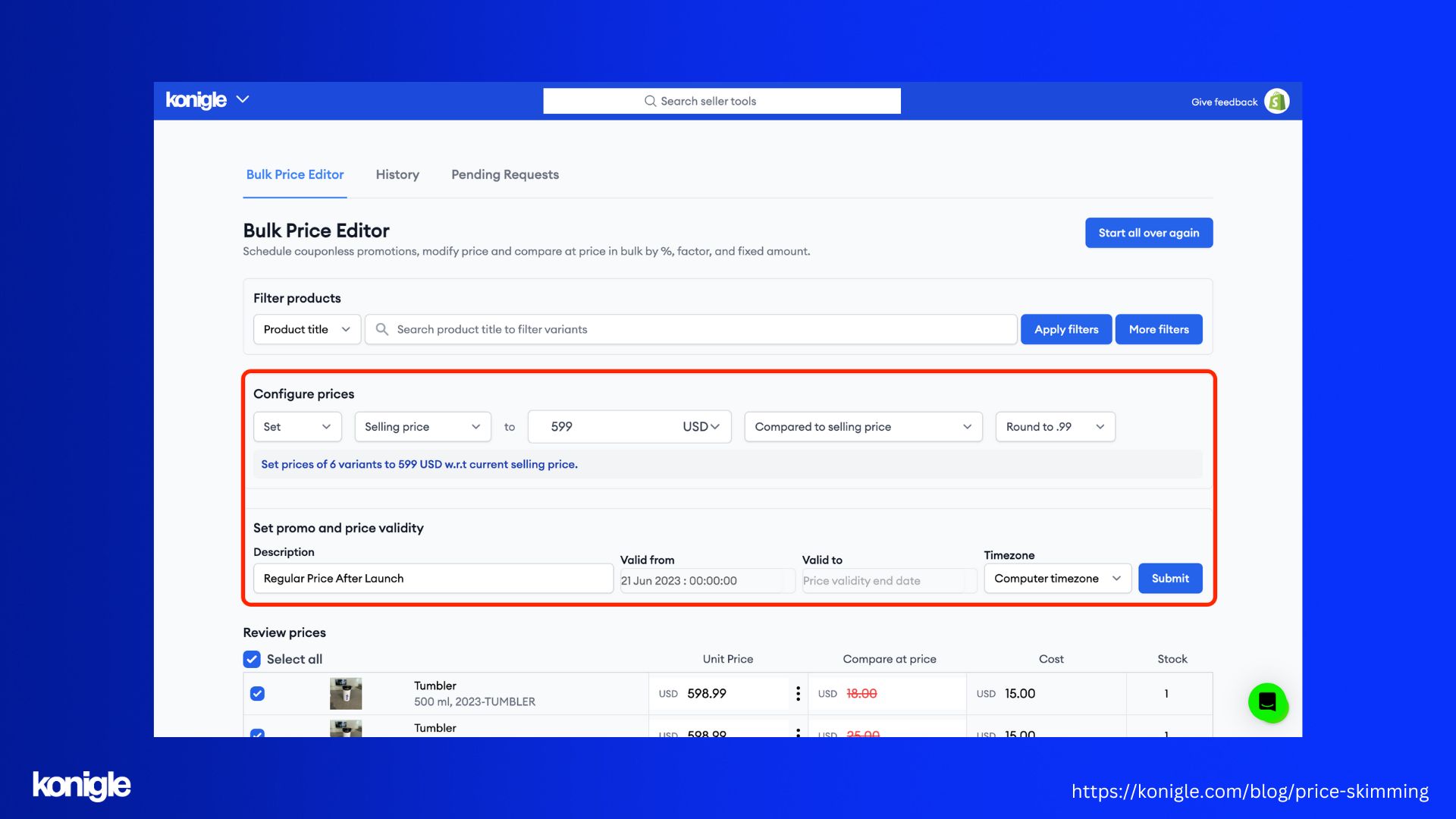 6. Leave these fields blank for the products to stay on draft and hit Next. [Optional tip] You can opt to Notify customers with an email or sms when the product prices drop to their post-launch prices.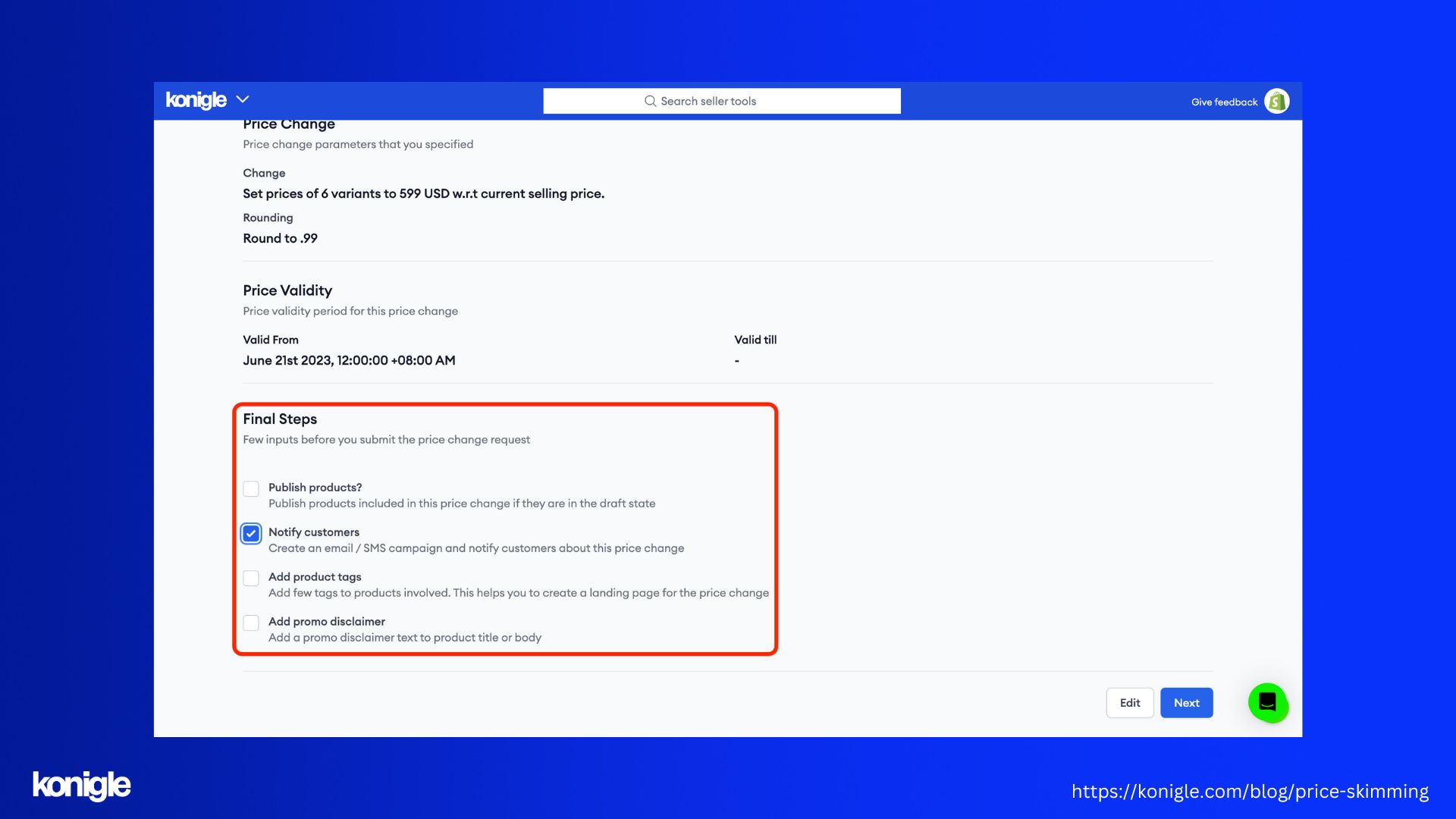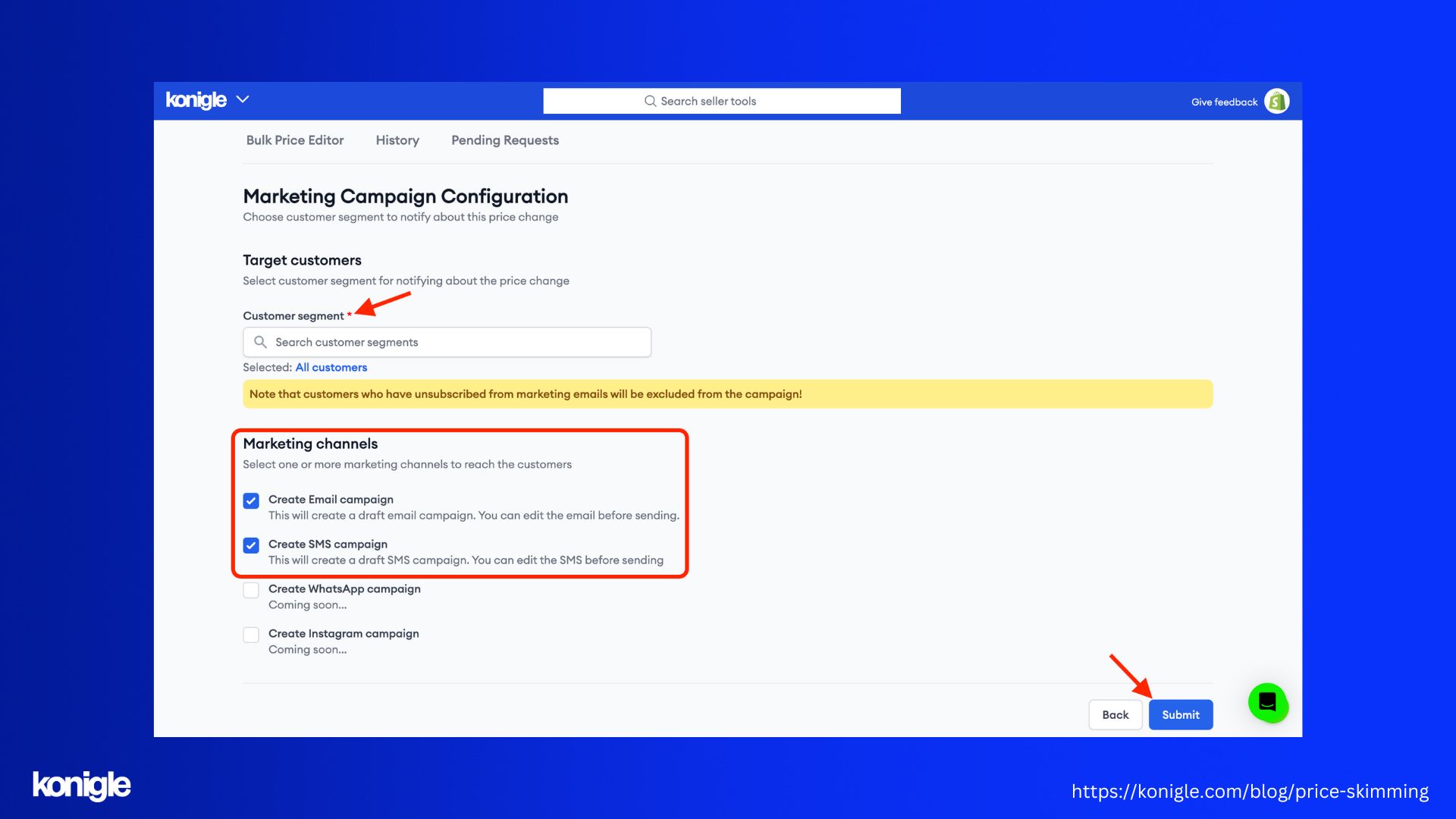 1. Go back to the Bulk Price Editor with another pricing request by filtering the products.
2. Configure your prices. This time, set it to the launch prices. You can choose to set it to a specific amount increase of the after launch price using a percentage or a multiplier.\
3. Enter your Description and validity dates. Ensure that you enter the valid to date as the end date of the launch. Click Submit.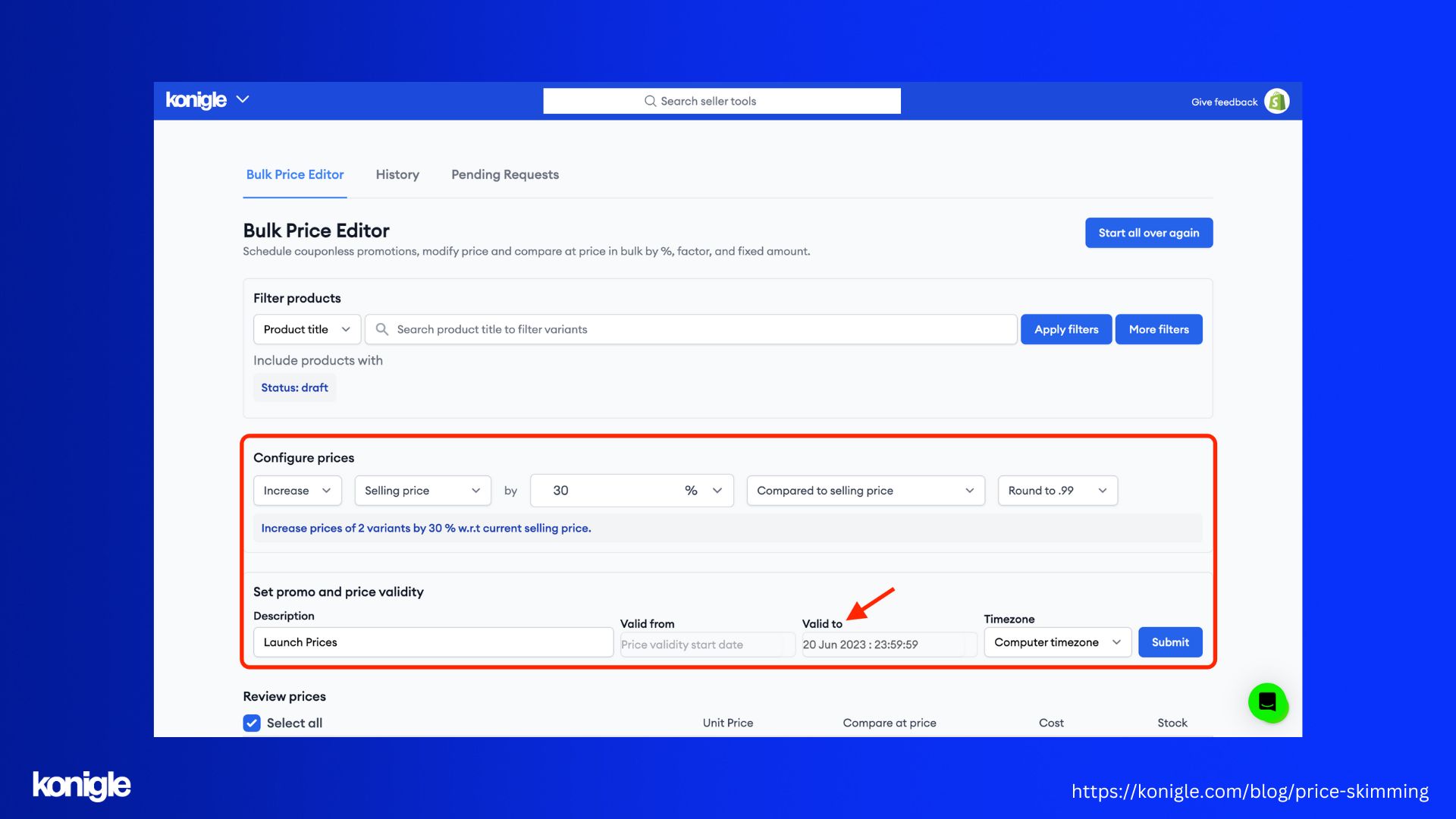 4. Select the field to publish products. You can also opt to Add a promo disclaimer if you prefer. Click Submit.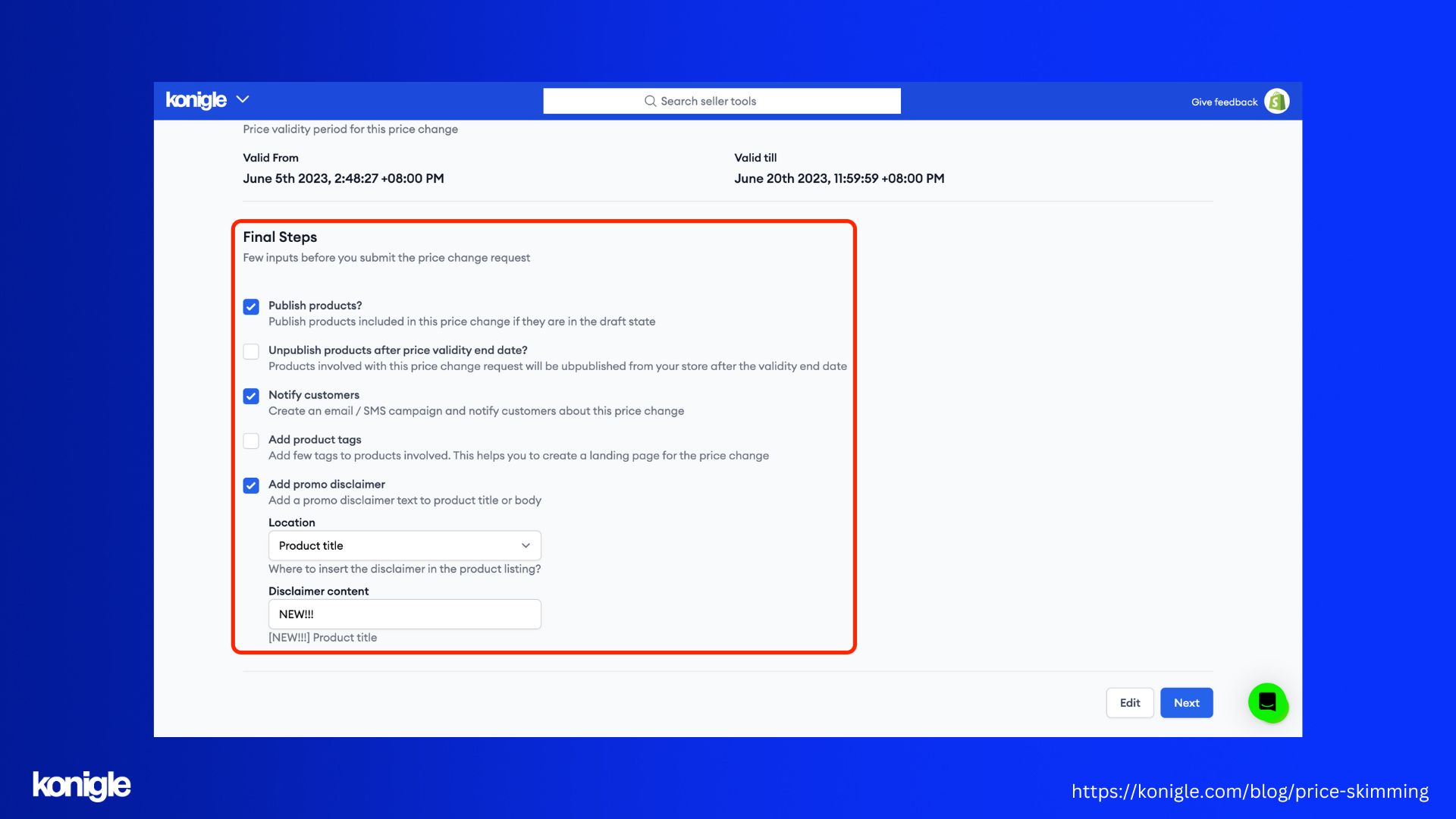 5. Your products should now show active in your store with the launching price and is set to end based on the validity dates applied.
Need to make changes to your pricing request? Konigle's Bulk Price Editor has a one-tap Revert button in case you need to undo the changes. Just go to History > Revert.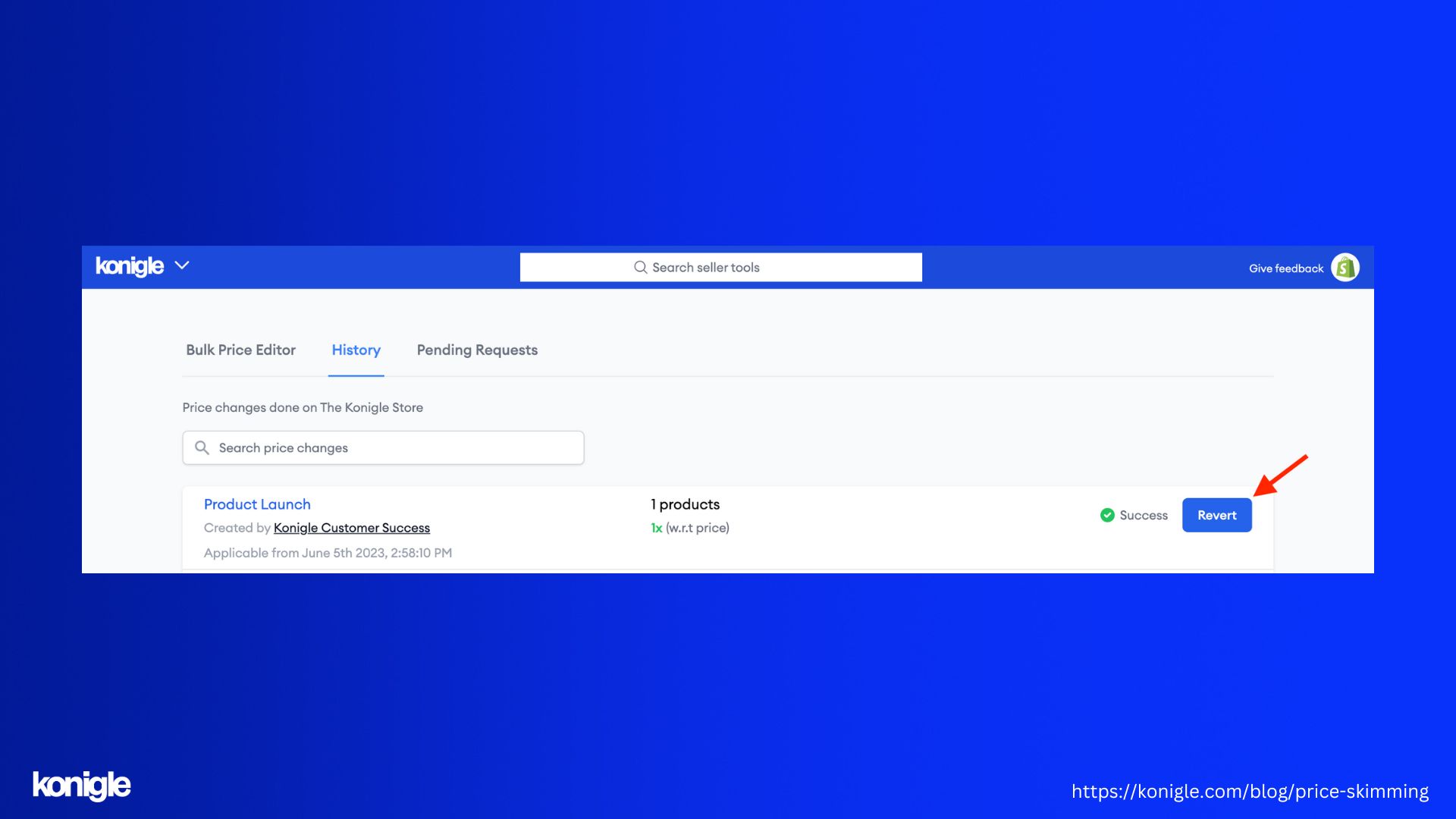 Price Skimming strategy involves lowering product prices in phases. After your initial price launch, you can consider using Konigle's Markdown Planner that helps set specific pricing in phases. This is very useful if you're looking for a way to automatically mark down product prices over time.
1. From your Konigle dashboard go to prevent deadstock strategy. Implement the Price Skimming tactic.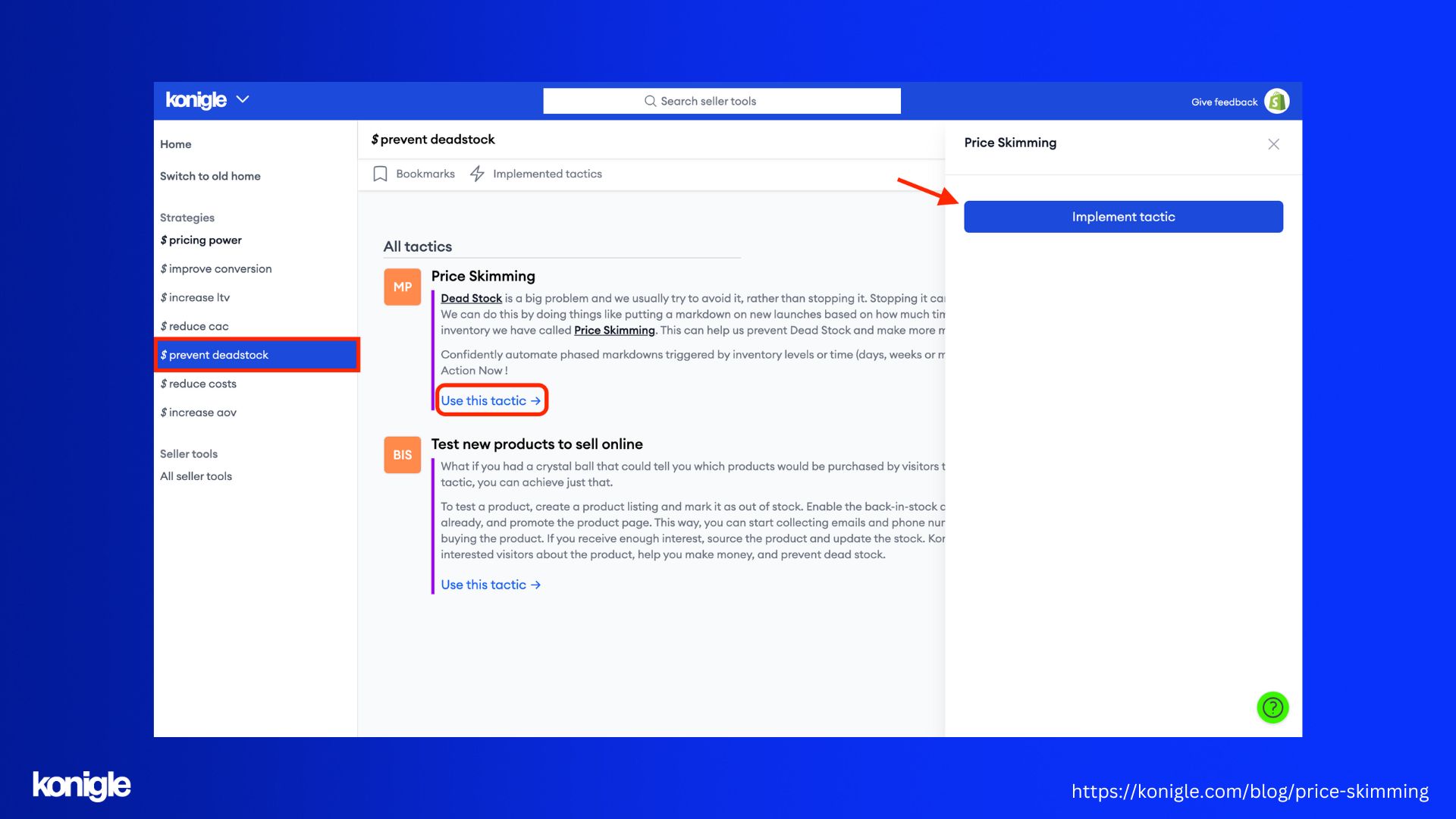 2. Create a markdown rule.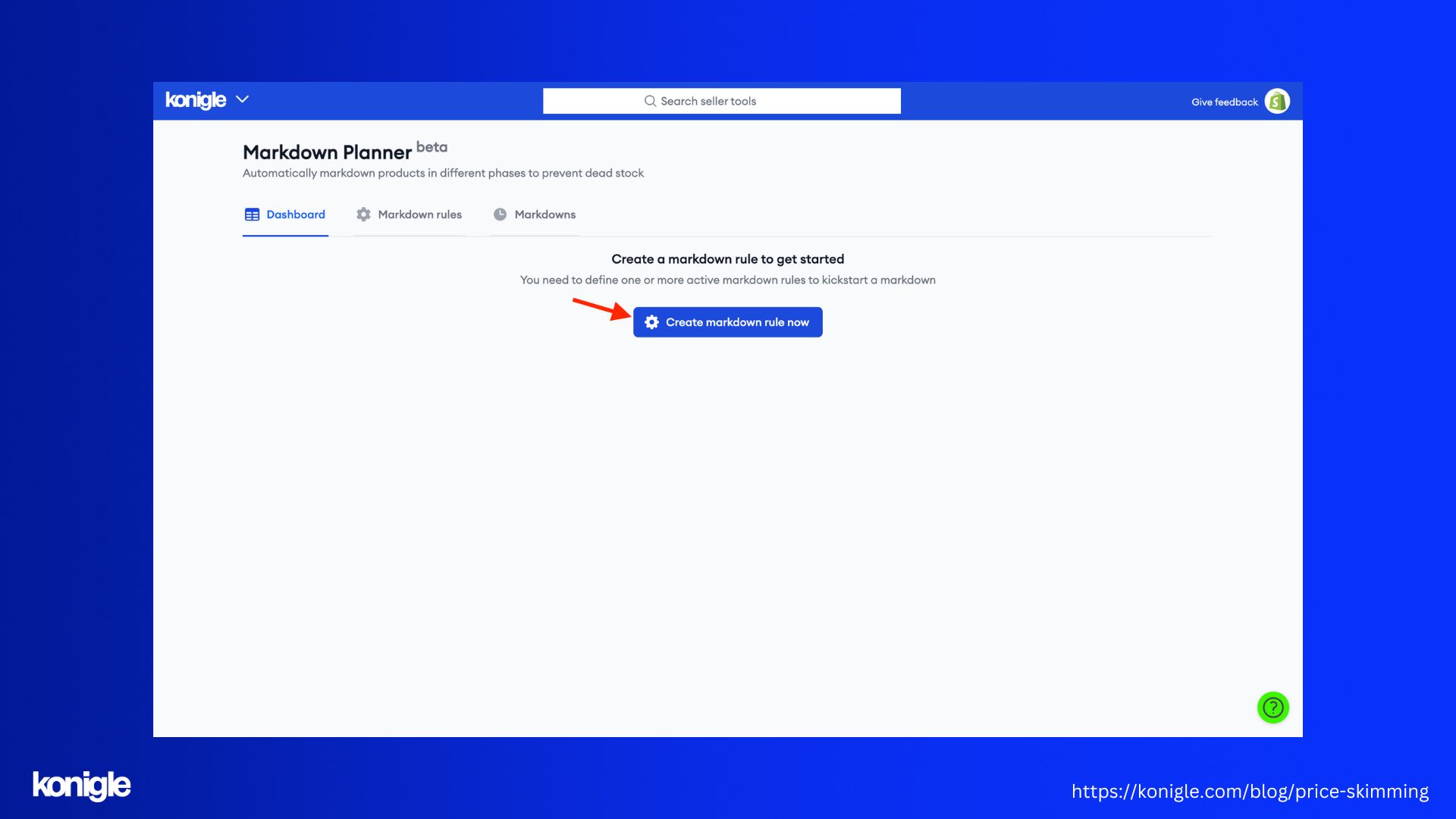 3. Filter your products. The tool allows you to set one or more conditions to filter products.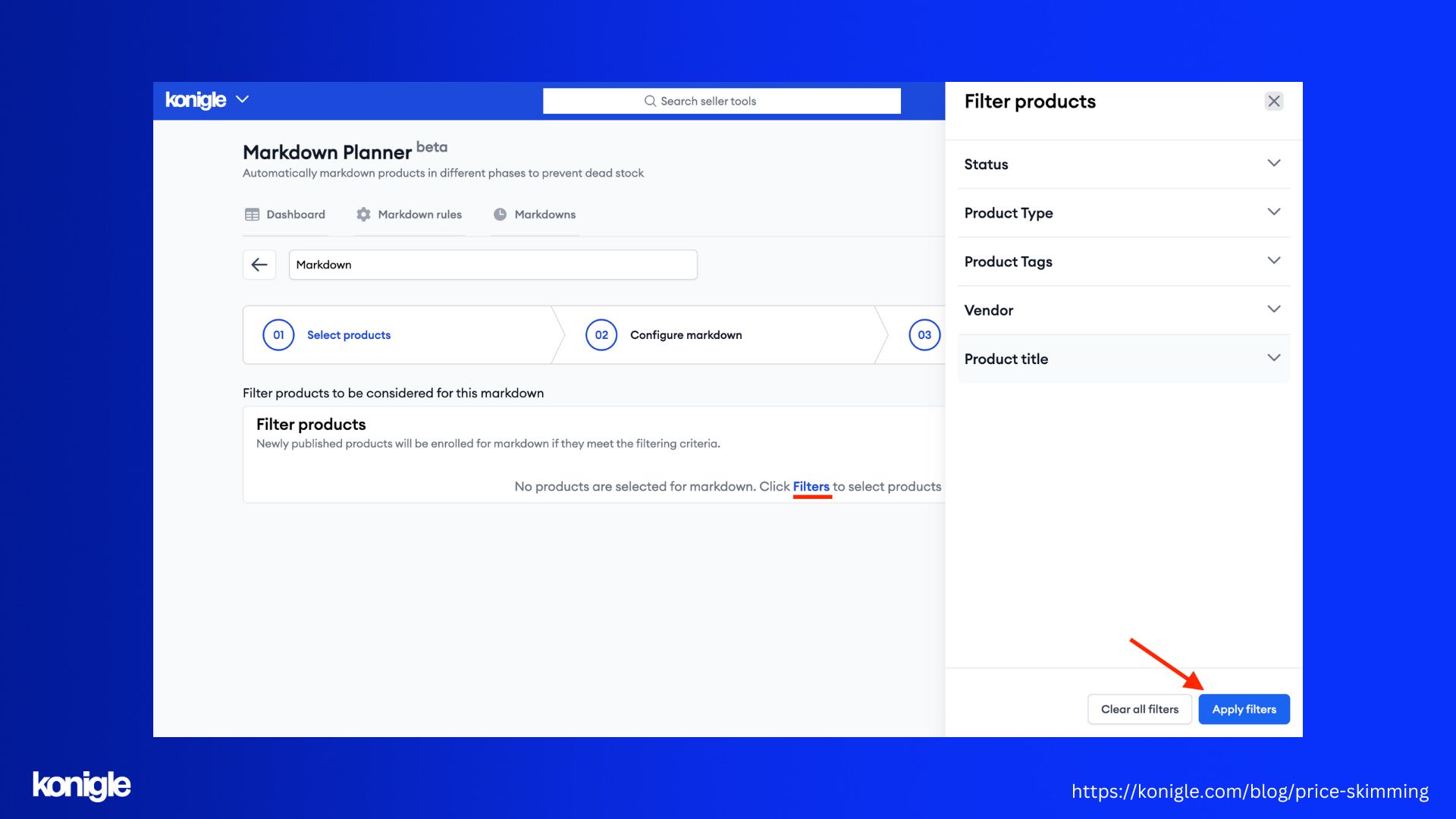 4. Click "Step 2: Configure markdown" to proceed to set markdown rules.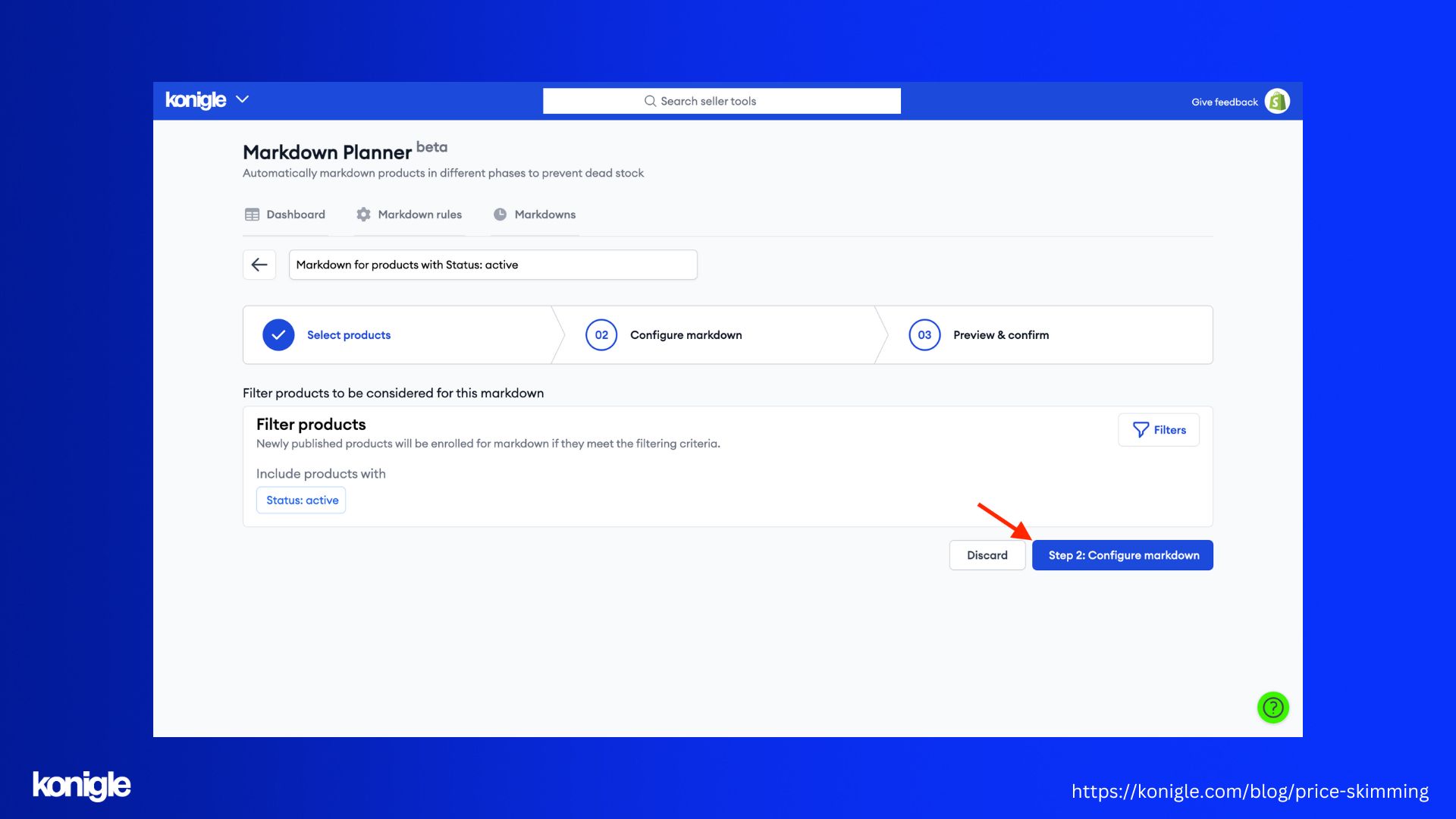 5. Specify the 'Markdown Value' (in percentage/USD) that you want to offer, and the 'Duration' (days / weeks / months) of the phase. After setting the rules, click 'Add'.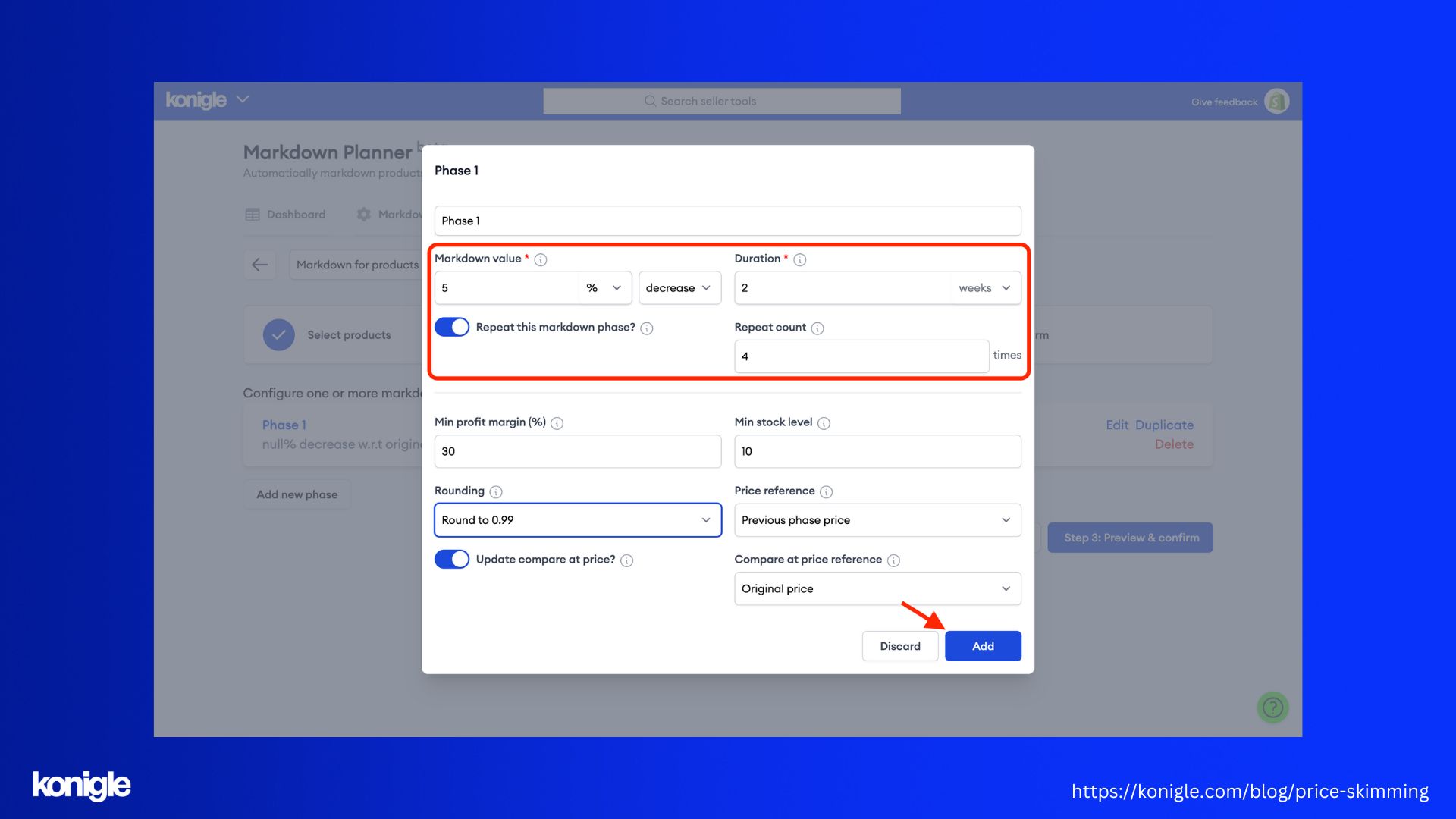 You can choose to repeat the markdown phase by X amount of times. In the above example, prices will be marked down by 5% every 2 weeks for 4 times (over the span of 2 months).
You can also set a price floor (Min profit margin). e.g. When profit margins of products become less than 30% , they will no longer be included in the markdown.
You can set a cut off based on inventory levels (Min stock level). e.g. When inventory levels of products become less than 10, they will no longer be included in the markdown.
6. If you do not have other phases to include, click on 'Step 3: Preview & confirm'.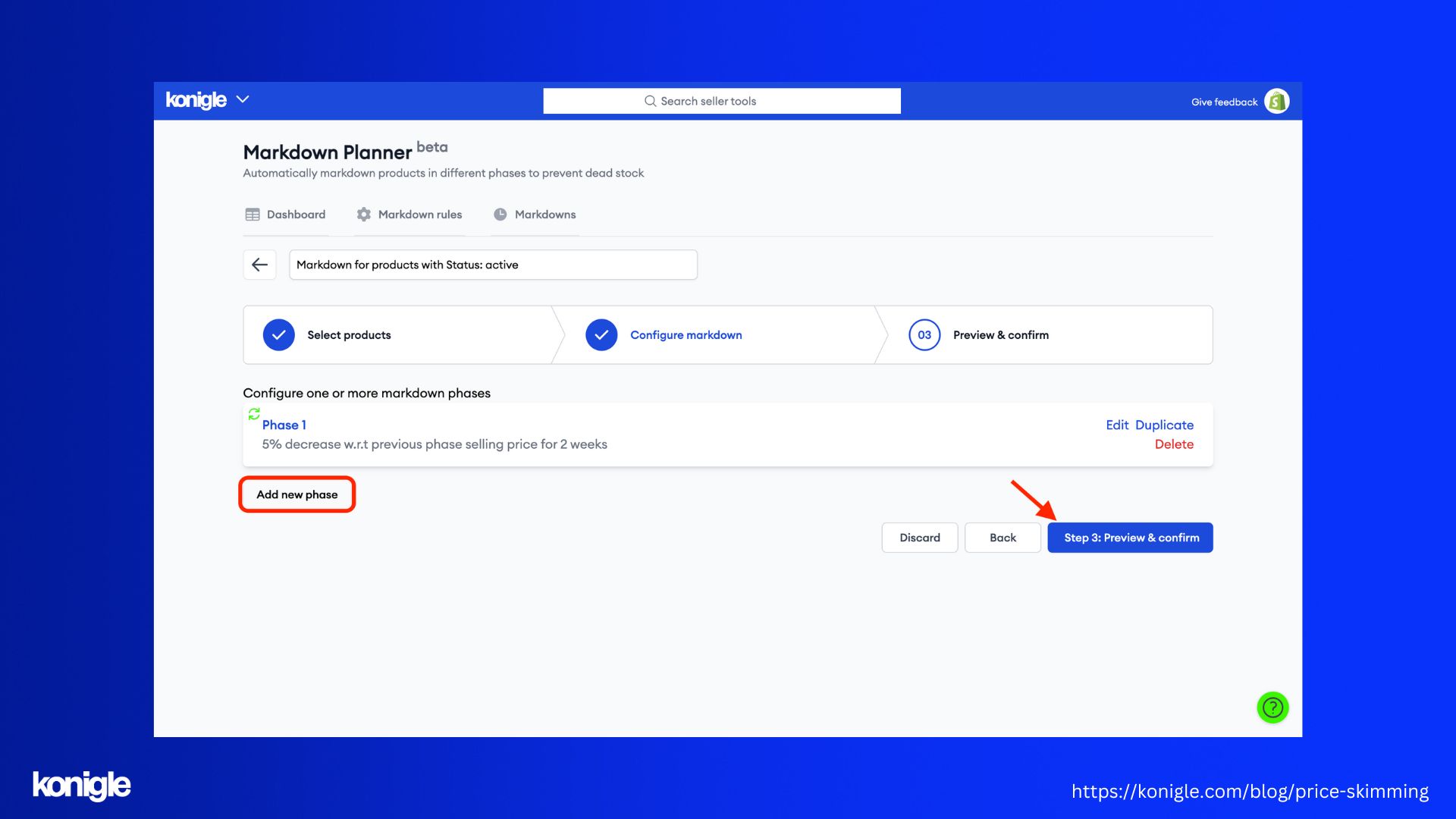 7. Indicate the Valid from date to implement the changes. If you do not want your products to start marking down immediately after launching, you can set a Markdown start offset. Once finalised, click 'Create and enable'.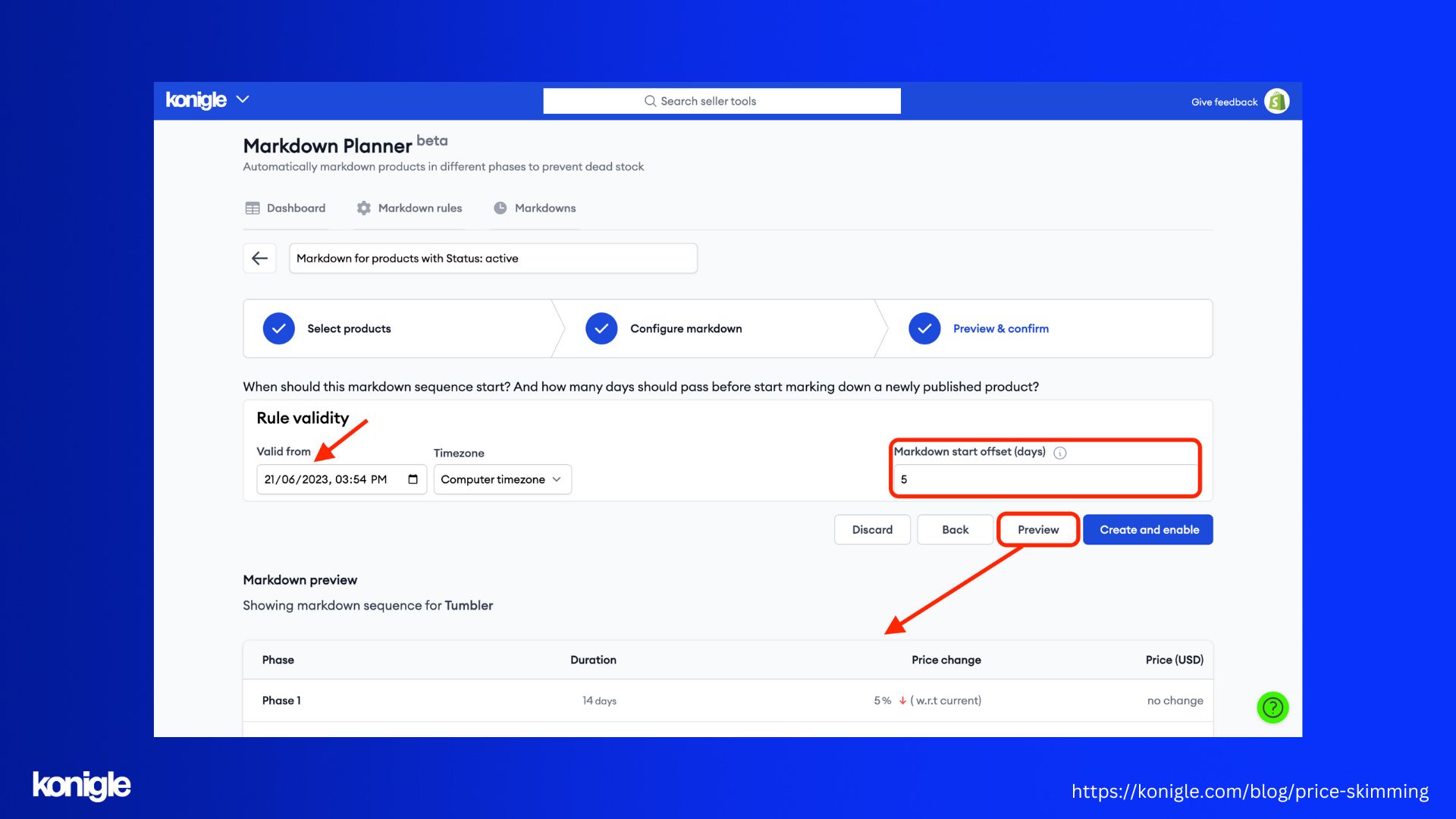 9. You will be brought to the Markdown rules tab where can can make changes / disable / delete your created markdown rule.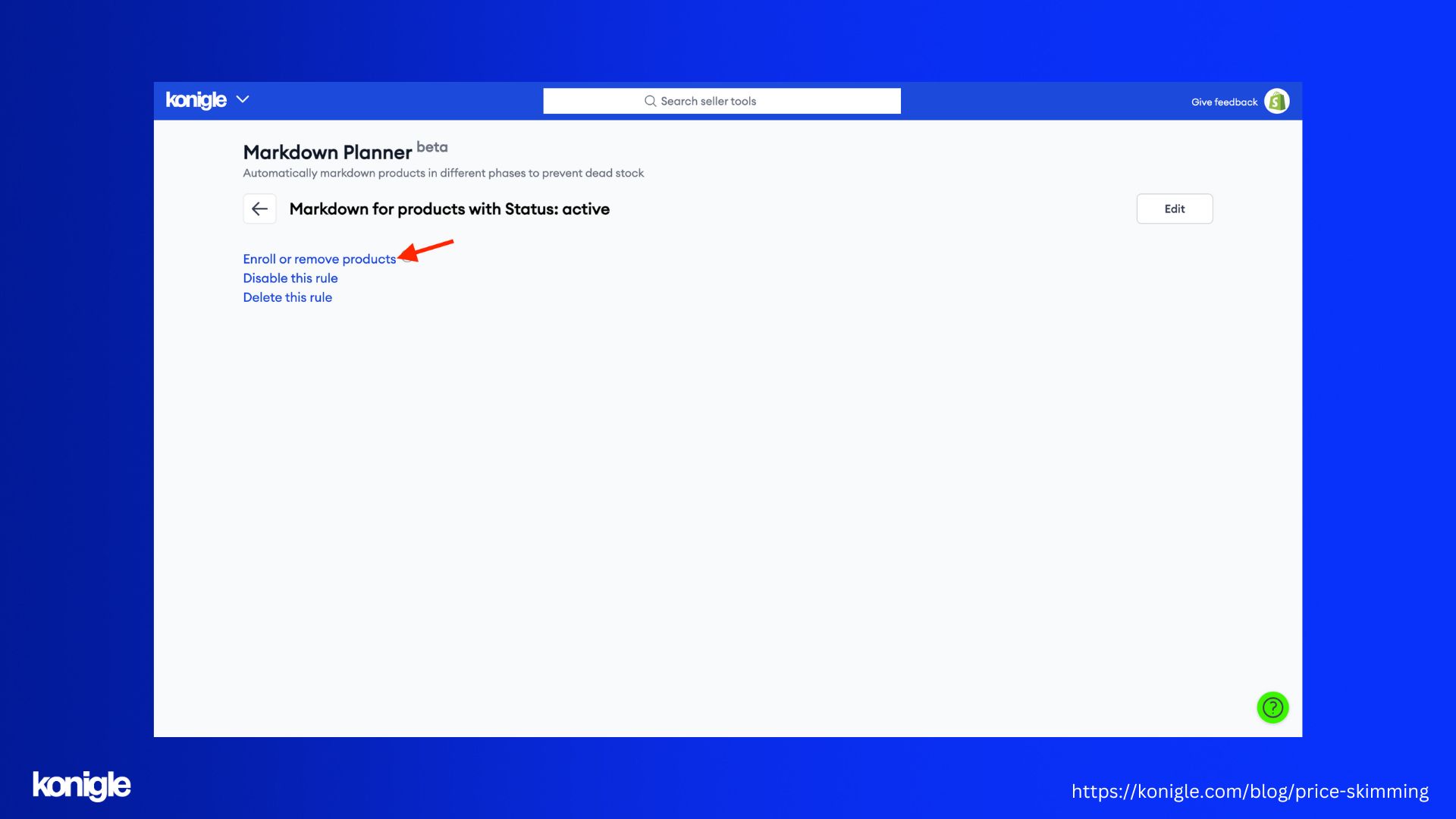 Price Skimming is one of the proven pricing strategies used by businesses to maximize profit potential of newly launched products. Incorporating an effective pricing strategy boosts customers' trust and helps improve your profit margin. In implementing price skimming, a business must consider things such as costs, product demand, customers, and competitors.
Konigle Tools featured to implement Price Skimming in a few minutes :
1. Bulk Price Editor tool